Deal of the week: Citroen C1
Save £2,550 on the list price of the Citroen C1.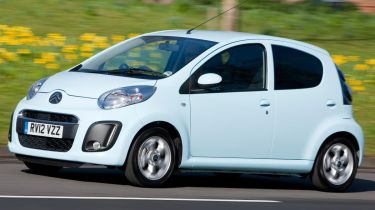 Citroen is offering £2,550 off the £9,545 list price of the C1, slashing the price to £6,995. All C1 models come with £0 road tax for the first year of purchase. The city car has alloy wheels, air-conditioning and includes remote central locking as well as a Connecting Box that can read MP3 files and features a Bluetooth function.
The compact C1 is perfect for tight city streets and parking, with an excellent turning circle making it perfect for three-point turns. The suspension is supple, so driving on rough streets is much more comfortable than in other city cars. A new steering system with shock absorbers makes it even more responsive at low speeds and the Citroen C1 comes with ABS airbags, emergency brake assist, corner stability control and optional ESP.
The interior is quirky and comfortable, with a folding rear bench seat that expands the boot's 139-litre capacity up to 751 litres, and vital driving controls that are grouped around the steering wheel for fingertip control. The front end of the car has been freshened up to bring it inline with other cars in the Citroen range, now sporting LED daytime lights, a black grille and body-coloured door mirrors and handles.
Running costs for the C1 are low, with excellent consumption and CO2 emissions of 99 g/km, making it cheap to fuel and free to tax.
For more details, visit www.citroen.co.uk. To view the full Citroen range, see the CarBuyer Citroen reviews page.