Toyota models available with 0 per cent finance
Attractive finance deals and free insurance now available on Toyota models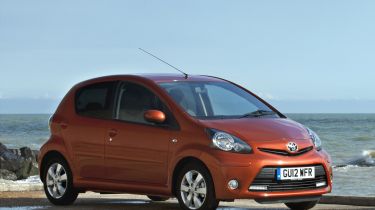 Toyota is now offering a selection of 0 per cent APR finance offers across its model range, as well as free insurance and its standard five-year warranty.
The Yaris Edition supermini is now available for just £149 per month at 0 per cent APR, and includes equipment like 15-inch alloy wheels, tinted rear windows and front foglights. The Yaris Trend is also on offer, for £189 per month, adding larger wheels, LED rear lights and a chrome exterior trim.
The Aygo city car is also available with 0 per cent finance and one year's free insurance. For just £99 per month you can buy an Aygo Fire, with 14-inch alloy wheels, LED daytime running lights, tinted rear widows and a leather steering wheel. The free insurance offer is open to all drivers aged 21 and over when ordered through Toyota Financial Services before the end of June.
Attractive 0 per cent finance offers continue on the Auris Icon hatchback and Verso Icon MPV, which include alloy wheels, a touchscreen infotainment system and Bluetooth connectivity for your mobile phone. A reversing camera and DAB radio are also standard. The Auris Icon costs £199 per month, while the practical Verso Icon is yours for only £229 per month.
Elsewhere in the range, the iQ micro car, RAV4 SUV and Yaris Hybrid can all be financed for 4.9 per cent APR. The RAV4 also comes with a £1,000 deposit contribution (essentially giving you £1,000 off the price), while the Yaris Hybrid includes the same free insurance offer as the Aygo Fire.
All offers run until 30 June, with every new Toyota coming with the brand's five-year/100,000-mile warranty as standard. For more information visit www.toyota.co.uk.
To view the full Toyota range, see the CarBuyer Toyota reviews page.