Nissan Micra recall involves 130,000 UK cars
Nissan recalls more than 800,000 cars worldwide for a steering fault on Micra and Cube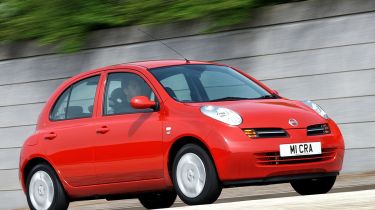 Nissan is set to recall 133,869 Micra models in the UK due to a potential fault with the steering.
The UK numbers, which are cars built between 2002 and 2006, are part of a worldwide recall of more than 841,000 cars. The remaining models included in the recall are Nissan Cube cars built in Japan between 2002 and 2006.
Nissan has said that the fault is down to a bolt in the steering wheel not being screwed on properly. The manufacturer claims that there is no danger of a sudden steering failure, but that the driver may feel it start to loosen. The maker also claims that there have been no reported accidents involving the cars.
A spokesman from Nissan told us that it would be writing to owners affected by the potential problem, and that the complimentary check at the local dealer will take around 15 minutes.
"Nissan is committed to a high level of customer safety, service and satisfaction and is working with its dealers to promptly address this issue," the spokesman added.
Last month Nissan was part of the 3.4 million-car recall, which also included Honda, Mazda and Toyota cars, for a faulty passenger airbag.
A single producer, Takarta Corp, supplied the component and a total of 150,000 cars across the four brands were part of the action in the UK.
However, while the number of cars involved in these recalls is quite high, they are in fact quite common. There were 123 similar recalls in the UK in 2012, which affected more than 1 million cars.
For more information, contact your local Nissan dealer, or to view the full Nissan range, visit the CarBuyer Nissan reviews page.