Audi R8 facelift
Audi has given its flagship supercar, the R8, a round of updates including a new look, a new twin-clutch S tronic gearbox and an even faster R8 V10 Plus model.
The visual tweaks are minor, including a redesigned bumpers front and rear, new LED headlights, a new rear diffuser, exhaust pipes and badging bearing a modified R8 logo.But the main changes are mechanical. Out goes the much-criticised R tronic six-speed automated manual gearbox and in comes the smoother and quicker, seven-speed S tronic transmission.
The twin-clutch box is optional on the 424bhp 4.2-litre V8, which gets a six-speed manual as standard, while it will be standard on the 518bhp 5.2-litre V10, which gets the manual transmission as an option.
S tronic also drops CO2 emissions by 22g/km and comes with a button which enables launch control, for lightning quick getaways with optimal wheelspin. Other updates for the revised R8 coupe and Spyder convertible ranges include brake discs designed in the shape of a wave. These are lighter than standard circular discs by two kilos.
Sitting at the top of the family is the new R8 V10 Plus which is available in coupe guise only. It gets a 542bhp version of the company's 5.2-litre V10, making it 24bhp more powerful than the standard V10 model. The extra punch drops the 0-62mph time from 3.6 seconds to 3.5 seconds. Top speed remains the same at 197mph.
The V10 Plus features lightweight alloy wheels, reduced sound deadening and uprated suspension. Visually, the Plus stands out from the standard V10 thanks to its carbonfibre front spoiler, carbon mirrors, air vents, a larger rear diffuser and black-finished exhaust pipes, while the interior comes with lightweight sports seats.
There are no official UK prices yet, but in Germany the R8 V8 is expected to cost from £88,000, while the V10 will cost from £120,000 with the V10 Plus starting at around £135,000. The facelifted car will be revealed at the Paris Motor Show in September with UK sales starting before the end of this year.
New electric MG4 hatch to start at £25,995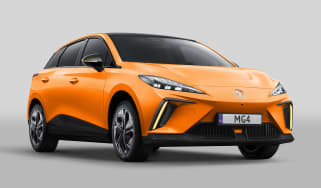 New electric MG4 hatch to start at £25,995
Best new car deals 2022: this week's top car offers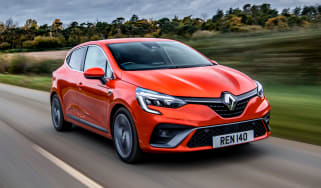 Best new car deals 2022: this week's top car offers
Kia EV4 SUV to take on the Volvo XC40 Recharge
Kia EV4 SUV to take on the Volvo XC40 Recharge