Used Dacia Duster buying guide: 2012-present (Mk1)
It's easy to be distracted by the Dacia Duster's price, but dig deeper and you'll find an appealing SUV that makes a great used buy
Like any industry, there's a top and a bottom end of the car market. The Dacia Duster may sit close to the lowest rung of the ladder, but don't let that make you think it's in any way sub-standard or hard to recommend.
While it used to be true that the cheapest cars on the road were glum affairs, the Duster's arrival in 2012 proved that doesn't have to be the case. Canny buyers, willing to put their money into a car from a relatively unknown brand, could secure an SUV the size of the Nissan Qashqai for as little as £9,000. Considering some tiny city cars start at the same price, the Duster has always been an undeniable bargain.
How did Dacia manage to pull off this impressive feat of pricing? Well, despite being a Romanian brand, Dacia has been owned by Renault since 1999; Renault also has a long-standing relationship with Nissan. This means the Duster could be built using proven engines and mechanical underpinnings from two major car companies, without the need to design a new model from the ground up.
While the Duster is by no means the most sophisticated car in the world, it would be grossly unfair to consider it a 'parts-bin special', cobbled together from surplus components. True, the Duster's petrol engine isn't hugely new or efficient, but it's fit for purpose, while the diesel engine is modern and a decent performer. The Duster's undeniably chunky looks, meanwhile, help set it apart on the road.
Speaking of roads, although the Duster exhibits too much body lean during cornering to be exciting to drive, its soft suspension means it's comfortable on long journeys. The engines provide enough power to give the car a 0-62mph time of between 11.5 and 12.8 seconds and Dacia offers four-wheel drive across the range. When fitted with this, the Duster is a pretty competent off-roader, although front-wheel-drive examples are both more popular and more economical.
Inside, the dashboard materials feel (as you might reasonably expect) cheap to the touch, but build quality is reasonable and the overall design is functionally inoffensive, if a little dull and grey. Passenger space is a Duster strong suit, though, with good front and rear legroom, decent headroom and plenty of storage cubbyholes. The large 475-litre boot, meanwhile, is well shaped and has a low load lip.
Some buyers may be put off by the Duster's three star (out of five) Euro NCAP crash-test rating. While it's true the Duster did poorly in the pedestrian (28%) and safety assistance (29%) categories, it achieved respectable results for adult (74%) and child (78%) occupant protection.
What is the best Dacia Duster version?
There are two schools of thought when it comes to buying a Duster: on the one hand, choosing the cheapest possible configuration makes the most of the Duster's key selling point, while upgrading the trim level or engine makes it an easier car to live with – or a more fuel-efficient one.
The cheapest route into Duster ownership is Access trim. This originally came with black plastic bumpers, steel wheels (with no trim covers), electric front windows, remote central locking and little else – although Dacia did fit pre-wiring for a stereo to make adding this essential simple. All Access Dusters are white and come with a petrol engine: if you want a different colour or diesel power, you'll need a higher-spec car. Note entry-level two-wheel drive Dusters came with tyre sealant in lieu of a spare wheel.
Dusters fitted with the basic 105bhp 1.6-litre petrol engine take 11.5 seconds to go from 0-62mph, although the engine needs to be worked quite hard to achieve this figure; choosing a four-wheel drive Duster adds an extra second or so to go from 0-62mph.
The 110bhp 1.5-litre diesel engine (which is available in Ambiance trim and above) may be slightly slower on paper, but it confers the car with a more relaxed nature – however upgrading to the diesel cost about £2,500 pounds when new. As a result, diesel Ambiance models tend to be priced around £1,500 more than Access petrols on the used market.
In addition to the diesel option, the Ambiance adds less utilitarian-looking wheels (although they're still steel, not alloy), some upgraded interior materials, a height-adjustable drive's seat, split-folding rear seats and a CD player, complete with Bluetooth and USB connectivity. Top-spec Laureate trim includes 16-inch alloy wheels, further interior quality improvements, a leather steering wheel, some exterior chrome detailing, a trip computer, cruise control, air-conditioning and all-round electric windows.
In January 2013, Access cars got white body-coloured bumpers as standard, while Dacia offered an extension of the standard three-year/60,000-mile warranty from February 2014. If you find a Duster with an extended five-year/60,000-mile or seven-year/100,000-mile policy, this is fully transferable on the secondhand market.
Dacia offered relatively few options with the Duster, and most of these came in packs. Cars with the Adventurer pack have protective door sill cover and wheelarch protectors; the Styling pack adds daytime running lights and some extra chrome details, while the Protection pack brought an alarm, mudguards, a liner for the boot and rear parking sensors. Few Duster customers spent the £1,000 or so Dacia asked for leather seats.
The Duster holds its value well on the secondhand market, with prices starting at around £6,000 for petrol Access cars. Diesel Ambiance models are about £1,000-£1,500 more, while four-wheel-drive versions commanding a slightly smaller premium over their front-wheel-drive counterparts.
March 2015 saw the introduction of a new turbocharged 123bhp 1.2-litre petrol engine, although Dusters fitted with this engine are too new to generally feature on the used market for the time being.
Alternatives
With such a low starting price, the Duster doesn't have any direct competitors. The similarly sized Nissan Qashqai and Renault Kadjar cost around twice as much, while even the significantly smaller Suzuki Jimny is roughly £3,000 more. Even superminis like the Ford Fiesta and SEAT Ibiza are pricier than the Duster – although you could get a small city car like the Volkswagen up! or Hyundai i10 on a similar budget.
Dacia Duster: running costs
It's here that evidence of the Duster's low price can be seen, as the two engines available at launch are some way off the pace in terms of economy. Although Dacia recently improved the Duster's efficiency and performance slightly, secondhand cars obviously won't have benefitted from these tweaks.
The Duster's 1.6-litre petrol engine originally returned 39.8mpg and cost £185 a year to tax, while opting for four-wheel drive saw economy drop to 35.3mpg, and road tax rise to £230. The 1.5-litre diesel was more efficient, returning 56.5mpg (53.3mpg with four-wheel drive) while lower CO2 emissions make it cheaper to tax, at £110 a year – rising to £130 for the four-wheel-drive version.
Insurance should be pretty affordable, though: when the Duster debuted, the industry rated it in groups 7-10 out of 50, although newer Dusters sit in groups 6-11. Either way, expect low premiums.
Dacia offered two and three-year fixed-price servicing plans with the Duster, and these represented good value for money; if you're after two or a three-year-old Duster, it's worth asking if the original owner took out one of these policies. All Dusters require servicing annually, or every 12,000 miles – whichever comes first.
Expect a minor service to cost around £170, and a major £299 at a Dacia or Renault service centre. A new set of windscreen wipers should come in at around £20, while Dacia charges £90 for a set of front brake pads, or £200 for discs and pads – although shopping around independent garages will obviously offer savings over these prices.
Dacia Duster: what to look out for
Despite being a new car from a relatively unknown manufacturer, the Duster has a strong reputation for reliability. In our 2016 Driver Power customer satisfaction survey, the Duster came 56th out of 150 cars, with a 37th-place finish for reliability. Dacia as a brand did even better, placing fourth out of 32 carmakers in the manufacturer rankings.
Known Duster weak spots generally concern early cars, but include premature surface rusting around the door sills and boot hinges and under the bonnet. It's thought these issues are to do with poor paint application, and were resolved when UK-bound Duster production was moved from India to Romania in 2014. All affected cars should have been repaired under warranty, but have a good look for any signs of corrosion, lifting up the boot carpet and closely inspecting all areas for rot. A few early cars were recalled due to a possible brake fault, but again, these should have been fixed by now.
If you're buying a four-wheel-drive Duster, closely inspect the underside for any signs of damage caused by off-roading. While Dacia now offers a commercial version of the Duster, this wasn't originally available; some cars may have been used as a farmer's workhorse.
Should I buy one?
The Dacia Duster was such a bargain when new that used values remain strong, so don't expect to pick one up for peanuts. Still, if you're willing to overlook the uninviting interior and slightly underwhelming driving experience and performance, it's simply not possible to buy a two or three-year-old SUV for less. The Duster, therefore, is a unique proposition, and makes an excellent case for itself as a spacious, practical and reliable family car. Buyers who value function over form will struggle to do better than the Duster.
Cupra Formentor SUV review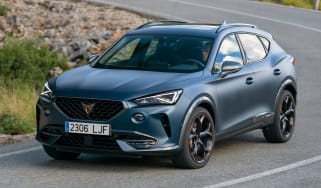 Cupra Formentor SUV review
2020 Volkswagen ID.3 hatchback: base model starts at under £30k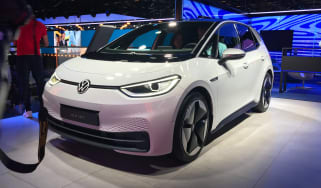 2020 Volkswagen ID.3 hatchback: base model starts at under £30k
Audi Q8 gains plug-in hybrid versions with 28-mile electric range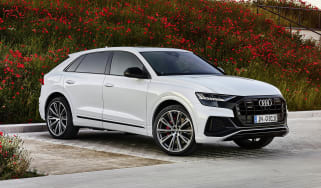 Audi Q8 gains plug-in hybrid versions with 28-mile electric range