Best driving games
Our guide to the most influential driving computer games of all time
Running a car is a bit of a 'curate's egg' experience. The joys of watching sunlight glinting from the sleek flanks of its bodywork or listening to its engine howl as you enter a tunnel are be slightly marred by the gloom of road tax, speed limits and insurance premiums. Fortunately, today's cutting-edge gaming technology means you can enjoy many of the highs of motoring without being brought down by the lows.
There have been driving games since the very first consoles appeared in the 1970s, but the simple, blocky monochrome animations of the those early titles quickly developed to become fast-moving, vividly coloured arcade experiences. They've evolved into hyper-realistic simulations we can immerse ourselves in without leaving the comfort of home.
And driving games have evolved not only in terms of what we see on the screen, but in how we interact with them, too. While many casual gamers are content with a simple joypad, those who take things more seriously will insist on an elaborate force-feedback steering wheel and pedals, while software programming can now accurately recreate even the most subtle nuances of steering effort – virtual driving has never felt more realistic.
There's an endless list of driving games that have become regarded as genuine classics, not just within the genre, but in video gaming as a whole. Today, with the launch of Gran Turismo Sport looming and titles like Project Cars 2 and Forza 7 promising to push the boundaries still further, it's likely that the list will continue to grow apace.
And while everybody has their personal favourite driving game and will defend even the most obscure title to the death, we've assembled a list that features some of the most influential, significant or just plain addictive car racing games of all time.
Project Cars 2
Today, there are more top-class racing titles on the market than ever before, and Project Cars 2 promises to shake the establishment up somewhat. Landing soon on PS4, Xbox One and PC platforms, it boasts licensed cars including legendary models from Porsche and Ferrari and exclusive locations such as Mercedes' winter driving training ice track in Sweden.
It joins some other titles in offering real-time races that include transition from daylight to night, and its visuals promise to be from the very top drawer. It also embraces the rapidly growing sport of rallycross, with multiple cars on a mixed-surface track at once in a departure from the usual rally format. While the original Project Cars showed potential, Forza and Gran Turismo loyalists would be well advised to keep an open mind about this one.
Forza Motorsport 7
Until Forza Motorsport appeared, the Gran Turismo franchise was virtually unchallenged in its dominance of the console driving game market. On its arrival, though, it introduced a software 'engine' that was so sophisticated that it still forms the basis of much later versions. Astoundingly, even the first version took such factors as wind resistance into consideration.
With such a high degree of realism, it became a huge success overnight, and has continued to develop into its current, highly polished form. It's supported by a huge army of devoted fans and has a global online presence – gamers frequently form online Forza communities for online racing championships. Arguably, Forza Motorsport has done more than any other game to make racing accessible in the digital domain and Forza Motorsport 7 adds even more depth and variety.
The UK's top 10 fastest hatchbacks
Colin McRae Rally
You don't need to be a car enthusiast to recognise the name Colin McRae. Arguably the most famous rally driver to ever hurtle sideways through woodland, McRae became a global personality during the 1990s and this rallying game that bore his name was released in 1998, right at the peak of his fame. You wouldn't expect him to endorse anything shoddy, and Colin McRae Rally was a huge programming achievement.
It did a fantastic job of portraying the way cars behaved on different surfaces; you soon learned that tarmac and gravel required entirely different driving techniques. As far as players were concerned, from the safety of the sofa, Colin McRae was as close as it came to being behind the wheel of a rally-spec Impreza WRX or Escort Cosworth without a helmet being required. It set a very high bar for every rallying game that followed.
Gran Turismo 2
The first Gran Turismo was launched in 1997 to huge fanfare and critical acclaim and Gran Turismo Sport brings the format right up to date. The second version, 1999's Gran Turismo 2, was bigger and better than the first. Where that had set new standards for graphics, with realistically rendered cars and scenery, and had made huge strides forwards in recreating the handling characteristics of different cars, GT2 expanded the game with a huge catalogue of models to choose from.
There were 650 different cars in all, ranging from humdrum hatchbacks to sizzling supercars and legendary racing cars – and all of them were recreated as accurately as the Sony PlayStation's circuitry could allow. GT2 also introduced rallying to the Gran Turismo franchise for the first time, as well as famous real-life circuits. And not only did sight and sound reward players, but – thanks to 'scratch and sniff' panels on the two game discs – the aromas of oil and petrol satisfied your sense of smell, too.
Forza Horizon
It's fair to say that Forza Motorsport was inspired by Gran Turismo – the franchise was founded for Microsoft's PlayStation rival, the Xbox. It was arguably the fifth instalment of the series – Forza Horizon – that truly offered something that Gran Turismo didn't. Unlike that game, Forza Horizon created an 'open world' gaming environment, so drivers weren't restricted to a given track. You could leave the circuit and explore an entire network of roads, in a tantalising list of exotic cars.
The roads and scenery were stunning to look at and made a terrific virtual playground in which to take exotica like the Ferrari F40 and Koenigsegg CCX-R by the scruff of the neck. Critics said the handling and performance of the cars wasn't entirely accurate, but the emphasis was firmly placed on fun. For many, Forza Horizon's escapist paradise made a more appealing alternative to real life.
Daytona USA
Owners of urban amusement arcades must have loved Daytona USA, such was its incredible ability to drain teenagers of their pocket money. If a team of friends chanced upon an arcade where several Daytona USA cabinets were networked together, a loud clatter of pound coins dropping into locked money boxes would soon ensue.
In some cases, eight cabinets were linked together, allowing fierce rivalries within groups of friends to be tested to breaking point. The action came thick and fast and the difficulty curve was steep – mastering the all-or-nothing nature of the NASCAR-style car's steering was key to your victory and the admiration of your peers. At the end of a session of play, after a winner was agreed, there would be no hard feelings and everybody would trudge off, empty pocketed but with massive grins.
Toyota Celica GT Rally
As with many of the less famous titles on this list, Toyota Celica GT Rally has a small but passionate following, mainly for its literally sideways take on driving simulation. Its programmers' masterstroke was in realising that rally cars don't always travel perpendicular to the course, so the view through the windscreen isn't always the view forwards.
Toyota GT Rally was possibly the first rally driving game to capture the feeling of what is commonly referred to as 'drifting', a sensation that would later be rather more polished by titles such as Colin McRae Rally. Celica GT was a little simplistic to look at, with graphics in blocky primary colours, but the action was addictive. There were even pacenotes from a co-driver to help you out, and his suggestions of 'left' and 'right' were far easier to follow than the incomprehensible rush of information given by his real-life counterparts.
Formula 1 97
Watching a live Grand Prix on TV is made all the more appealing when you know that the action can continue even after the cars have been rolled back into the paddock and the champagne has been sprayed. Formula 1 97 on the Sony Playstation made this a reality – the live event on TV gave gamers the inspiration to show Damon Hill and Michael Schumacher how it should be done.
It still looks good by today's standards, but it looked incredible back in 1997, especially with such attention to detail as real-world cars, locations, drivers and sponsors, and an in-cockpit view complete with flies hitting your visor, which could be torn off if it got too dirty. You were even kept entertained by live commentary from Murray Walker and Martin Brundle – although their repertoire of expression would quickly be used up. Best of all – like all the best simulations – you really had to work to get the best out of it. One false move on a wet circuit and your championship dreams could be dashed.
Out Run
There was nothing 'simulation' about the 1986 Sega classic Out Run. Hailing from the era of Miami Vice, it cast players in the role of a sharpy dressed gentleman behind the wheel of an open-top Ferrari Testarossa. Sharing the company a blonde lady whose hair would flutter in the turbulance, your task was to drive as quickly as possible between checkpoints on undulating, colourful roads.
A simple premise, but made trickier by slower traffic en route. You had to decide whether to slow to take evasive action or to face the full brunt of an impact – at worst this would see the Testarossa upended and both occupants ejected, but more amusing was the lady's finger-wagging that followed if the car spun out of control. You could choose your own destiny, too – do you turn left for an easy next stage, or take a right for an increased challenge? Like the later Daytona USA, arcade owners loved it for the money spun by its addictive nature.
Need For Speed III: Hot Pursuit
The original Need For Speed game – released first on the ill-fated 3DO console – was significant for introducing the world to 'realistic' car physics and digitally sampled engine sounds years before Gran Turismo. It was developed in conjunction with US car magazine Road & Track and was something akin to an interactive BBC Top Gear – every car featured had a live action presentation to support it.
Later episodes in the franchise traded realism for fun, though, and Need for Speed III: Hot Pursuit added car modifications to the mix, a feature that went on to become prevalent in almost every driving game released since. Building on the first episode, where being stopped for speeding by a State Trooper was a constant worry, Hot Pursuit let you switch sides and enforce the law – the chance to dole out virtual justice on high-speed miscreants was a great way to relieve stress at the end of a long day.
Dirt Rally
We've already mentioned that Colin McRae Rally created an accurate illusion that you really were charging along a gravel track, and the later Dirt Rally goes even further. It employs coding wizardry based on real-world physics to shape a simulation that really does convince you that your tyres are passing over jagged flint edges one minute and viscous mud the next. This isn't just a game for instant thrills, though.
In common with games such as Formula 1 97 mentioned above, Dirt Rally is best appreciated when you put a lot of effort into it. It can frustrate and punish just like rallying does in the real world – get lazy and drive sloppily and you'll likely end up roof-down with your wheels in the air. There's a definite technique to master, and one which varies with changing weather and terrain, as well as your choice of car. Dirt Rally could only be more realistic if it threw actual gravel in your face.
Assetto Corsa
Not everyone has heard of Assetto Corsa, but it has rapidly become a way of life among many of those who've discovered it. Unlike the short burst 'arcade' experience served up by many games, Assetto Corsa is like signing up for a real-life racing career, albeit one you access via your computer.
This is an entirely immersive online racing world, with almost obsessive attention to detail. And, thanks to a huge online community supporting it, Assetto Corsa continues to grow, with additional circuits and new cars being introduced all the time. Some of the world's most famous race tracks have been recreated in millimetric detail to make your racing experience as true-to-life as possible. It may start with a disc, but it unlocks a whole world.
ToCa Touring Car Championship
Among UK-based car fanatics in the 1990s, ToCa Touring Car Championship held a very special appeal. The British Touring Car Championship (BTCC) was at the peak of its popularity back then, and a frequent fixture on weekend television. And when the race was over, ToCa allowed you to return to your favourite circuit and restart where the action left off.
You could play your favourite driver and car from the 1997 championship season – so two-player mode enabled you to be Tim Harvey in a Peugeot 406 to race your best friend's Alan Menu in a Renault Laguna. But even if you chose to play against the computer, the racing was almost as close as real life. It was often frustrating, but holding a slide as your rear lights reflected in the sheen of a wet Coram Curve at Snetterton, lightning bursting overhead, was a truly invigorating experience.
Pole Position
It was arguably Pole Position that got the whole driving game ball rolling. Although there had been many popular titles released before this Namco classic arrived in 1982, Pole Position truly made gamers take notice that driving games would become a very important genre. Perhaps its most notable feature is that it had both feet planted squarely in the real world – the Pole Position circuit was based on the Fuji Speedway in Japan.
As with many of the most rewarding later games, you had to work hard if you wanted the best result. Pole Position required you to put in a qualifying lap before the race commenced, and you couldn't simply rely on speed and quick reactions – carrying too much speed into a corner would see you careening off the track and into an advertising hoarding. Of course, 1982 technology meant the graphics were blocky and the sounds simplistic, but none of this mattered when you fell under the game's spell.
Grand Prix Legends
While there are driving games that provide casual entertainment, there are also those that set out to achieve rather more. Grand Prix Legends is an example of the latter – it was entertaining, of that there's no doubt, but it also scored highly as a truly realistic racing simulation, embodying accurate sounds captured from real life recordings.
It's based on the 1967 Formula One racing season and goes to extraordinary lengths to depict its cars, teams and drivers. Sophisticated programming gave each car its own distinct feel, which would change during a race as the fuel tank emptied – the effect this had on the weight distribution of the car made a noticeable difference. And this, remember, was a game launched as early as 1998. Even today, there's a huge global community supporting Grand Prix Legends, and expert DIY programmers have added more cars and tracks. If you use a wheel and pedals, you're only a set of racing goggles away from 1967 racing perfection.
Hardcore McLaren 765LT breaks cover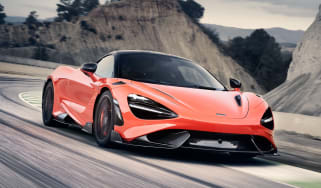 Hardcore McLaren 765LT breaks cover
New 2020 Kia Stonic SUV: prices and specs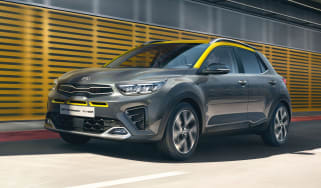 New 2020 Kia Stonic SUV: prices and specs
Updated Peugeot 5008 starts at £29,585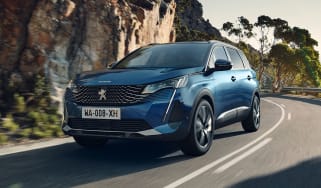 Updated Peugeot 5008 starts at £29,585
Cupra Formentor SUV review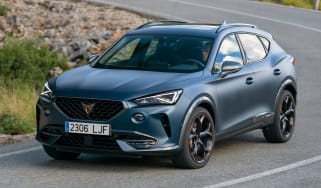 Cupra Formentor SUV review