Best cordless car vacuums to buy 2020
We've put the power, functionality and quality of cordless car vacuum cleaners to the test
Most of us have become experts at putting it off, but once every so often, you'll need to give your car's interior a thorough clean. When that time comes, most of us will grab a handheld vacuum cleaner to get rid of all the dirt and debris.
British wet weather and plus pets, travel snacks and gravel driveways means we Brits probably end up cleaning our car interiors more than most, and in winter it can seem like a never-ending job. Stick with it because keeping on top of tidying will keep the interior in good condition, and could even boost your car's value in the long run.
While some motorists can park close to a power supply, we think a cordless vacuum makes much more sense for cleaning cars, even if their battery packs can add a bit of unwanted bulk. As technology has improved, car vacuum cleaners with lithium-ion batteries now last for longer and are more effective.
How we tested them
To ensure we created the ultimate test for dirt removal, we first ground sea salt, rice and grit into the carpet of our test car and tried to clean it as briskly as possible with each cordless vacuum.
After this we spent 10 minutes using each one to clean the inside of our test car. This was a crucial part of the experiment because it subjected each model to all the tricky aspects of cleaning a car, which separate it from hoovering your living room. Small gaps - like those between seats - require special crevice tools to reach and you can only get into every nook and cranny if the hoover is compact and light enough to handle easily. We awarded more points if useful tools are supplied and we took the best online prices into account.
1. Hoover H-Free HF18CPT
Price: £137.98Charge time/max run time: 5hrs/25mins
Hoover's H-Free includes a narrow, powered brushbar (12cm long), making it an ideal choice for car cleaning. It performed well in our vehicle tests, despite having a mere 18.5v motor, managing to clear the majority of the debris. It's practical too; a weight of 1.6kg makes it light and there's a useful lockable trigger. It's also very quiet, emitting only 79dB at a max power. All of this makes it something of a bargain for the money. Minor annoyances include the lack of battery status display, a five-hour charging time and the lack of wall-mounted charging dock, which makes storage difficult.
2. Dyson Cyclone V10 Animal
Price: around £400Charge time/max run time: 3.5hrs/1hr
The Dyson Cyclone V10 is the only machine here that offers three speeds. As you'd expect, the maximum speed gave impressive suction, with a downside being the 94dB of noise that made it the loudest hoover tested. Power comes from a 25v motor, with the small brushbar and crevice nozzle included proving ideal for car interior work. The Dyson doesn't have a useful trigger lock either to save power. This is a great device, but there are other vacuum cleaners that offer similar performance for less money.
3. Vax Blade 2 Max 40v inc Car Cleaning Kit - Best buy
Charge time/max run time: 3hrs/45minsPrice: £299.98
Boasting a powerful 40v motor, the Vax Blade 2 Max is the most powerful hoover we tested. We found that the battery life is good unless you use the powered brushbar or boost mode, which reduce it significantly. Also, when starting it, there can be a delay from pressing the button to when it actually fires up, which we found slightly annoying. There is no small brushbar either, making access to some of the narrower parts of a car interior somewhat awkward. The car cleaning kit is otherwise excellent, with the long-stretch hose proving very useful for getting around the confines of a car interior. Other useful features include an easy-to-empty bin and a three-year warranty.
4. Ryobi 18v One+ Cordless Hand Vac R18HV-0 (+battery/charger)
Price: around £34 (+ additional £58.99/£29.95 for battery/charger)Charge time/max run time: 2hrs/24mins
As part of the Ryobi One+ family, this cordless vacuum represents serious value for money if you already own the matching battery and charger. A 4Ah battery charges quickly and provides around 24 minutes of cleaning power; enough to clean the average family car. It only has one cleaning speed, which provides good suction. The main downsides were that the cleaning of thicker carpets wasn't easy using the narrow nozzle, and that the narrow crevice attachment was too short to reach some of the tighter spots in our test car's interior.
5. Gtech Multi Mk2 K9
Price: around £169.99 (+ £50 car kit)Charge time/max run time: 4hrs/20mins
The Gtech can fully charge in four hours and its 22v battery provides ample power. We found its motorised head was able to clean our soiled carpet with ease, and it was compact enough to reach into hidden corners. Two LED lights are a handy selling point, illuminating dark footwells and car boots in a similar way to many DIY drills. The Gtech also has a clever design allowing its flexible nozzle to pull-out, making it very easy to use the crevice tool in tight places. Unlike many rivals, the Gtech also has a locking trigger, reducing fatigue and allowing you to hold it in different ways, or even put it down, saving you from holding the 1.6kg chassis all the time. A soft brush allows you to hoover the air vents and trim, dislodging dust and preventing scratches. There's an optional car accessories kit for £24.95, but we happily cleaned our car interior without using it.
For more information on keeping your car in great condition, why not read our guide to car cleaning, or our picks for the best car interior cleaners.
Updated Peugeot 5008 starts at £29,585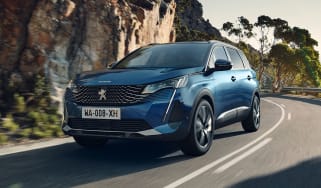 Updated Peugeot 5008 starts at £29,585
Cupra Formentor SUV review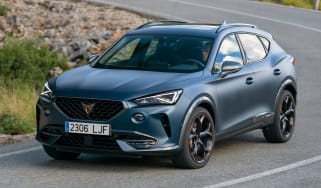 Cupra Formentor SUV review
2020 Volkswagen ID.3 hatchback: base model starts at under £30k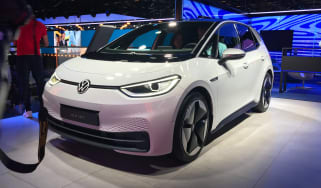 2020 Volkswagen ID.3 hatchback: base model starts at under £30k