Best roof boxes to buy
Give your car extra carrying capacity with the best roof boxes you can buy today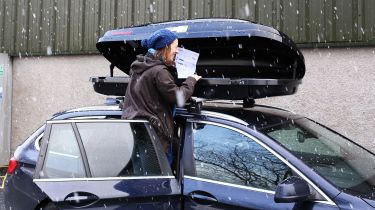 With 'staycations' becoming ever more popular, thousands of families are choosing to drive to holiday destinations in this country instead of venturing abroad. It introduces a new challenge, too – how to fit a family and its luggage comfortably in a car.
Inevitably, no matter how you configure your luggage and which compromises you make, you'll find that you need a little more space than your car will offer. This is the point at which arguments break out – either somebody has to carry something on their lap or something gets left at home. And it's never good to start your holiday with an argument.
Happily, help is at hand and it's never been easier to boost the load capacity of your car. While roof racks have been used for generations to allow bulky items to be carried on the roof of your car, they've never been terribly satisfactory – open to the elements, they offer little protection to your possessions and have a terrible effect on the fuel economy of your car.
A modern roof box does much to address these concerns, by shielding your excess baggage from the elements in an aerodynamic container designed to cheat the wind. A well-designed roof box makes less noise than an old-fashioned roof rack when travelling at motorway speed, and is also a far more secure way of carrying vital holiday paraphernalia, whether it be tents, beach toys or – this being Britain – warm, waterproof clothes.
There's a huge choice of excellent roof boxes out there, and we've tested the best to find our five favourites.
How we tested them
We rated each roof box for its interior space, weight capacity, security and ease of use. They can be bulky, heavy things to secure to the roof of your car, so any design that makes life easy was given extra points.
We also considered such features such as the ability to open the box from either side. Each box was assessed for its security – you don't want your possessions falling into the hands of the light-fingered community – and how easy the instructions are to follow. Finally, our results are weighted by price.
Kamei 510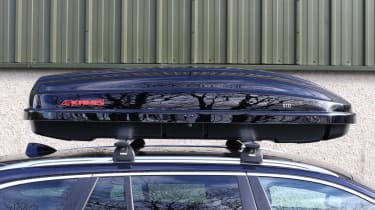 Only a set of slightly awkward roof bar mounting clips keeps the Kamei 510 from having an entirely positive report card. It's a good looking box with many practical features – you can slide it forward on its mountings to open a hatchback tailgate, you can access the box contents from either side thanks to a dual hinge, and three internal luggage straps are included. If you don't have channeled roof bars, an adaptor kit will fit standard types so the 510 fits securely. It's not the cheapest roof box we tested, but it's certainly the best.
Buy now from The Roof Box Company
Kamei Corvara S 390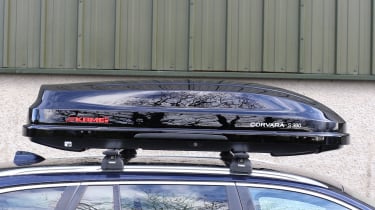 A newer, more expensive product than Kamei's test-winning 510, the same firm's Corvara S 390 only misses victory on price. It's claimed to feature "the fastest roof box mounting system", but this relies on you having channeled roof bars. The Corvara's T-bar style clips slot into these and lock the roof box into place in seconds. Not only is it quick to fit, at 16kg it's lighter than the 510, and has the same convenience features. However, the 390 in its name refers to its capacity in litres, so it's a little less spacious than our victor.
Partnership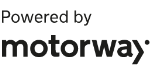 Need to sell your car?
Find your best offer from over 5,000+ dealers. It's that easy.
Buy now from The Roof Box Company
Hapro Traxer 6.6 HP25908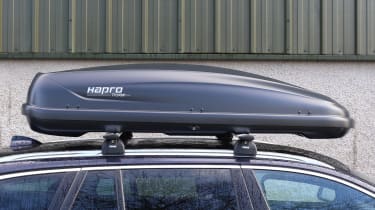 The Hapro Traxer is easy to install, can be accessed from either side and is made theft-proof by a high-quality lock. All Hapro boxes self lock when closed – all you need to do is push the lid down until it clicks. It's well-priced, too, with a healthy 410-litre capacity that isn't eaten into by its low-profile Masterfit fixings – these secure the Hapro to your roof bars by means of easy press-button operation. Its matt-black finish isn't the best looking, but a gloss version is also available.
Buy now from The Roof Box Company
Exodus 470L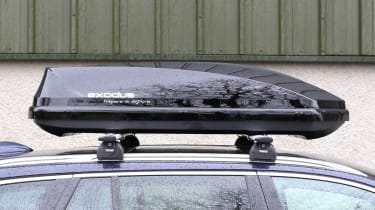 The Exodus 470L is a brand from the Halfords motoring retail chain, but is a good value product rather than simply a cheap one. Its 470-litre capacity is vast and its glossy looks don't shout its low price too loudly. Unfortunately, the cost cutting seems to have been made in the fixings, which don't meet the quality – and are harder to use – than more expensive boxes. It's a fair budget choice for occasional use – once installed it's as securely located as any other. However, if you're likely to use it regularly, our advice is to choose a more expensive, easier to fit design.
Thule 90 Ranger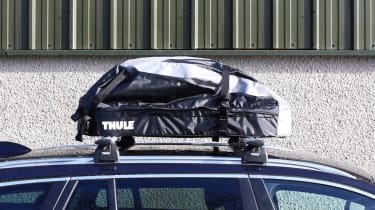 The soft-skinned Thule 90 Ranger is a different proposition to the solid boxes above. As it's essentially a waterproof bag it makes a great solution if you don't have the space to store a solid roof box when you're not using it. It uses the same type of fittings as the Exodus 470 L and isn't the easiest to fit, but it's light at only 7kg. Its soft design means it doesn't offer quite the security of solid boxes – we wouldn't be as happy to leave our possessions in it in an unattended car park. It's not quite as professional-looking as the solid boxes, either – but it still does what it sets out to do – increase your car's luggage capacity for occasional holiday trips.
Engine management light: top 5 causes of amber engine warning light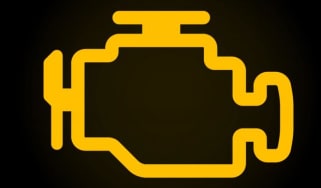 Engine management light: top 5 causes of amber engine warning light
Best new car deals 2023: this week's top car offers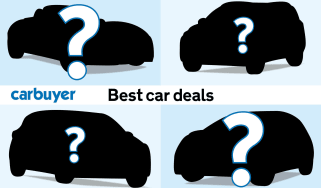 Best new car deals 2023: this week's top car offers
Top 10 best cars under £200 per month 2023/2024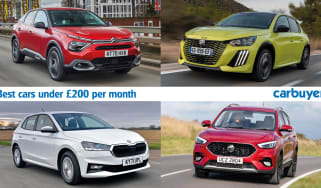 Top 10 best cars under £200 per month 2023/2024