Best car headlight bulbs to buy 2021
Night driving can be transformed with better headlight bulbs. We've narrowed the upgrade options down to the very best bulbs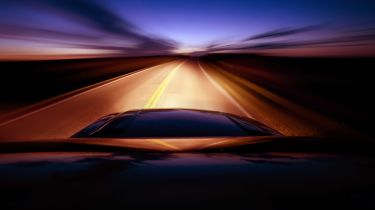 Headlights are the most important safety device on your car when driving at night, so it's very important to keep them in good working order and to pick bulbs that are up to the job.
Car bulbs can be a bit confusing but there are plenty of shops that can select a bulb that works in your car and fit it for you. All you need to know is which brand to choose - that's where we come in.
We've tested some of the best headlight bulbs around using hi-tech equipment including a clever light tunnel facility to tell you exactly which bulbs are best. 
Each bulb was tested directly against each other - the winner received a 100% score for brightness, then all the other beam ratings are measured against that.
Our results are based on an average of two bulbs, bought or picked from multiple packs.
We checked that all the bulbs comply with safety regulations and also factored in price to a small degree - as you can't put a price on safety.
Read on to find out the best headlight bulbs to buy in 2021.
The best H4 car headlight bulbs on sale:
Osram Night Breaker Plus Next Generation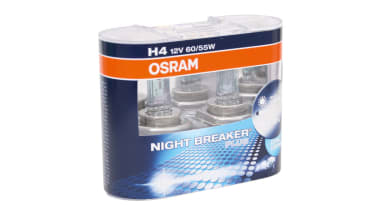 Price: Around £25
Beam: 100%
Rating: 5 stars 
The Osram Night Breaker is a big-name brand in headlights and it didn't disappoint this year. It was noticeably bright and produced a sharp beam - it's the best bulb we tested. As with many of the current crop of headlight bulbs, it produces up to 150% more light than a standard headlight bulb in your car.
Bosch Gigalight Plus 120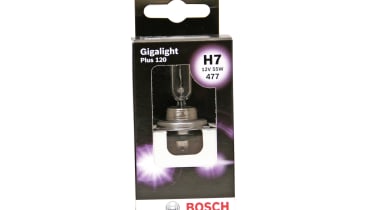 Price: £20
Beam: 93%
Rating: 4/5
The Bosch bulb actually performed exactly the same as the Halfords and GE bulbs in our light tunnel, though it was best for beam length. It has a nice smooth spread of light across the tunnel, which was good to see, but it wasn't as sharp as the Osram.
GE Megalight Ultra +130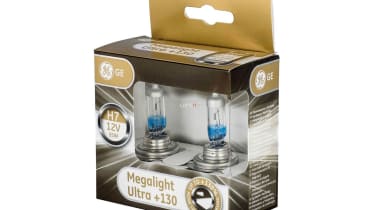 Price: Around £15
Beam: 92%
Rating: 4/5
GE bulbs will soon be called Tungsram, following an ownership change. This bulb was similar to the Bosch bulb but also lacked sharpness at the edges of the beam. It produced a good amount of light, however.
Halfords Advanced up to +150% Brighter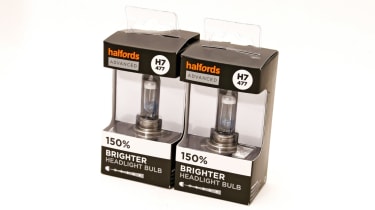 Price: Around £39
Beam: 92%
Rating: 4/5
Halford usually offers a 'buy one get one free' winter offer on bulbs so this one isn't as expensive as it seems. These bulbs performed well in the light tunnel and were bright, so were about the same as the GE and Bosch bulbs.
Ring Xenon150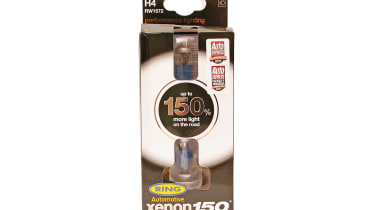 Price: Around £24.99
Beam: 81%
Rating: 3/5
The Ring bulb wasn't quite as bright as its rivals, especially when we measured the maximum brightness in the beam. This bulb fared well in previous years but it has fallen behind rivals this time out.
Twenty20 Daylight 150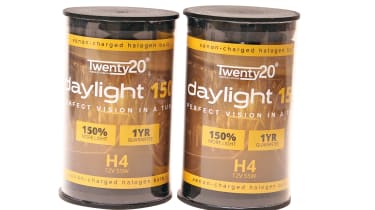 Price: Around £18
Beam: 80%
Rating: 3/5
These bulbs were only 80% as bright as the top scorer, and in the light tunnel we found that the brightest point was a bit closer to the car than others, which will reduce visibility on the road.
GT Ultra 120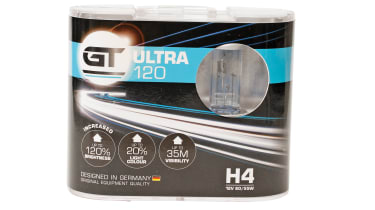 Price: Around £19
Beam: 80%
Rating: 3/5
This bulb is very cheap and looks a good budget option, yet it finished last in the maximum beam brightness test. We felt its beam pattern wasn't up to scratch in the tunnel, either.
Lucas LightBooster +130%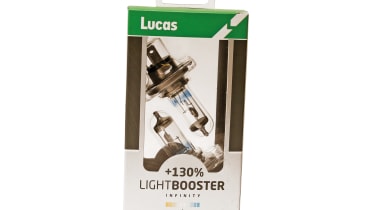 Price: Around £12
Beam: 75%
Rating: 3 stars 
This Lucas bulb was last in our light tests in the testing tunnel, so you get what you pay for - it's a cheap bulb and it doesn't perform all that well. We'd spend some more cash on a better alternative.
Philips RacingVision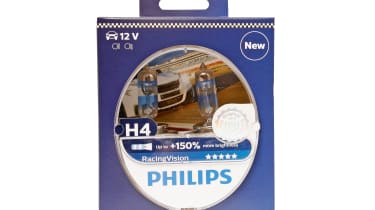 Price: Around £20
Beam: N/a
Rating: Not rated
We couldn't rate the Philips bulb this year because it exceeded the maximum amount of light a headlight bulb is allowed to produce.
Neolux +50% Extra Light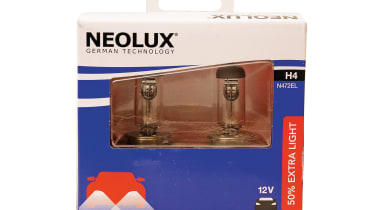 Price: Around £15
Beam: N/a
Rating: Not rated
Again, this Neolux bulb went over the maximum brightness allowed in our test so it was disqualified. It wasn't a good choice anyway, as it fared poorly in other areas of the test.
Read our in-depth guide to xenon headlights.
Best new car deals 2022: this week's top car offers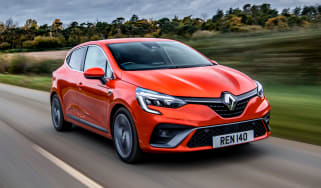 Best new car deals 2022: this week's top car offers
New electric MG4 hatch to start at £25,995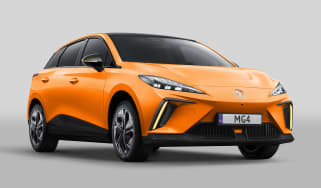 New electric MG4 hatch to start at £25,995
Kia EV4 SUV to take on the Volvo XC40 Recharge
Kia EV4 SUV to take on the Volvo XC40 Recharge