Best car foot pumps to buy 2020
Keep your tyres at the correct pressure with these affordable foot pumps
The traditional foot pump may largely have been replaced by the electric compressor but some motorists still prefer them. Foot pumps are handy if you're not looking to inflate a tyre from flat but instead want to increase pressure by a few psi. By their very nature, foot pumps make do without any wires, making them very portable. Manual pumps are also far quieter than noisy compressors, which can be preferable if you need to pump up a tyre at the crack of dawn on a quiet street.
Correct tyre pressures are vital for safety because underinflated tyres can affect handling and braking. Soft tyres generate more rolling resistance too, increasing fuel consumption. A foot pump is ideal for regularly inflating tyres to the correct psi as part of your weekly routine or before a long journey.
We tested each foot pump to ensure it was sturdy and stable in use and operated smoothly. We also tested performance by inflating a 205R16 tyre to 25psi, then checking its pressure again after 20 presses of the pump. We also assessed the valve fittings of each pump, looking out for bulky or awkward fitments that could cause issues with some tyre valves. Finally, we assessed any storage for accessories and the pumps' overall value.
1. Michelin 12209
Price: around £20
The top-performing pump in our test comes from the renowned French tyre manufacturer and is as thoughtfully designed as you'd hope. There's a legible digital display, a hose that's almost 70cm long and a useful locking system that makes the pump easy to store when not in use, along with dedicated clips for secure storage of accessories. The gauge is very accurate and was found to be just 0.5psi out.
2. Michelin 12202
Price: around £20
Another entry from the French manufacturer, only this time in more traditional analogue form. Its performance and accuracy is good, as is the design – there's a small box that clips to the hose to store accessories, for example. However, the gauge can't match its digital rivals for clarity, and the pump's locking clips detach at both ends, meaning they might get lost easily.
3. Halfords 686646
Price: around £13
It's the second-cheapest pump on test, but this is still a good option – the best of the budget models we tested. There's nowhere to store the accessories on the pump or a clamp for the hose, but otherwise its gauge is clear and easy to view from a height thanks to the adjustable needle. A simple clip holds the pump together when not in use and makes it easy to put back in its box.
4. Laser 4411
Price: around £20
Tool manufacturer Laser's offering is well made, has a long hose, great performance and the most precise gauge in our test. However, some rivals' gauges are easier to read. A key concern is the Laser's plastic flip-type valve coupling; we much preferred the screw-on versions offered on many of the other pumps here. It's a big, bulky unit, too, and there's no storage offered for accessories.
5. Clarke FP300
Price: around £15
A lick of blue paint and some graphics changes can't disguise that Clarke's pump is closely related to the Laser item above. However, the pair aren't equal in performance; the Clarke may look like better value, but its gauge is less accurate and hard to make sense of from any reasonable distance. It still has the same flip-type coupling too; we much preferred screw-type systems.
6. Clarke FP200
Price: around £8
Traditionally appointed and the cheapest pump on test, Clarke's second offering is a tempting prospect. There's a fiddly single clip to hold the pump together when not in use, the bar-type pedal is harder to use and on the leg than more modern designs and the whole thing tends to wobble; more rubber feet wouldn't go amiss. However, the gauge is clear and has a handy adjustable marker and the metal valve coupling is more streamlined than some bulkier plastic ones on test.
7. Ring RFP2
Price: around £15
Although it's a good alternative to the Michelin offerings above, the Ring RFP2 comes with enough small problems to let us down. The rubber cover for the pedal came off during our tests and the lesser flip-type plastic valve coupling is used. And, most crucially, gauge accuracy and overall efficiency were not as good as others on test. However, an attached bag for accessory storage is a nice touch.
8. Draper 22269
Price: around £25
Draper is known for supplying reasonably priced tools, but its foot pump is the most expensive on test. It's not really good enough to justify it, either – the pedal isn't sturdy enough and hits the lower part of the pump if you aren't careful, reducing usability. The Draper also uses an odd valve coupling mechanism that sets to a horizontal position when locked – the opposite to other pumps on test.
New Renault 5 electric car on sale by 2025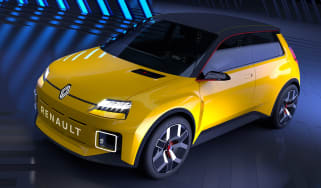 New Renault 5 electric car on sale by 2025
Best small SUVs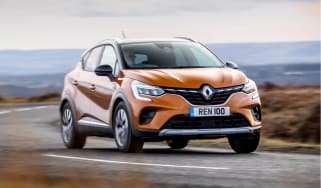 Best first cars