Best car foot pumps to buy 2021
Keep your tyres at the correct pressure with these affordable foot pumps
While the traditional foot pump may largely have been replaced by the electric air compressor some motorists still prefer them. Foot pumps are handy if you're trying to increase the pressure of a tyre by a few psi, rather than inflate one from flat.
By their very nature, foot pumps make do without any wires, making them very portable. Manual pumps are also far quieter than noisy compressors, which can be preferable if you need to pump up a tyre at the crack of dawn on a quiet street.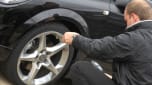 How to check your car's tyre pressures
Ensuring your tyre pressures are correct is vital for safety because underinflated tyres can affect the way a car handles and the braking. Tyres that are underinflated also generate more rolling resistance too, increasing fuel consumption. A foot pump is ideal for regularly inflating tyres to the correct psi as part of your weekly routine or before a long journey.
We tested each foot pump to ensure it was sturdy and stable in use and operated smoothly. We also tested performance by inflating a 205R16 tyre to 25psi, then checking its pressure again after 20 presses of the pump. We also assessed the valve fittings of each pump, looking out for bulky or awkward fitments that could cause issues with some tyre valves. Finally, we assessed any storage for accessories and the pumps' overall value.
1. Michelin 12209 Digital Double-Barrel Footpump
Price: around £28
Rating: 5 stars
The best performer is manufactured by Michelin and is as well-designed as you'd expect from the famous brand. It features a rubber foot plate measuring in at 294cm, which is the largest of all the pumps tested. During the pump test, a total of 3psi was added.
The screw-on connector fits most tyre valves and the easy-to-read digital display gauge gives an accurate reading. It's smartly designed too, with storage clips for the three valve adaptors under the gauge and a snap-in locator for the valve connector under the foot plate making it simple to set up.
2. Ring Double Footpump RFP2
Price: around £17
Rating: 4.5 stars
The Ring RFP2 has a large 195cm footplate with a grippy rubber covering. It has a large plastic valve connector that's easy to connect and remove without losing pressure. The 65cm hose is also long enough for most wheel sizes.
The analogue gauge read 2psi under before and after our test, which, while not entirely accurate, is at least consistent. During the inflation test, an extra 3psi was added. A useful cloth storage bag is included, making it easy to store with the four included adaptors.
3. Halfords Essential Twin Barrel Footpump & Gauge
Price: around £13
Rating: 4 stars
As one of the cheapest pumps tested, the Halfords Essentials proved to be the best of the budget models. Performance was excellent and matched the more expensive models here, with 20 pump presses adding an extra 3psi. Our pressure checks revealed the gauge was only 1psi adrift before and after testing.
The 61cm hose is a little short and the valve connectors basic metal/plastic thumblock can stick during removal, releasing air from the tyre. The instructions were straightforward but made no mention about checking tyres when cold. It's budget spec means no adaptors are included either but its low price makes it a decent buy.
Partnership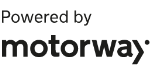 Need to sell your car?
Find your best offer from over 5,000+ dealers. It's that easy.
4. Michelin 12203 Digital Double Barrel Footpump
Rating: 3.5 stars
Price: around £32
Another entry from the French manufacturer and again, the large rubber-covered tread plate made it easy to use. Our 20 pump press test added 3psi to the tyre. Its digital gauge is clear to read but did show a 1.5psi difference across two test readings.
The instructions were detailed and the rotary dials used to lock the pump flat are easy to operate. A useful feature is the three plastic adaptors stored in a plastic box attached to the frame. However, it's the most expensive unit we tested, which knocked it down the rankings.
5. Laser 4411 Double Barrel Foot Pump with Gauge
Rating: 3 stars
Price: around £20
Tool manufacturer Laser's offering is well made, with a 195cm-square patterned metal tread plate and a long hose. Like all the top performers here, it added 3psi in our test. The analogue gauge lacked accuracy though, reading 3psi and 4psi under before and after testing respectively.
A key concern is the Laser's plastic flip-type valve coupling; we much preferred the screw-on versions offered on many of the other pumps here. It's a big, bulky unit too, and there's no storage offered for accessories or instructions included.
6. Clarke Racing FP300 Twin Cylinder Foot Pump
Price: around £17
Rating: 3 stars
A lick of blue paint and some graphics changes can't disguise that Clarke's pump is closely related to the Laser above. However, the pair aren't equal in performance; the Clarke may look like better value, but it's gauge lacks a target needle and was 4psi under before and after our test.
Its performance also fell short of the best pumps here, only adding 2psi during the inflation test. As with the Laster model, it features the same plastic flip-type valve coupling, which was slightly unwieldy to use but did not release any air when disconnected.
7. Draper Double Cylinder 25996
Price: around £21
Rating: 2.5 stars
Draper is known for supplying reasonably priced tools and this pump is related to the Halfords version. It's very basic, with a metal frame with a pair of rubber feet at the rear. Its narrow tread plate offers minimal grip, and the 61cm hose is one of the shortest tested meaning it may not be suitable for all wheel sizes.
During the inflation test it added 2.5psi but the plastic/metal valve connector was somewhat awkward to connect and remove. The twin-scale gauge was also 3.5psi out when checked before and after inflation.
8. Sealey FP2 Twin Barrel Foot Pump
Price: around £16
Rating: 2.5 stars
The Sealy shares its design with the Halfords and Draper pumps above but has a gripper rubber cover on its narrow tread plate. As with the other pumps of this design, the 61cm hose and plastic/metal thumblock valve connector felt a little cheap in terms of build quality.
It also performed poorly in our inflation test, adding only 1.5psi after 20 pump presses. The analogue gauge was reasonably accurate though, reading 1.5psi out overall before and after testing.
Engine management light: top 5 causes of amber engine warning light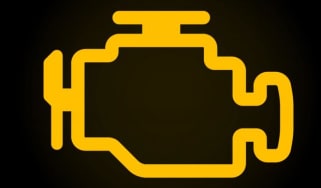 Engine management light: top 5 causes of amber engine warning light
Best new car deals 2023: this week's top car offers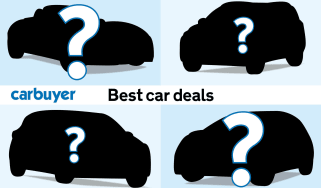 Best new car deals 2023: this week's top car offers
Tesla Cybertruck finally delivered: specs, prices and UK availability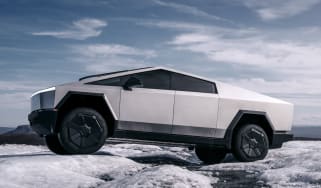 Tesla Cybertruck finally delivered: specs, prices and UK availability