Best car battery chargers 2020
We test the best gadgets that can keep your car battery in tip-top shape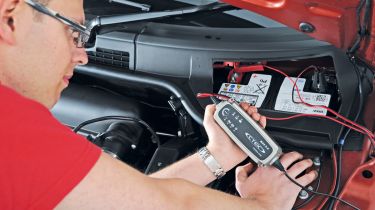 If you've found that your car won't start because the battery's flat, you may quickly start to consider investing in a battery charger. Not only do they get your car started when the battery's flat, but they can also keep the battery charged and in good condition, even if the car spends a lot of its time locked up in a garage.
Many cars in the UK are left in garages for weeks and even months at a time, and using a charger/maintainer can be an important step in ensuring they start after prolonged periods without moving. Modern battery chargers are powerful enough to deal with the latest types of car battery, including lithium-based cells and high-output batteries that support stop-start systems.
How we tested them
Each charger was tasked with recharging a flat battery until it was fully charged. We calculated a charging rate from the test and noted the minimum voltages the chargers could work from. We also noted their efficiency and electromagnetic compatibility (EMC).
We looked at each charger's instructions and display to see how easy they were to understand, and checked the quality of all leads and accessories included. Lastly, we checked for sparks during deliberately careless use and considered our results against the price of each charger.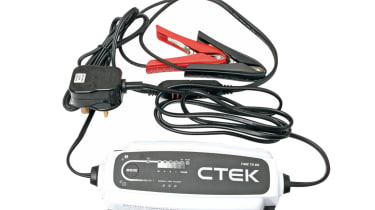 CTEK Time To Go CT5
Price: Around £91Mean current supply: 4.9 amps
If you're worried that battery charging is complicated, this fantastically easy-to-use model is the charger for you. It offers the same charging modes as the other CTEK chargers, but presents them in a simple manner, with a useful charging progress display that indicates when your battery has enough charge for an engine start to be attempted. The instructions may seem a little limited, but the charger is fairly self-explanatory in use.
In terms of performance, it nearly reached its claimed 5 amp output and easily passed our misuse and electromagnetic compatibility tests. Not cheap, but a tidy and very effective package.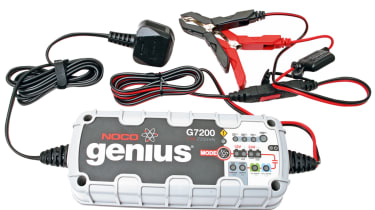 NOCO Genius G7200
Price: Around £90Mean current supply: 5.2 amps
Imported from the US, the NOCO G7200 finished a close second in our test and comes with leads nearly a metre longer than our Swedish victor. Its 35mm clamps have the widest jaws in our test, too. Better still, it charged our test battery to 80% 40 minutes quicker than the CT5.
It's a shame that its mean charge rate came such a long way short of its claimed 7.2 amps, though, and it's a rather bulky device. Still, there's a handy process display and it offers 24v and lithium battery modes.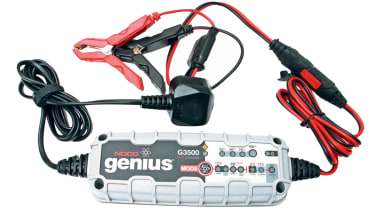 NOCO Genius G3500
Price: Around £55Mean current supply: 3.4 amps
Another product from the US, the NOCO G3500 is rather more handily sized than its G7200 sibling, but far less powerful, too. Like the bigger charger, it'll charge lithium batteries, and has modes for battery conditioning, cold-weather charging and 6V batteries. The leads are good and long, and the clamps open wide, too.
Performance-wise, it took a little over 14 hours to charge a flat battery to 80% – a fair bit slower than some of the chargers we tested. But it's a versatile machine for a reasonable price.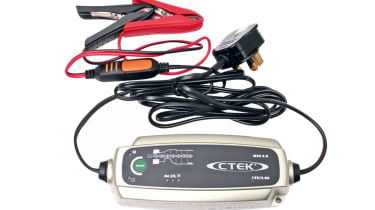 CTEK MXS 3.8
Price: Around £54Mean current supply: 3.6 amps
The MXS 3.8 didn't quite reach its claimed output, but is more affordable than the test-winning CT5 from the same Swedish company. It's easy to use, too, with good instructions, and comes with a handy storage bag that'll take the charger and its spare connection lead. It's not quite as versatile as our test-winner, though, and its connection leads are rather shorter.
However, its compact nature, as well as its special motorcycle mode for smaller batteries, make it a fine choice for motorists on two wheels as well as four.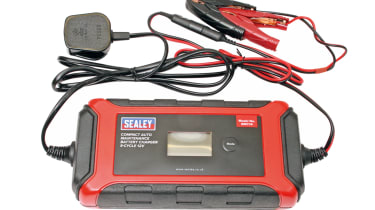 Sealey Compact Auto Maintenance Battery Charger SMC14
Price: Around £69Mean current supply: 3.1 amps
The hefty Sealey claimed a charging output of 8 amps, but only delivered that in pulses. Its actual output averaged 3.1 amps, which disappointed, with a 15-hour charge time for our flat battery. It's a shame, because it's a versatile charger with a range of modes, including one for battery conditioning.
It has a useful LED charging progress display and passed our misuse test, but the sample we tested didn't fare well in our EMC assessment.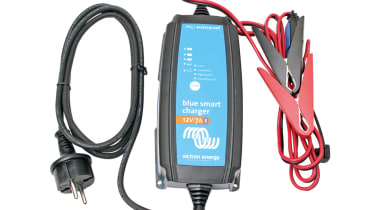 Victron Energy Blue Smart IP65 Charger
Price: Around £90Mean current supply: 6.7 amp
The Victron has a clever trick up its sleeve – its own smartphone app that displays the charging rate and state of the battery it's connected to. The app can also be used to change the charging settings when your phone's in Bluetooth range. It's a pretty effective charger, too, almost meeting its 7 amp claimed rating and it brought our test battery to 80% charge two hours quicker than any of the others.
It's not entirely foolproof in operation, though – it can spark during careless use and was slow to warn us when we connected it with the wrong polarity. Our EMC test results were disappointing, too.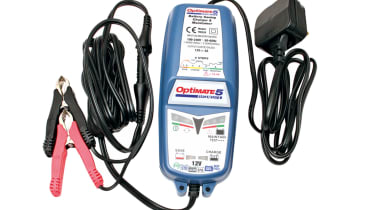 Optimate 5 Start/Stop
Price: Around £74Mean current supply: 3.5 amps
The Optimate is perhaps better suited to motorcyclists than car drivers – its part-insulated clamps seem purpose designed to fit around the cramped terminals of motorbike batteries. Its modest 3.5 amp output will be sufficient for bikes, too – it's rather short of its claimed 5 amp output. It's a shame that its display isn't particularly intuitive, but the instructions are at least clear and comprehensive.
It felt safe in use – it refused to spark even when treated carelessly and it matched the performance of the smallest CTEK and NOCO chargers.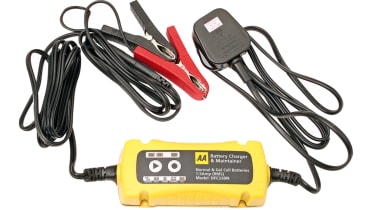 AA Battery Charger & Maintainer
Price: Around £29Mean current supply: 0.9 amps
AA branding has no doubt helped this charger to become one of the best-sellers on the market, but others in our test are far more capable. Even after 30 hours connected, our flat battery still wasn't fully charged – no doubt a consequence of a low 0.9 amps charging output, which can't even match the modest 1.2 amps claim of its maker.
It seems that battery maintenance is the AA machine's true calling in life, and here its long leads (the longest of all on test) prove very useful. Passing our EMC test and refusing to spark when misused, it should prove very safe, too.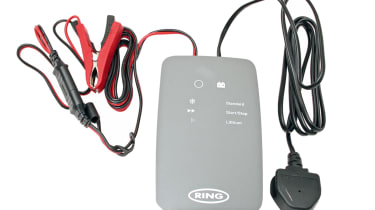 Ring Advanced Smart Charge RSC706
Price: Around £60Mean current supply: 3.7 ampsThe Ring has a rather simple, almost minimalist design, but we'd have liked clearer markings – some of the graphics seem better suited to an MP3 player than a battery charger. It also fell a long way short of its claimed 6 amp power output.
Most worrying was that its residual current was enough to cause sparks after being disconnected from the battery, and its EMC results weren't very encouraging, either.
New 2022 Toyota RAV4 Adventure revealed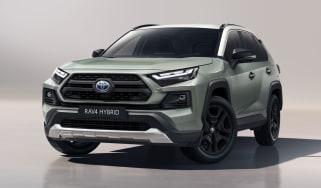 New 2022 Toyota RAV4 Adventure revealed
Best new car deals 2021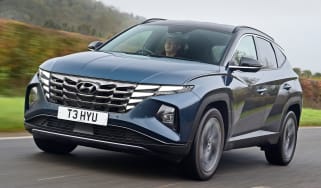 PCP deals explained – what is PCP finance?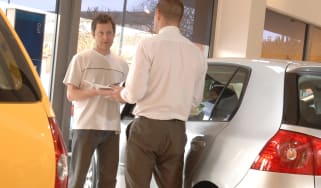 PCP deals explained – what is PCP finance?