Best screwdrivers 2018
A set of decent screwdrivers is a must-have for any workshop. We name the best
The humble screwdriver is one of the most frequently reached-for tools in any DIY regular's armory. They're often mislaid, though, and easily damaged by misuse if you're tempted to put them to tasks they're not designed for – who hasn't used a screwdriver as a chisel?
Buying a complete set, with its own dedicated carry case, is one way of making sure the you always have the right screwdriver to hand when you need it. We've put some of the most popular sets to the test to see which should feature in every motorist's workshop.
How we tested them
We started our tests by looking at how comfortable each screwdriver was to use. A badly designed screwdriver will make it painful to exert much force on a stubborn screw, so we awarded points where effort is reduced. We also awarded points to sets that cover screw types you'll find in most cars, and applauded shafts that are thin enough to use in tight spots. Extra credit was awarded for magnetic tips and sturdy carry cases and our results were weighted buy the cost-per-screwdriver of each set.
The best screwdriver sets you can buy in the UK in 2018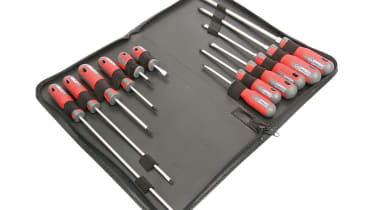 Kennedy Professional KEN-572-6040K
Price: £25Set: 9x plain slot, 4x Phillips
Thoughtful design means the Kennedy drivers are handy for working in confined spaces, thanks to their straight-sided shafts. The set also offers stubby drivers with slot and Phillips heads, which are well suited to putting a lot of force into a screw. The magnetic heads are very strong, which makes it easy to fish dropped screws out of awkward places. There are hexagonal sections to some of the shafts, so you can apply a bit more effort using a spanner if you need to. While some have more comfortable handles, this comprehensive set is a great all-rounder.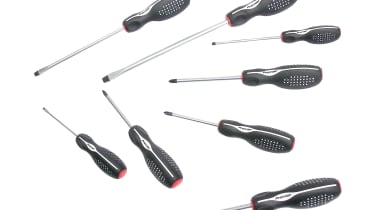 Sealey AK4317
Price: £14.80Set: 4x plain slot, 2x Phillips, 2x Pozi
The only real disappointment with this set is its lack of a dedicated storage case or wallet. Their feel and appearance betray their budget price, too. But they are cheap – cheap enough to be worth having on standby for household tasks even among non-motorists. The handles are comfortable and easy to grip, even with wet or oily hands.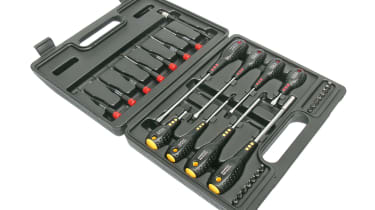 Halfords 30 Piece Screwdriver Set
Price: around £25Set: 4x plain slot, 2x Phillips, 1x screwbit adaptor, 1x flexible screwbit holder, 7x screwbits
The Halfords set is high-quality, but let down by relatively weak magnetic tips, which struggle to pick up dropped screws. The drivers are very well designed and comfortable in use, and their grippy material makes them easy to use with wet or oily hands. The selection of drivers is diverse, too. It's a shame the slot-headed bits don't have parallel sides, though – it makes them tricky to use in tight apertures.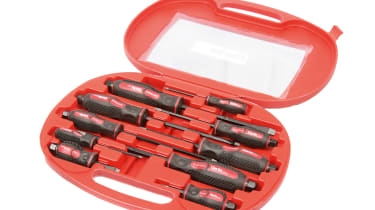 Clarke Pro 122
Price: around £25Set: 5x plain slot, 5x Phillips
Particularly tough construction marks out the Clarke set, whose shafts are made from hardened S2 steel and extend right through the handles – which means you can hammer them onto rusted screw heads if you need to. You'll also find a hexagonal section at the handle so you can use a spanner to apply additional force to stubborn screws. The only real letdown is that the handles are a little uncomfortable on your palms when you're applying a lot of effort.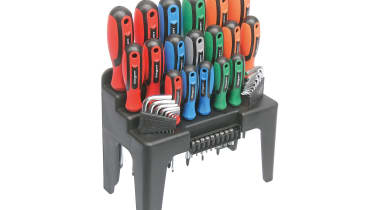 Siegen SO1090
Price: around £18Set: 5x plain slot, 4x Phillips, 4x Pozi, 10x Torx, 20x hex
The diverse Siegen set includes drivers for the latest Torx heads that are becoming increasingly popular on modern cars, so this is a cost-effective way to bring your workshop up to date. The handles are marked to show exactly which screwdriver is which and the supplied bench stand keeps them neat and tidy. It's a shame the tips aren't magnetic, though, and there are no stubby drivers in the set.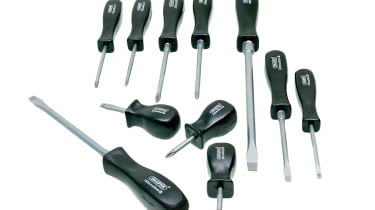 Draper 27030
Price: around £23Set: 4x plain slot, 3x Phillips, 3x Pozi
This Draper set is rather frustrating, because it features useful magnetic tips, a good variety of sizes and built-in hexagonal spanner grips, but every driver has a badly designed handle. Square in section, it's uncomfortable to grip and very difficult to use with wet or oily hands. We can only recommend these if you have a preference for this style of handle – we find the circular-section type easier to use.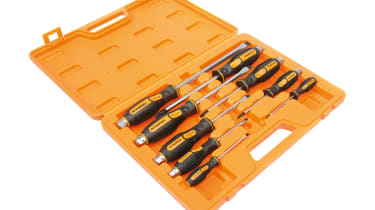 Franklin 6999
Price: around £30Set: 5x plain slot, 4x Pozi
Like the Clarke Pro set, the Franklin set's drivers made from toughened S2 steel and their shafts pass right through the handles. The majority of drivers in the set have a hexagonal section so you can use a ring-spanner for additional force. In fact, the Franklin and Clarke Pro tools are so similar, it's hard to justify the extra cost of the former – particularly when the Clarke Pro boasts stubby drivers that are absent from the Franklin set.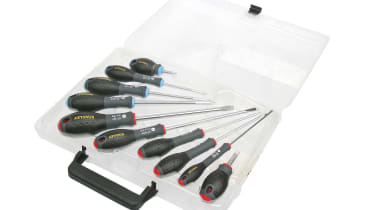 Stanley Fatmax 5-65-427
Price: around £30Set: 6x plain slot, 4x Pozi
Stanley, most famously associated with retractable-blade knives, is a something of a household name when it comes to DIY. Screwdrivers aren't necessarily its forte, though, and the unusually rounded handles of these aren't particularly easy to grip, especially with wet or oily hands. There's no hexagonal section for extra spanner assistance, either. Add a high price and a lack of magnetic tips and your money is better spent elsewhere.
What is AdBlue?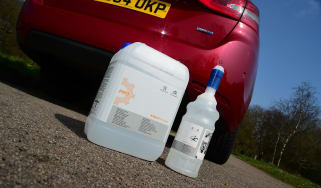 Top 10 best company cars 2021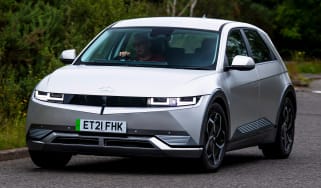 Top 10 best company cars 2021
Genesis GV80 SUV review