Best hose spray guns 2020
Want a spotless car without buying a pressure washer? We test the best hose spray guns on the market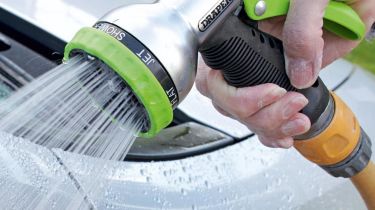 For those who can't justify the expense of a pressure washer for cleaning a car, a hose spray gun can make an excellent alternative. Upgrading your existing garden hose with a spray gun gives you various modes and pressures, and can make cleaning your car quicker and easier. It's also a great alternative if you don't have access to mains power.
But how to choose the best hose spray gun? We tested a selection in order to find out which are the best, judging them on areas such as jet reach, ease of use and the different modes on offer.
How we tested them
In order to determine which hose spray guns came top in our test, we looked at details such as how easy it was to determine the different modes and switch between them, how comfortable they were to use, and how efficiently they rinsed a car.
To do this we measured the jet at maximum power and then attempted to clean a pair of very dirty cars. Areas such as under the wheel arches were key, as they would generally require strong jet pressure. We then recorded how comfortable the spray guns were to hold, and how well the trigger lock worked.
Verdict
1. Draper 7 Pattern Spray Gun 25342
2. Verve Soft Grip Spray Gun
3. Aqua Systems Adjustable Watering Gun
1. Draper 25342 7 Pattern Aluminium Spray Gun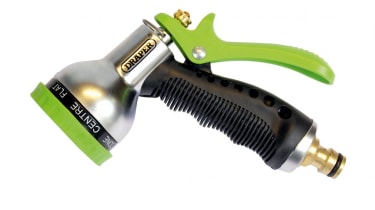 Price: £17Modes: SevenRating: 5/5
A near-perfect hose spray gun due to, among many other things, the solid metal construction and extensive range of modes. The Draper 25342 - the newest incarnation of our old favourite, the 79985 - has seven patterns to switch between, all of which are perfect for different parts of the cleaning process, such as the powerful jet for stubborn dirt. This function was particularly impressive thanks to a reach of 6.5m and, though it's not the cheapest option in our test, it wins for everything from functionality to ease of use.
2. Verve Soft Grip Spray Gun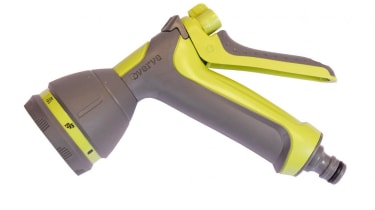 Price: £15Modes: EightRating: 4/5
The best of the all-plastic guns we tested, the Verve Soft Grip Spray Gun is really comfortable to hold and actually has one more function than our first place Draper spray gun. Switching between the modes is made super-easy by handy symbols placed around the head, and we were particularly taken by the finer spray, which was great for rinsing, as well as the the jet's reach of 6m. Pressure control is good, and it was also simple to lock. All in all, a great hose spray gun.
3. Aqua Systems Adjustable Watering Gun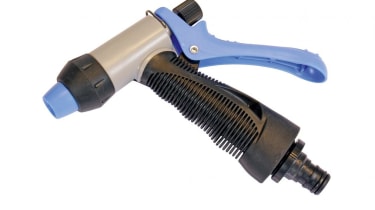 Price: £6Modes: OneRating: 4/5
The cheapest top-rated hose spray gun on our list, the Aqua Systems Adjustable Watering Gun may only have one mode but it makes it count. The overall pressure and strength of the spray have to be determined by the user, though the jet reaches 6m at full pelt, and pressure can be adjusted with the rotary knob positioned at the rear. Our only reservation came with the metal lock, which we found to be flimsy and difficult to use, but otherwise this is a great budget option.
Partnership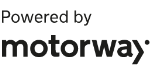 Need to sell your car?
Find your best offer from over 5,000+ dealers. It's that easy.
4. Xhose 8 Speed Spray Nozzle XHNO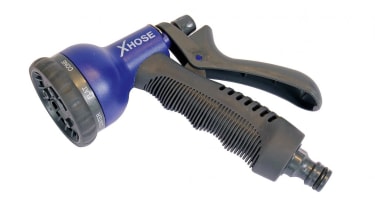 Price: £10Modes: EightRating: 3/5
Despite the wide variety of modes on offer and one of the most comfortable handles on our test, the Xhose 8 Speed Spray Nozzle XHNO lost marks due to the lack of clear differentiation between the functions. While the jet is capable of reaching 6m, matching those higher up the list, it's hard to move between modes and therefore difficult to use the spray gun to its full potential. Additionally, the metal lock was too fiddly, especially when wearing gloves.
5. Sealey Water Spray Pistol Gun CC86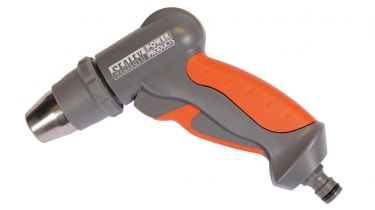 Price: £10Modes: OneRating: 3/5
Despite technically being larger than any other hose spray gun on our list, the Sealey Water Spray Pistol Gun CC86 is still very lightweight and easy to handle. The size makes the gun feel sturdier in the hand, and you can switch between half and full pressure with the trigger mechanism, which locks half-way or at full strength depending on your needs. Similarly, turning the nozzle changes the spray from full jet to a wider spray, though it should be noted that the jet only reaches 5m.
6. Hozelock Multi Spray 2676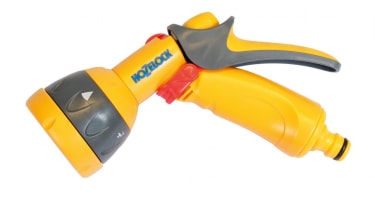 Price: £19Modes: FiveRating: 3/5
The Hozelock Multi Spray 2676 may look a bit cheap and cheerful but its appearance belies a decent hose spray gun that, though plastic, feels good in the hand and has decent functionality to go with it. Unlike some rivals, the lock located at the top of the gun is very easy to use and, despite only having five modes, the jet managed to reach five metres. Still, the lack of range does let it down somewhat, as at least two of the functions we tried felt a little too similar to each other.
7. Gardena Classic Water Sprayer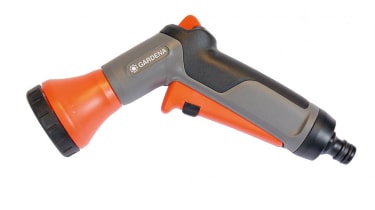 Price: £12Modes: OneRating: 2/5
Another hose spray gun with a trigger placed up front, the Gardena Classic Water Sprayer is a well-designed item that improves on a lot of the failings of other guns - an easy-to-use lock, intuitive trigger, and simple pressure control - but fails when it comes to options. The one mode available is a wide spray, which is not hugely useful when it comes to blasting off baked on dirt or rust and means that it can only reach 1.5m - paltry compared to the six metres reached by others.
New 2024 Dacia Duster arrives – popular budget SUV enters its third generation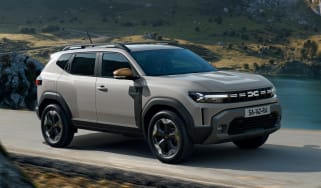 New 2024 Dacia Duster arrives – popular budget SUV enters its third generation
Best new car deals 2023: this week's top car offers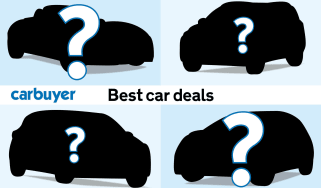 Best new car deals 2023: this week's top car offers
Top 10 best cars under £200 per month 2023/2024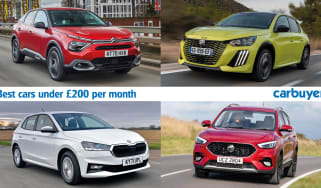 Top 10 best cars under £200 per month 2023/2024