What is the fastest car in the world?
We look at some of the world's fastest cars and explain how they're so quick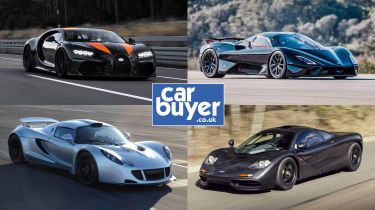 The top speed of a car isn't really something we pay much attention to these days. As almost every production car is easily capable of reaching illegal speeds on the public road, so it's not all that important. Yet there's one area where it might be - bragging rights.
It's not about boasting to your mates these days, though - top speed is more of a way of a car brand showing its engineering and technical achievements. Building the fastest car in the world is a desirable and exciting task, and it's fun to read about these amazing machines. That's why we've put together a list below of all the fastest cars in the world in 2021. 
In the past, car makers turned to special racing models that were designed only to break the speed record. There were attempts by famous gentlemen racers such as Donald Campbell in some amazing machines, but they weren't road cars. Later, car makers saw the opportunity in marketing their brand as the fastest in the world.
One famous milestone example was the McLaren F1, the company's first (and perhaps best-known) road car. It came out in 1998 and took the Guinness World Record for the fastest car in the world, with a top speed tested at 240.1mph.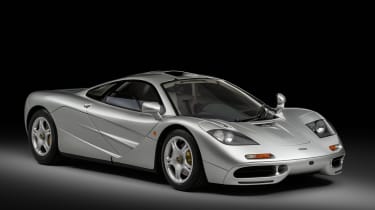 It seemed insane that any car could go over 200mph in the late 1990s, yet in 2021 there are cars that reach close to 300mph - and you can drive them on the road (though obviously not at those speeds).
There's a car that's gone even faster than those mentioned below, but it's powered by a jet engine, and it's difficult to consider it a car in the conventional sense. Our list focuses on production cars with conventional engines, and we 
There's a car that's gone even faster than those mentioned below, but it's powered by a jet engine, so we've excluded it from our main list focusing on production cars with conventional engines. We'll also briefly explain how the fastest production car in the world reached its scarcely believable top speed.
What is the fastest car in the world?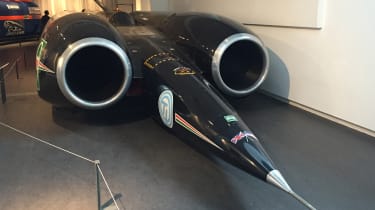 The holder of the land speed record is currently the Thrust SSC, a British jet car that weighs nearly 10 tonnes. It has the equivalent of 102,000bhp and, in 1997, hit 763mph in a Nevada desert. Thrust SSC is the first car to officially break the sound barrier. There's a car called Bloodhound SSC in development, which theoretically could reach 1,000mph, but its future is uncertain.
What's the fastest road legal production car in the world?
To be officially recognised as one of the fastest cars in the world, a car needs to do a two-way run. The two attempts are averaged out to account for weather and wind conditions, and this is the speed that's recorded. At least 20 examples of the car also need to have been produced. Here are the fastest road cars in reverse order:
SSC Ultimate Aero - 256.18mph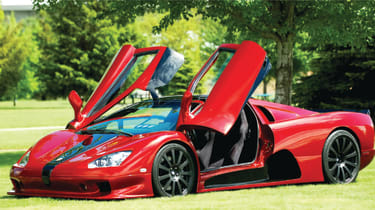 The SSC Ultimate Aero is powered by a 1,183bhp twin-turbocharged V8 petrol engine. During its seven-year production run, it managed to steal the fastest car title from the Bugatti Veyron with a top speed run of 256.18mph. It's also worth mentioning that this figure was achieved on a public road, with the car maker using a temporarily closed two-lane highway near its factory in the state of Washington, USA.
Bugatti Veyron Super Sport - 267.86mph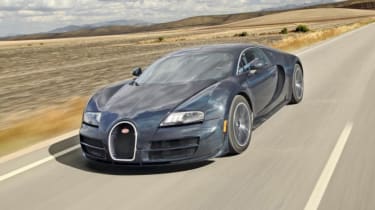 While the standard Bugatti Veyron wasn't exactly slow with a top speed of over 253mph, the Veyron Super Sport sought to push the boundaries of physics slightly further with various aerodynamic tweaks and an increased power output of 1,184bhp (up from 987bhp). Limited to 30 examples, the Super Sport was successful in regaining the fastest car record from SSC in 2010 with a recorded speed of 267.86mph at the Ehra-Lessien test track in Germany.
Hennessey Venom GT - 270.49mph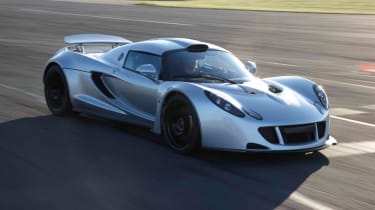 In 2014, American tuner Hennessey took the record back to North America with their Venom GT hypercar. The record run was completed on the 3.2-mile runway at the Kennedy Space Centre in Florida, with a one-way recorded speed of 270.49mph. Controversially, a run in the opposite direction was never completed, meaning the attempt didn't qualify as an official world record. It still left us in awe, though.
Koenigsegg Agera RS - 277.87mph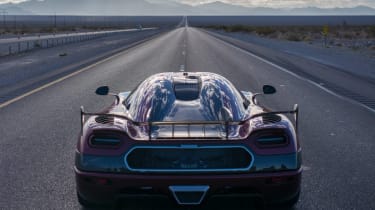 Koenigsegg upped the ante in 2017 by increasing the speed record even further still, while simultaneously recording the highest speed ever achieved on a public road. Using a closed 11-mile stretch of highway in Nevada, USA, the Swedish hypercar maker ran a customer-owned Agera R to a speed of 277.87mph. Not only was the car borrowed from a customer but it was also unmodified, producing 1,360bhp in its factory specification.
SSC Tuatara - 282.9mph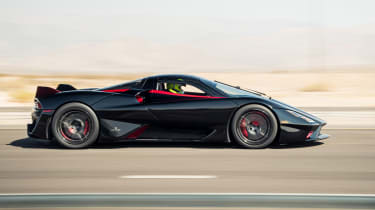 The SSC Tuatara managed a speed of 316.11mph in 2020 on a closed stretch of Nevada highway. However, the record speed was quickly debunked due to controversy surrounding the video of the attempt. 
In 2021, the company made another record speed attempt using a more accurate timing system, reaching a two-way average of 282.9mph during its preliminary runs - beating the previous two-way record set by the Koenigsegg Agera RS.
The SSC uses a 5.9-litre V8 with two turbochargers, producing 1,750bhp and 1,735Nm of torque. It's aerodynamically designed to break the 300mph barrier, and has a carbon-fibre shell to keep weight down.
The record speed of 282.9mph was achieved in a SSC Tuatara driven by owner Dr. Larry Caplin, who used his own personal car for the run. After the attempt, he said "I got a taste of full power in the top of seventh on the last run. I am excited to come back and break 300mph."
Bugatti Chiron Super Sport - 304.77mph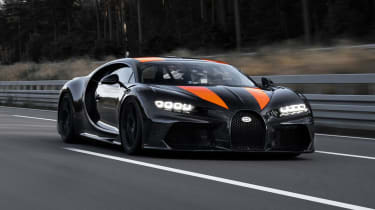 In 2019, Bugatti regained the world's fastest car accolade with the Chiron Super Sport. Like the Veyron Super Sport before it, only 30 examples are slated for production, with the car managing to hit 304.77mph at the Ehra-Lessien test track. 
The Chiron's record has attracted some controversy though, as it's record breaking speed was only recorded in one direction unlike the attempts by Koenigsegg and SSC who both used the overall average speed of two runs in opposite directions on the same stretch of road.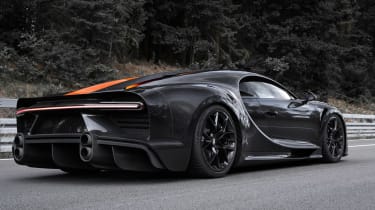 The Bugatti Chiron Super Sport is powered by a tweaked version of the standard Chiron's 8.0-litre W16 engine, which itself was used in the Bugatti Veyron from 2005 onwards. It might be easier to think of the engine as two 4.0-litre V8s joined together, which then has four turbochargers bolted on. Total power stands at an astonishing 1,578bhp - 99bhp more than the 'regular' Chiron. Amazingly, the four-wheel-drive system and gearbox are unchanged.
Read our guide to the best drivers' cars on sale now, or check out our guide to keeping your tyres in top condition.
Speed awareness course: how much does it cost, how long does it take and how do you do one online?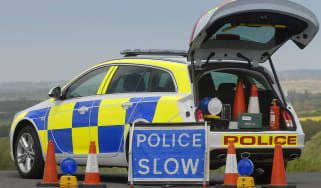 Speed awareness course: how much does it cost, how long does it take and how do you do one online?
New car delivery times: how long will you have to wait?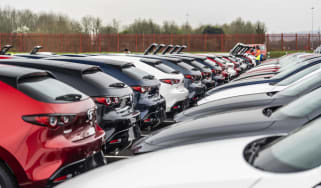 New car delivery times: how long will you have to wait?
Best new car deals 2022: this week's top car offers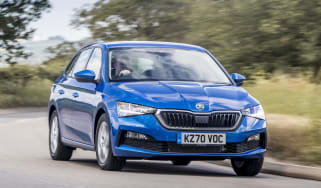 Best new car deals 2022: this week's top car offers