Audi R8 vs Nissan GT-R review
Audi R8 or Nissan GT-R? Which would you choose? Read our review and watch our video to see if it changes your mind
"Only problem with the R8? It's not as fast as the GT-R"
Some may argue there's no contest. If you crave a gorgeous showstopper, guaranteed to impress anyone who encounters it, then the R8 is leagues ahead. It is aesthetically wonderful in every respect, satisfying onlookers and occupants alike with its stunning design. However, the R8's front stowage compartment is tiny, and it'll only seat two.
The GT-R can carry four and has a decent boot. And while its chiseled superhero demeanor lacks the handsome looks of the Audi, there's little chance of the Nissan driver feeling like an underachiever in terms of presence.
But none of that matters when the two cars draw alongside each other at the lights or share a racetrack. Here only performance counts. And in this respect the R8 goes just as good as it looks. It really is a very quick and agile car. But more importantly, the quattro four-wheel-drive system and excellent chassis mean this is a supercar that's incredibly easy to drive fast. And, if you fit magnetic ride suspension, it's as comfortable as an A6! Really the only complaint is that the steering lacks feedback… oh, and it's not as fast as a GT-R!
Incredibly, the Nissan almost leaves the R8 for dead under acceleration. The hand-built 3.8-litre twin turbo engine is an absolute beast. Throw some corners into the mix and the gap between it and the Audi is even wider. Much of this is due to the Nissan's computer-controlled all-wheel-drive system, which is the most sophisticated fitted to any car. It not only gives amazing traction, but it also endows the big Nissan with unbelievable agility (it weighs 1.7 tonnes!).
In terms of outright performance, the GT-R beats the R8 quite convincingly. And it does so on price, too – when the Nissan goes on sale officially next year it will cost around £26,000 less than the R8. That means it's a dream car which is more likely to become a reality.
Car Specs
Model: Audi R8Price: £78,300Engine: 4.2-litre V8Power: 414bhp0-62mph: 4.6 secondsTop Speed: 187mphStandard Equipment: Leather upholstery, xenon headlights, daytime running lights, climate control, 19-inch alloy wheels, flat-bottomed steering wheel.
Model: Nissan GT-RPrice: £52,900Engine: 3.8-litre, twin-turbo V6Power: 473bhp0-62mph: 3.5 secondsTop Speed: 195mphStandard Equipment: 20-inch alloy wheels, climate control, leather upholstery, electrically adjustable seats, onboard telemetry computer.
by Mat Watson
Top 10 best hybrid cars 2021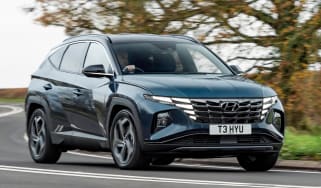 Top 10 best hybrid cars 2021
Genesis GV80 SUV review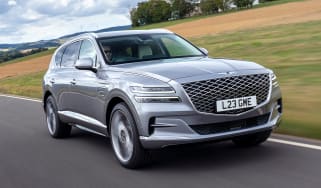 What is AdBlue?