Chevrolet Cruze 1.6 LS manual review
The Chevrolet Cruze is Chevy's new global car. It's built on the next Astra's chassis too, so read our review to see if it's any good
"It looks great, it's well priced, but there's something missing"
Despite having one of the silliest names of any new car, the Chevrolet Cruze is really important. And that's because it's built on GM's new delta medium-sized car platform which underpins the next Vauxhall Astra. So it better be good.
But before we get caught up in the Cruze's oily bits, let's deal with the way it looks. Chevy reckons that the Cruze looks like a four-door coupe. Maybe someone should have introduced the designers to the Mercedes CLS before they made that statement.
Perhaps that's unfair, as from the outside, and in particular the front, the Cruze is a bit of a looker and certainly turned some heads when I was out on the road. The headlights in particular look nice and mean and very modern.
On the inside, there's a sculpted, chunky steering wheel which is the one you'll get in your next Astra too, and some nice coweled dials which glow blue in the dark which add a classy touch. Even on this near-entry-level model, the seats are sporty and supportive, and there's a decent level of kit, including air conditioning, electric windows and 16-inch alloys.
What's more, the Cruze feels more like a quality European product, rather than an ageing ex-Daewoo like the Lacetti, which the Cruze replaces.
Obviously the Cruze's big sell is that it costs Fiesta money but offers a Focus-rivalling amount of space and equipment. And while it's certainly got the kit, space is more of a concern. While there is loads of room up front, adults will struggle for headroom in the back because of the car's swoopy roofline. If the driver is tall, then rear seat knee room is tight too. The boot is big though, and you get a full-size spare wheel.
To be honest, driving thrills won't rate that highly on most Cruze buyers' lists of wants, no matter how much Chevy spends going World Touring Car racing. But the Cruze's chassis is actually very impressive. The steering is nice and direct, and not overly light, while the car smoothes out bumps at high and low speeds with equal ease. And despite the ride comfort being supple, the Cruze's suspension is still firm enough to keep a smile on your face in the bends.
Unfortunately, the 1.6-litre petrol engine is a real disappointment. It has very little in the way of power, and struggles to move the Cruze's 1,285kg bulk around town. The engine's power delivery lacks smoothness, completely at odds with the Chevy's supple ride, and it's thirsty too. I only managed around 26mpg on the test route.
And to make matters worse, the five-speed gearbox has an imprecise action, which is frustrating given how often you need to change gear to keep the Cruze on terms with traffic. Do yourself a favour and opt for a bigger engine. It'll move the Cruze with less effort and cost you less in fuel in the long run.
It's a real shame that the engine and gearbox let the Cruze down, as I really like a lot of the rest of the package. I like the way the Cruze looks, both inside and out; I like the way it rides and handles too. And when you factor in that the Cruze is better spec'd and is £2,750 cheaper than an equivalent Focus then it makes a lot of sense. Just get the Chevy Cruze 1.8-litre LT instead.
Car Specs - Chevrolet Cruze 1.6 LS
| | |
| --- | --- |
| Engine: | 1.6-litre 4cyl, 113hp |
| 0-62mph: | 12.5 seconds |
| Top speed: | 115mph |
| Economy/emissions: | 41.5mpg/159g/km CO2 |
| Price/On sale | £12,595/July |
We rate:Snappy looks Nice interior Handles well
We slate :1.6 is very slow... ... and thirsty Rear seat space
Rating:
by Tom Phillips
What are Audi TFSI petrol engines?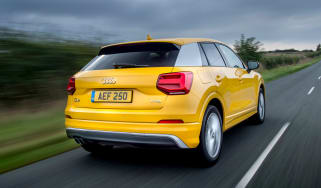 What are Audi TFSI petrol engines?
Car dashboard warning lights: the complete guide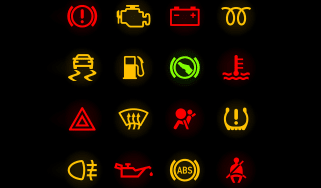 Car dashboard warning lights: the complete guide
Best new car deals 2021