Suzuki Swift Sport review
The Suzuki Swift Sport promises performance and practicality at an affordable price. Read our review to see how it stacks up
"A Junior WRC for the road"
I reckon the Suzuki Swift is more of a spiritual successor to the original Mini Cooper than any of BMW's recent efforts.
Just look at the exterior styling. The Swift Sport borrows the Mini's iconic wheel-at-each-corner layout, floating roof and upright windscreen, but crucially makes it look modern, instead of just a retro reworking.
It's the same story inside too, as the Swift's interior is simple, functional and modern a la old Mini, and avoids cartoony details like giant dials for example.
That said, the Sport version does get some extras, including stainless steel pedals and bolstered seats, which are very nice, but I wish you could set them lower for a more authentic miniature racer experience.
And that racing theme is important because, just like the Mini which took Paddy Hopkirk to victory on the 1964 Monte Carlo rally, the Swift owes plenty to the World Rally Championship, thanks to the Japanese brand's activities in the Junior WRC.
So to make the Swift Sport live up to its name, it has a 125hp 1.6-litre engine under its stubby bonnet coupled to a really nice mechanical-feeling five-speed 'box. At low speeds the engine even whines like the old Mini did too, but once let off the leash, the Swift's motor loves to rev thanks to its variable valve timing which adds extra punch at higher engine speeds. Just don't expect motorway cruising to be a quiet affair.
But the engine is only part of the fun. The steering is direct – apart from the large amount of dead play around the straight-ahead on the motorway – while the brakes have a strong, confidence-inspiring feel.
ESP is standard, but grip is good anyway, thanks to the big 17-inch wheels and top-quality, grippy Goodyear tyres which are also standard fit. Hiding behind the wheels are uprated springs, harder suspension bushes and motorsport-inspired Monroe dampers too.
The dampers keep the wheels glued to the road and minimise body roll, making fast progress in the Swift Sport very unfussed and enjoyable. Obviously there's a pay-off, as the ride is very stiff around town and the big wheels crash and thump into potholes.
But while the stiff ride is initially a bit of a concern, you soon get used to it as just another facet of the Swift Sport's character.
And character is something this Swift really has. From its funky twin exhausts, deeper front bumper and roof spoiler to the uprated clutch's springy action and hard ride, the Swift Sport's intent is clear.
Even better, it actually delivers on the promise too, whether you're off to the supermarket or punting down one of your favourite back roads. Just like an original Mini in fact. And at £11,750, it's £1965 cheaper than the BMW MINI too.
Car Specs - Suzuki Swift Sport 1.6
| | |
| --- | --- |
| Engine: | 1.6-litre 4cyl, 125hp |
| 0-62mph: | 8.9 seconds |
| Top speed: | 124mph |
| Economy/emissions: | 39.8mpg/171g/km CO2 |
| Price/On sale | £11,750/Now |
We rate:Junior rally car... ... for not much cash More Mini than a MINI
We slate :Motorway steering Noisy at speed Big ugly keyless "key"
Rating:
Nissan Ariya vs Volvo XC40 vs Volkswagen ID.4 - which is best?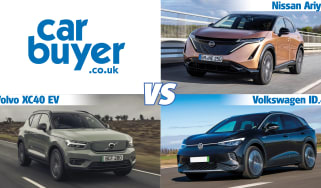 Nissan Ariya vs Volvo XC40 vs Volkswagen ID.4 - which is best?
2023 Hyundai Ioniq 5 N spotted testing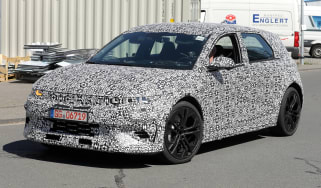 2023 Hyundai Ioniq 5 N spotted testing
Best new car deals 2022: this week's top car offers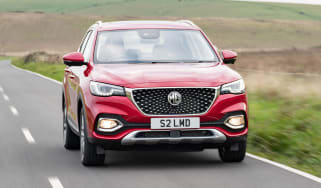 Best new car deals 2022: this week's top car offers