Kia recalls more than 25,000 UK cars
Kia has recalled 25,192 cars in the UK due to a potential problem with brake lights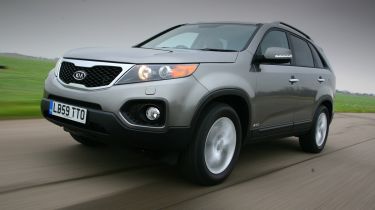 Kia is recalling more than 25,000 UK cars following a potential issue with brake lights on a selection of models built between 2006 and 2011.
The problem lies with a faulty switch that may cause the car's brake lights to not illuminate at all – or prevent them turning off after the brake pedal is released. The issue is caused by 'carbonisation' on the switch contact points, and Kia says the problem will not affect braking performance in any way. No accidents have so far been reported as a result of the fault.
The vehicles affected by the recall include some of the previous-generation Carens MPV, the larger Sedona MPV, the Sorento and Sportage SUVs as well as some current Sorento and Soul models. A pair of Optima saloons are also on the list.
Owners of the above vehicles will be contacted by Kia UK in the coming weeks, with all the remedial work completed free of charge in around 15 minutes. Anyone with any concerns should contact their local dealer, who can advise them on whether or not their car is affected.
Full details on those cars subject to recall can be found below. Alternatively, take a look at the full Kia range by visiting the CarBuyer Kia reviews page.
The 25,192 cars affected in the UK are:
1,128 Sedona MPVs built November 2006 to June 2007
4,246 Sorento 4x4s (old model) built May 2007 to December 2008
8,080 Sportage 4x4s (old model) built September 2007 to January 2010
3,535 Carens MPVs (old model) built March 2008 to November 2009
3,525 Sorento 4x4s built October 2009 to April 2011
4,676 Soul hatchbacks built June 2010 to June 2011
Two Optima saloons built August 2010 to April 2011