Mitsubishi Shogun prices dropped
The Mitsubishi Shogun SUV is now available from just £26,199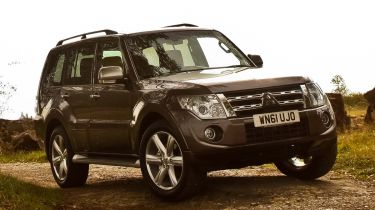 Mitsubishi Shogun prices have been reduced by up to £5,000, including the three-door standard SUV, the five-door long wheelbase version and the commercial vehicle model.
Prices for the Shogun SUV now start at £26,199 for the standard SG2 spec with a 3.2-litre diesel engine and a manual gearbox. Go for the seven-seater long wheelbase model and prices start from £28,599. The top-spec SG4 automatic model costs from £36,799.
The Mitsubishi Shogun is also available as a commercial vehicle, and prices for that version start from £27,649 for the standard-length version and £30,049 for the long wheelbase model.
The highest discount is on the long wheelbase SG3 model, which now casts £5,000 less. Alloy wheels, an MP3-compatible audio system, climate control and cruise control come as standard on all versions of the Mitsubishi Shogun.
The Shogun uses an always-on 4x4 system and is popular with buyers who do a lot of off-road driving – in fact, Mitsubishi says 70 per cent of Shoguns are bought by existing owners. The 3.2-litre diesel engine is powerful, making it great for towing and carrying passengers around, or even transporting work goods if you opt for the commercial version.
It's not the cheapest car (or van) to run however, with the big engine only getting 33mpg in the automatic version and 36mpg in the manual. The automatic gearbox reduces the car's performance too, with the car going from 0-62mph in 11.1 seconds – as opposed to 9.7 seconds with the manual one.
Although the Shogun is available with seven seats, the third row of seats isn't the most practical – access is a bit tricky and only children can realistically sit in them for extended periods of time. You can read more about the car in the CarBuyer Mitsubishi Shogun review.
For the full Mitsubishi range, visit the CarBuyer Mitsubishi reviews page.