Hyundai i10 deals: Car deal of the week
The Hyundai i10 city car now costs from just £6,995 thanks to a £1,350 price cut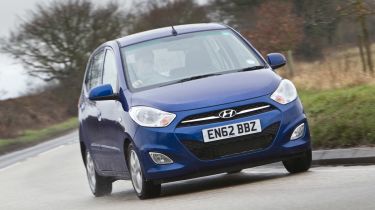 There is now £1,350 off the Hyundai i10 city car in the entry-level Classic specification, meaning prices now start from as low as £6,995. With a new, updated Hyundai i10 coming soon, the current model's price is being reduced as a final sales push - so if you're after a bargain, now is the time to buy new.
Despite the bargain price, the i10 comes with plenty of kit as standard such as air-conditioning, electric windows, iPod compatibility and an unlimited mileage five-year warranty.
There's also depreciation to take into account – because of the low price and economical engine you can expect strong resale values.
Hyundai is known for being a reliable manufacturer, but should you experience any problems, the i10 comes with a five-year unlimited mileage warranty. There's also a new Triple Care package available, which includes free roadside assistance and annual vehicle health checks.
The i10 comes in three main specifications - the entry-level Classic, mid-range Active and range-topping Style.
It's a fun car to drive in the city thanks to its light steering and although there is only one engine, a 1.2-litre petrol, it's nimble when navigating narrow streets and city traffic. But it also holds its own on the motorway, despite the tall shape.
Rough roads are also managed well, as the Hyundai i10 easily glides over bumps and potholes at lower speeds and with its short wheelbase rivaling that of many SUVs for ride quality.
For a small city car there's a surprising amount of room inside, with plenty of headroom. Two adults can easily sit in the back.
There's 225-litres of storage space in the boot, and its doors all open wide, which makes for very easy access to the rear seats. There's also extra storage space neatly fitted under the floor in the boot.
It should be said that the manual version is much more economical than the automatic, however, with the manual version returning 51.4mpg and costing just £20 a year to tax.
For more information on this deal visit the Hyundai website, and for the full Hyundai range visit the CarBuyer Hyundai reviews page.