Alfa Romeo MiTo Cloverleaf deals
You can now get £2,000 off the price of an Alfa Romeo MiTo Cloverleaf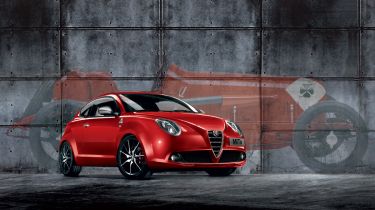 You can now get £2,000 off the price of an Alfa Romeo MiTo Cloverleaf, as the carmaker celebrates 90 years of the Cloverleaf badge.
High performance Alfa Romeos have carried the Cloverleaf badge ever since racing driver Ugo Sivocci pinned a four-leaf clover to the side of his Alfa Romeo race car to end a run of bad luck 90 years ago. He went on to win his next race.
The MiTo is arguably a more stylish car than rivals like the Volkswagen Polo, and thanks to it's 168bhp 1.4-litre petrol engine, it's quick, too. The MiTo Cloverleaf will do 0-62mph in 7.5 seconds and hit a top speed of 136mph, which is on a par with the top-spec Citroen DS3 and MINI Cooper S. The Alfa isn't as much fun to drive, though.
However, the new discount means that the Alfa Romeo now significantly undercuts the MINI on price – despite having a lot more standard equipment. Available from just £16,995, the MiTo Cloverleaf is nearly £500 less than the sporty Citroen DS3 DSport THP, too.
What's more, considering the car's impressive performance, the Cloverleaf should also be fairly cheap to run. It'll do 47.1mpg, while CO2 emissions of just 139g/km meaning annual road tax is just £125.
Reliability has traditionally been a weak point for Alfa Romeo, but a mid-table position in our 2013 Driver Power survey indicates that Alfa's efforts to improve its reputation are starting to pay off, and we are not aware of any specific problems that affect the MiTo. A five-star Euro NCAP rating means it is safe, too, thanks to the inclusion of numerous air bags, plus traction and stability control as standard.
Priced from £16,995, the Alfa Romeo MiTo Cloverleaf is available to order now.
For the full Alfa Romeo range visit the CarBuyer Alfa Romeo reviews page.