New Toyota Verso announced for 2014
New BMW diesel engine and extra options for 2014 Toyota Verso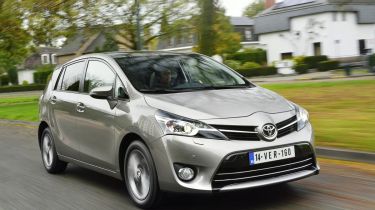 Toyota has released details of the 2014 Verso, the updated version of its practical MPV, which is due to go on sale in February next year. The new range will offer buyers a choice between a new 1.6-litre diesel engine supplied by BMW and Toyota's existing petrol engines.
The Verso will be the first Toyota to use the new BMW engine, which is lighter and more economical than the 2.0-litre diesel engine it replaces. Its provisional combined fuel economy figure of 62.8mpg is an eight per cent improvement over the old engine, while C02 emissions are lower, at 119g/km.
The new engine features a stop-start system that turns off the engine when the car isn't moving in order to save fuel. Toyota says its engineers have worked hard to accommodate the new system, and to make sure the 1.6-litre diesel engine is comfortable and quiet for passengers inside the car.
Toyota has also introduced a new version of the Verso called the 'Trend' for 2014, which will slot between the existing mid-range Icon and top-of-the-range Excel models in the Verso line-up.
The Trend model will come with a choice of the 1.6-litre diesel engine or a 1.8-litre petrol. As well as special alloy wheels and styling touches, the Trend will have Toyota's touchscreen multimedia system called Toyota Touch 2 with Go and front parking sensors as standard.
Toyota Touch 2 with Go is an expanded version of Toyota's normal multimedia system and the Verso Trend will be the only model fitted with it as standard. The extra features include additional sat-nav options and connection to more Internet-based traffic and mapping services.
Prices for the 2014 Verso will be announced in the New Year, with first deliveries to customers scheduled for March. The cost of a current entry-level Verso Active starts at £17,765, but it's likely the basic price of the new Trend line will be closer to the £23,775 price tag of the current range-topping Excel model.
Click here to read our review of the current Toyota Verso, or for more information on the entire Toyota range, visit the CarBuyer Toyota reviews page.