Lexus RC F coupe ready for launch
New Lexus RC F coupe will rival BMW M4 and Audi RS5 when it goes on sale this year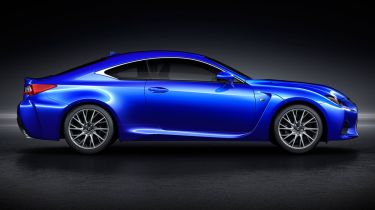 Lexus is set to unveil its new sports coupe, the Lexus RC F, at the North American International Auto Show in Detroit and it's set to be one of the most powerful cars Lexus has ever made.
Based on the standard Lexus RC coupe due out later this year, the sportier RC F gets a high-performance 5.0-litre V8 petrol engine that will offer over 450bhp, making it a rival to the new BMW M4 and Audi RS5. It's likely the car will get a developed version of the eight-speed automatic gearbox that was used in the Lexus IS F saloon car.
The RC F carries a number of styling touches designed to help keep the car stable when going quickly, including wider wheels, a rear spoiler that moves depending on the car's speed, and lightweight parts made from carbon fibre.
Inside, Lexus has produced a number of features that were specifically designed for the RC F model – the dials, seats, trim details, pedals and the steering wheel are all unique to the car.
The price of the RC F is expected to be around £57,000 and it's likely to go on sale in the UK at the end of 2014 or early in 2015. Lexus will officially launch the sporty coupe and host a press conference at the Detroit Motor Show on 14 January.
The new Lexus RC coupe was unveiled at the 2013 Tokyo Motor Show and will be available in two versions when it's launched. The RC 300h will be the first hybrid Lexus coupe, combining a 2.5-litre petrol engine with a powerful electric motor. The RC 350 gets a 3.5-litre V6 petrol engine and both models will be available as either rear-wheel or four-wheel drive, depending on customer preference.
To read reviews of the current Lexus range, visit the Carbuyer Lexus reviews page.