Kia Soul EV makes European debut
The all-electric Kia Soul EV has advanced batteries and a 124-mile range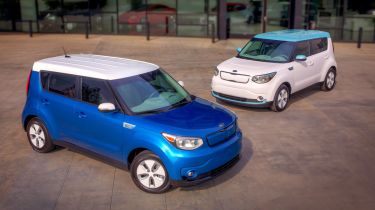 The Kia Soul EV made its European debut at the Geneva Motor Show and it's the first electric production car fitted with ventilation technology that efficiently reduces energy consumption.
Simply closing the air vents on other cars only diverts air elsewhere and energy consumption remains the same regardless. However, pushing the 'driver only' button in the Kia Soul EV shuts off heating and ventilation in the passenger seats, directing them solely to the driver to minimise energy consumption while increasing driving range.
Additionally, a pump system reuses waste heat created by the air-conditioning or electrical systems to lower battery usage and heat the car's cabin to optimum temperatures. Drivers can also schedule the car's ventilation to heat or cool the car to a required temperature 30 minutes before they start the engine and this works whilst the car is plugged in.
Kia engineers discovered that cold conditions could potentially reduce an electric vehicle's range by 50 per cent and a battery-warming system has been fitted to minimise this.
Using a three-pin plug, the Kia Soul EV takes 24hrs to recharge fully, while using a 240-volt outlet drops that to just five hours. But, by using a 50-kw fast-charge point, the car can get up to an 80 per cent charge in just half an hour. Kia hopes the car can reach a maximum range of 124 miles by combining all this technology.
The Soul EV's electric motor produces 108bhp, which means the car can get from 0-60mph in less than 12 seconds, while it tops out at 90mph. Thanks to the heavy batteries, which are stored under the car's floor, the EV has a low centre of gravity, which should mean improved handling in corners.
Kia has also used plenty of sound-deadening materials to ensure the cabin is quiet, although the car's VESS (Virtual Engine Sound System) warns pedestrians of its presence.
Opting for the electric Kia Soul, rather than the conventional petrol or diesel powered car does mean losing some interior space and there's less legroom in the back as well, plus a slightly smaller boot. It does boast less vibration, more aerodynamic performance, less noise and harshness than rival electric vehicles.
Unlike some electric cars, such as the BMW i3, the Kia has little to distinguish it from a model that is powered by petrol or diesel – something that might appeal to some buyers put off by the space age looks of the BMW.
The Kia will be available in three colour combinations that make it stand out from the normal Kia Soul range – Pearl White lower body with Electronic Blue roof, Caribbean Blue lower body with Clear White roof, and Bright Silver with Clear White roof.
Other changes outside include 'Eco Electric' badging, a larger front grille, which houses the charging sockets, projector headlights, and bright LEDs for the taillights and position lamps. The car also gets unique 16-inch alloy wheels.
Michael Cole, chief operating officer of Kia Motors Europe, said: "Not only is the Soul EV a stylish, eye-catching car to be seen in, but it will also bring with it the same high quality that buyers expect from the Kia brand.
"It will be a car for the head and for the heart, and the Soul EV embodies our commitment to offering European customers stylish, environmentally-responsible vehicles with an industry-leading warranty and excellent value for money."
This is also the first KIA fitted with Organic Light Emitting Diode technology, a low energy display that provides information on charging time, energy economy, battery efficiency and alerts about remaining charge times.
The Kia Soul EV has the regular Kia Soul's audio-visual navigation system, but with additional functions including a charging station search function and a navigation system displaying the car's drivable range.
The Kia Soul EV will be the first electric vehicle with Kia's generous seven-year warranty and it's expected to go on sale in the UK this autumn for around £19,000.
For road tests from the current Kia range, visit the Carbuyer Kia reviews page.