Special edition Isuzu D-Max Blade launched
Isuzu D-Max Blade pick-up gets £1,000 saving and comes loaded with equipment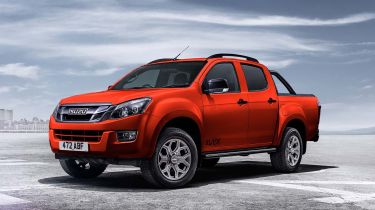 The Isuzu D-Max Blade aims to prise new customers away from conventional 4x4s and SUVs, with £5,000 worth of extra kit that. The additional equipment gives it imposing looks and should mean the Isuzu is easier live with every day.
Prices start from £24,995 for the six-speed manual version, rising to £25,995 for the five-speed automatic – both represent a £1,000 saving if the truck were specced individually from the options list. The company's excellent 125,000-mile/five-year warranty is also one of the best available on the market.
The Isuzu D-Max Blade gets big 18-inch alloy wheels fitted with Pirelli all-weather tyres, a Shadow Grey front grille, and tinted windows, while the door handles, roof rails, rear bumper, and side steps are all black. The car can be specced in Splash White, Cosmic Black or Venetian Red.
The pick-up's huge load bay can carry up to one tonne and comes with a bed liner to protect the paintwork, and the choice of either a Aerokias hard top or a Mountain Top black roller top cover. The latter is unique to the Blade and cannot be purchased as a separate accessory.
The five-seat interior gets the luxury treatment thanks to black leather seats, climate control, heated front seats, and a satellite navigation system. The Pioneer sat-nav has a 6.1-inch touchscreen, which is hooked up to the vehicle's reversing camera.
Despite the high-end additions, the Isuzu is more than capable of spending its life as a working truck thanks to an impressive maximum towing capacity of 3.5 tonnes, which is helped by the D-Max's powerful 161bhp, 2.5-litre diesel engine. With a fuel economy figure of 38.2mpg, the Isuzu should also prove quite cheap to run.
In 2013, Isuzu enjoyed its best-ever UK sales – and the UK is the company's strongest market outside of its homeland in Japan. This upward trend is set to continue, with plans afoot to grow the company's 100-strong dealer network in 2014.
GM at Isuzu UK William Brown said: "The new Isuzu D-Max Blade is a high-value, high-quality proposition that we hope will widen the appeal of the D-Max further and take us into new market segments. It's been designed to appeal to urban tradespeople as well as recreational lifestyle users looking for a pick-up that stands out from the crowd. The Blade meets the growing demand for a stylish pick-up that doubles up as an everyday workhorse for those who need it."
For more information on the Blade special edition, visit the Isuzu website. Or read our reviews of its main competitiors, by clicking the links below.