Mitsubishi L200 pickup review (2015-2021)
"A long lineage helps the sixth-generation Mitsubishi L200 pickup to be as tough and dependable as its aggressive new design promises"
Pros
Well equipped
Competitively priced
Good to drive
Cons
Ponderous in town
Mediocre interior design
Limited engine range
The sixth-generation Mitsubishi L200 pickup arrived to replace a predecessor that was our favourite model in the class. That's no mean feat, with rivals as talented as the popular Ford Ranger, Nissan Navara, Toyota Hilux and even the upmarket Volkswagen Amarok.
A pickup heritage stretching back 40 years certainly helps Mitsubishi, and the latest L200 demonstrates a strong hand in almost every discipline. It's competitively priced, well equipped, drives well and can cope with the demands of a tough life, shrugging off most challenges thrown at it.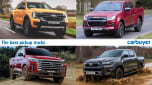 Top 6 best pickup trucks 2023
However, Mitsubishi has now withdrawn from the UK and the wider European market, so it's no longer possible to buy the L200 brand new. Dealers may still have some stock for a little while yet, and aftersales (servicing, maintenance and parts) has been taken on by the company that offers the same services to Subaru owners.
Its bold look helps the L200 stand out amongst tough versions of the Ford Ranger and Volkswagen Amarok, even if it's still based on largely the same underpinnings. Quite a bit has changed, including the engine, brakes and suspension. The engine is now a 2.3-litre diesel with 148bhp and 400Nm of torque, capable of returning up to 31.1mpg and towing 3,500kg. It's offered with a new six-speed automatic gearbox. Updated suspension helps tame the ride, with less pogoing from the back wheels when there's no cargo to settle down the load bed.
All L200 models apart from the entry '4 Life' model come with a Double Cab as standard, meaning there are four doors and room for five occupants inside. It's fairly spacious, and the load bed can carry 1,080kg of cargo. Top Barbarian and Barbarian X trims add luxuries you might not expect in a commercial vehicle, from a heated steering wheel to leather upholstery. Safety has been improved too, with more advanced kit like autonomous emergency braking arriving on the scene.