Watchdog: Mitsubishi L200's service history is a grey area
Missing service book on used Mitsubishi has potentially cost buyer thousands of pounds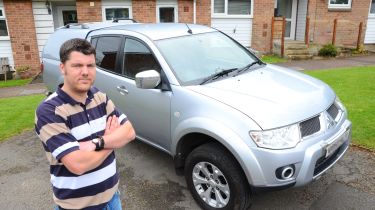 If you're looking to buy a second-
hand car, then you're going to want to reduce risk by insisting on one with a full service history. That's the vital paperwork that shows the car has been regularly checked – with stamps from franchised dealers or independent garages.
This not only acts as a reassuring seal of approval, showing the car's been well looked after, but the service history also increases that car's value. No wonder reader Chris Wickens of Penshurst, Kent, was so annoyed when his Mitsubishi L200 was delivered with the book missing. He'd bought the six-year-old pick-up last summer from franchised dealer Humphries and Parks, Maidstone, 
on the promise of a full service history.
He says the garage initially tried to track down the paperwork, but nine months later, he contacted us to complain the dealer had "stuck its head in the sand and refused to offer any sort of apology let alone a resolution". Chris was rightly concerned about the missing paperwork: "I paid £12k for this truck, but one online buyer valued it at £9,300 without the service history!"
We called Mitsubishi to complain, and after a further week of investigation, its spokesman confirmed: "We've done more digging, and thanks to some detective work, we have now found the service history." 
He explained: "The problem was that it 
was serviced through a leasing plan, but 
the company won't release the details of the previous owner due to data protection."
He added the dealer had offered Chris a free service as a gesture of goodwill. Chris argued the matter was far from resolved, however, and told us: "Humphries and Parks has not given me a stamped service book, it's given me a signed letter confirming three services were carried out by a dealer in Liverpool. But details of two services are 
still missing, or they were never carried out."
The Mitsubishi spokesman has since said the car was advertised only with a service history, not a full service history. Chris says he will not be accepting the free service, and will be using Section 75 of the Consumer Credit Act 1974 to pursue his complaint with his credit card company, which he used to pay the truck's deposit.