New SEAT Leon styling accessories
Make your basic SEAT Leon look even sportier, at a price...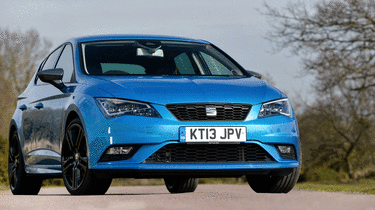 SEAT looks set to cash in on the image of the fast SEAT Leon Cupra, by offering a range of new accessories that will make even the basic model look like its sporty big brother.
We're told the Sports Styling Kit is the work of the company's design centre in Martorell and comprises of new front and rear bumpers, a sports exhaust, roof spoiler, side skirts, and 19-inch alloy wheels. Both three and five-door Leons can be fitted with the new kit.
The wheels are available in either silver or black, and look like decent value at £999 for the set. That's more than can be said for the new front bumper, which will cost you an eye-watering £1,500. A lot, even when you take into account the integrated (and revised) fog lamps. The rear bumper, meanwhile, incorporates a diffuser – for a racecar look – but, costing £975, the bumper isn't the only thing that looks racey.
In fact, go for the whole shebang fitted to the basic 1.2-litre SEAT Leon, and you'll be looking at paying close to £20,000 – or more than the cost of the 1.4-litre SEAT Leon FR, which is significantly quicker and nearly as frugal.
Nonetheless, if you're a young driver, the kit could be the only way to get the looks you want in a car that you can afford to insure, and the accessories can be fitted (prices include painting and fitting) to S, SE and FR models.
If paying for insurance isn't a problem, the manufacturer is also offering a range of competitive deals on the super-quick SEAT Leon Cupra – some versions of which can hit 0-60mph in just 5.7 seconds. The deals mean a Cupra could be yours from just £265 a month.
For all the latest videos and reviews of the SEAT range, visit the Carbuyer SEAT reviews page.