Audi A3 available with softer suspension
Top-spec Audi A3 models are now available with softer suspension free of charge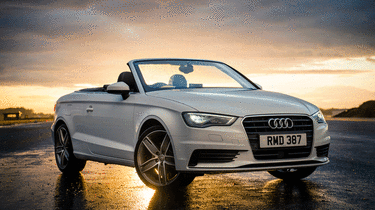 The new Audi A3 Cabriolet, which will compete with cars such as the Volkswagen Golf Cabriolet, goes on sale tomorrow – and the firm has taken the opportunity to announce that all Audi A3 Sport and S line models are now available with softer suspension at no extra cost.
While the basic Audi A3 SE comes fitted with the softer suspension as standard, high-end S line versions used to be fitted with the firm's stiffer suspension only, while Sport models were even stiffer. Both have received criticism in the past for being too stiff for the UK's poor road surfaces.
Around 40 per cent of Audi A3 buyers opt for the S line specification, and those figures are expected to be reflected in Cabriolet sales. Ben Fish, product marketing manager for Audi UK, said: "If we don't offer exactly what a customer wants, they will go elsewhere."
Audi expects 50 per cent of UK buyers will opt for the softer set up, which is set to be made available on other high-end Audi models in the near future. Cabriolet sales, meanwhile, are expected to account for eight to 10 per cent of Audi A3 sales – the firm expects to sell between 3,400 and 4,500 cars per year.
From launch, prices for the new Audi A3 Cabriolet range from £25,790 to £32,420, with engines available including the 1.4-litre and 1.8-litre petrols, as well as the firm's 2.0-litre diesel.
Those engines will be joined later in the year by a 1.6-litre diesel that is capable of 74.3mpg and qualifies for free road tax, while a new 2.0-litre diesel, with 181bhp, will offer speed and economy. The range will also be bolstered by the seriously rapid Audi S3 Cabriolet, which boasts 296bhp.
For all the latest reviews of the Audi range, visit the Carbuyer Audi reviews page.