Audi A3 Sportback hatchback review
"The striking Audi A3 Sportback now has the technology it needs to compete with rivals"
Pros
Exciting new design
Vastly improved technology
Broad engine range
Cons
Some rivals are more fun
Expensive options
Average warranty
Since its arrival in 1997, the Audi A3 has set the template for affordable upmarket cars, selling to more than 600,000 customers in the UK alone. It goes up against a host of strong rivals, most notably the BMW 1 Series and Mercedes A-Class, while the Volkswagen Golf is a slightly more affordable alternative.
For its fourth outing, the notoriously conservative A3 has a bolder, more exciting exterior design that changes quite markedly depending on which trim level you choose. The entry-level Technik is relatively sedate, while the S line trim adds a sporty body kit and sharp LED exterior and interior lighting. There isn't a three-door model anymore but the five-door Sportback is sold alongside a four-door saloon. There's a powerful S3 model and economical plug-in hybrid versions too, plus an even faster Audi RS3 which we've reviewed separately.
The interior is similarly radical, with analogue dials replaced by a standard Virtual Cockpit instrument display and every A3 coming with a 10.1-inch infotainment screen. Rather than sitting atop the dash, this is now integrated into the centre console, and the driver has a more cocoon-like seating position than before. Quality is excellent, even in versions using upholstery manufactured from recycled plastic bottles, and technology feels two generations ahead of the outgoing model.
A small increase in width and length means passengers should find there's a little more room to stretch out, but boot space is exactly the same at 380 litres, matching most competitors.
Engines are familiar but updated, and buyers can choose between regular petrol and diesel combustion engines with mild-hybrid technology for slightly lower running costs, or a plug-in hybrid '40 TFSI e' model. The 1.5-litre petrol with 148bhp in the A3 35 TFSI is a strong seller, offering 0-62mph in under nine seconds and fuel economy of around 50mpg. We even managed to better this figure over several hundred miles of driving. High-mileage drivers should also consider the A3 35 TDI, which is now only offered with an S-tronic automatic gearbox and manages up to 61.4mpg, while also feeling punchier than the petrol.
The Audi A3 is front-wheel drive, and its handling is assured and secure. Quattro four-wheel drive is no longer available for the standard A3, but even when offered it was unnecessary for most drivers.
What about buying a used or nearly new Audi A3?
The Audi A3 is easy to recommend as a new car, so a used model is perhaps even more appealing, thanks to the reduced price. Although the A3 costs more to buy than some of its rivals, it's an efficient, high-quality car with lots of tech and it's really easy to drive. There are plenty of models available on the second-hand market and the engines are all good, so you can't go wrong with any version.
What's its history?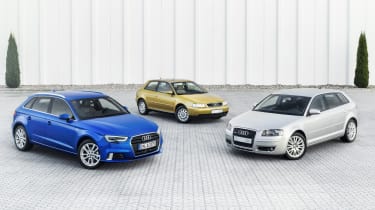 The A3 first came out in 1996, and while you don't see many around any more, this version set the template for all the models that were to come. It was a smart family car based on tech from the VW Golf and featured a pleasant interior and lots of great engines.
The Mk2 model arrived in 2003, then was updated in 2008, and it was more of the same – yet it's still a great option as a used car to this day, if you have a smaller budget. The Mk3 model arrived in 2012, was updated with more modern engines in 2016, and then went off sale in 2020.
The current car arrived that year, and it's as sharp-looking as ever but has the best technology of any A3 you can get and, as with previous versions, the engine range caters to all kinds of buyers.
Used Audi A3 (Mk3 2012-2020)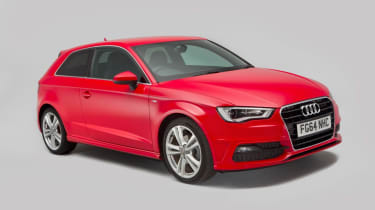 The second-generation Audi A3 is the best used buy at the moment, because it's new enough to feel like a modern, upmarket and dependable car but old enough to be affordable to buy. It came with loads of great engines, including the excellent 1.0- and 1.5-litre petrol motors, plus the interior is superb and comes with plenty of tech.
Used Audi A3 (Mk2 2004-2012)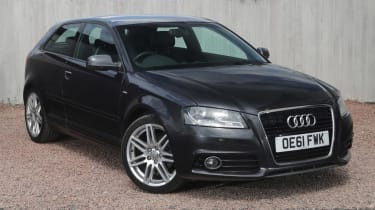 The 2004 Mk2 A3 is available really cheaply these days, and you can find versions that have been well looked-after at very reasonable prices. They won't feel like a modern car these days and will need slightly more careful maintenance, but an older A3 can cost about the same as a VW Golf of the same era while offering more luxury, so they're a pretty appealing buy.
Older Audi A3 models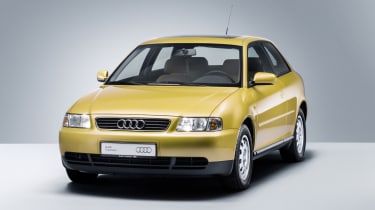 The first-generation Audi A3 isn't all that common any more, but there are still plenty for sale for less than £2,000 on the used market. The 1.8-litre engine in this model was very popular and it's the one we'd go for, although the 2.0-litre diesel is quite fun to use while also being economical. Since many of these Mk1 A3s are now more than 20 years old, they may need more maintenance work then a newer model.
Next Steps
Which Is Best?
Cheapest
Name

30 TFSI Technik 5dr

Gearbox type

Manual

Price

£24,115
Most Economical
Name

40 TFSI e S line 5dr S Tronic [17 inch Alloy]

Gearbox type

Semi-auto

Price

£35,950
Fastest
Name

40 TDI Quattro Sport 5dr S Tronic

Gearbox type

Semi-auto

Price

£33,470