Mercedes A-Class hatchback review
"Hi-tech, well built, stylish and as comfortable and luxurious as it should be: the Mercedes A-Class is a great premium hatchback"
Pros
Great build quality
Class-leading interior
Impressive infotainment
Cons
Underpowered entry-level petrol engine
Not as sporty as some rivals
Cramped rear seats
Now in its third generation, the Mercedes A-Class started the 'compact premium' class when it arrived in the late 90s. With the last-generation model proving a smash hit, Mercedes had a big task on its hands creating its replacement from the ground up. The result is a car that shares nothing with the old one so, although it looks similar, the latest A-Class represents a fresh take on the premium hatchback recipe, aimed directly at the new BMW 1 Series and Audi A3. The A-Class is bigger than before, but still offers better economy and emissions thanks to improved aerodynamics and engine efficiency.
The A-Class' interior is miles ahead of most rivals. It's packed with sophisticated technology and boasts a modern design along with high-quality materials and great build quality, so the A-Class now leads the segment in this respect. The car's infotainment system is particularly impressive. Voice recognition together with a large digital dial cluster and infotainment screen set-up help amplify the hi-tech experience.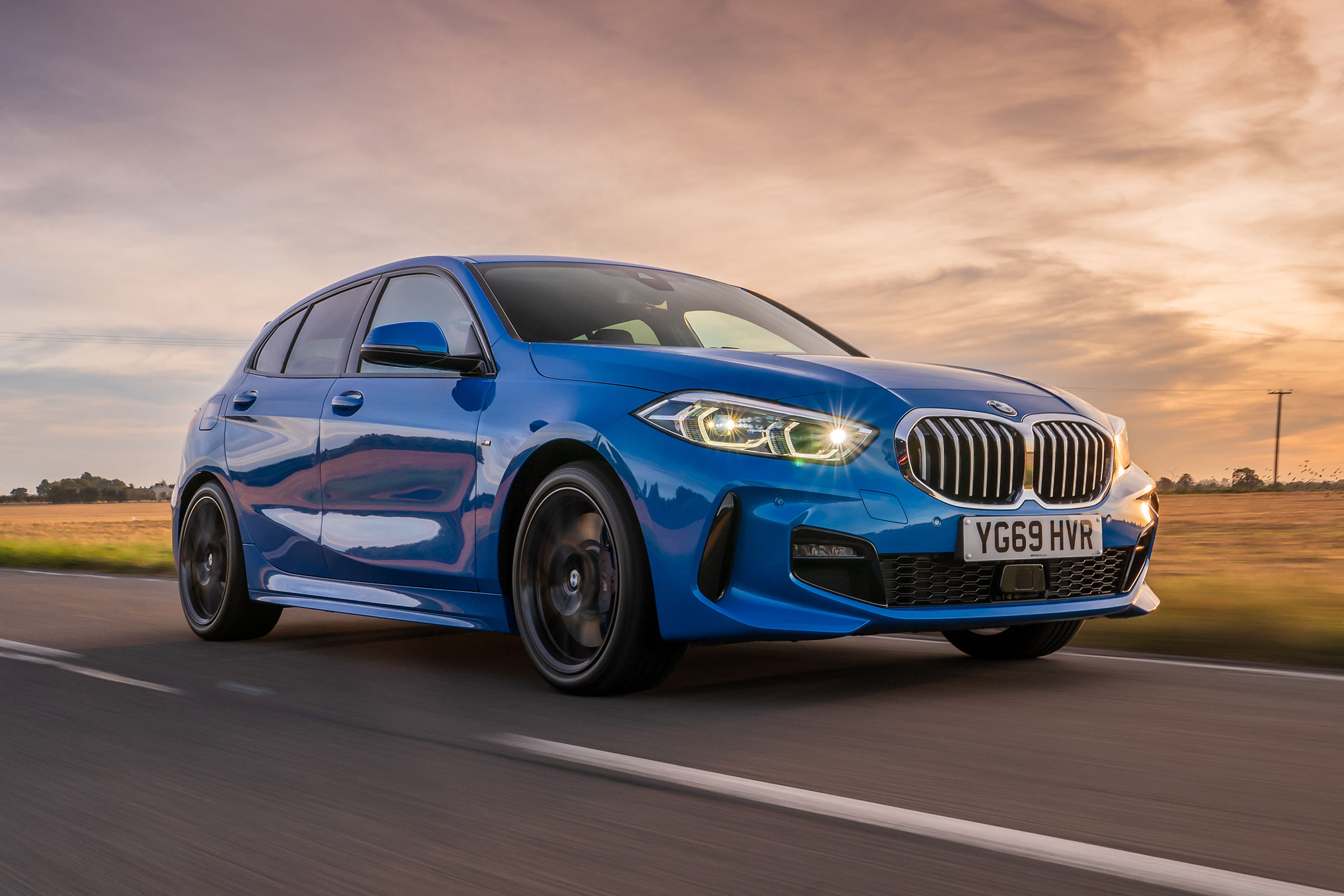 Top 10 best luxury small cars 2021
There are now four core trim levels to choose from: SE, Sport, AMG Line and Exclusive Edition. You can then add 'Executive' or 'Premium' packs to most trim levels, which add extra equipment like parking sensors and upgraded headlights. Then, there's the range-topping performance A 35 and A45 S hot hatches. SE offers impressive standard equipment, including two seven-inch infotainment screens, as well as DAB radio and sat-nav with real-time traffic information, along with a range of active safety equipment. Stepping up to Sport adds extra equipment including LED headlights and automatic climate control, while AMG Line gets a sporty makeover with exterior and interior touches. The A 35 and A 45 S models get aggressive, sporty looks, red seatbelts and AMG-specific menus.
There are five petrol options and three diesels. The standard petrol engines offer between 134bhp and 221bhp and are badged A 180, A 200 and A 250, with the 302bhp A 35 and 415bhp A 45 S sitting at the top of the range.
A 2.0-litre diesel engine with either 114bhp or 148bhp is available in the A 180 d and A 200 d respectively, but the A 220 d has been discontinued. Mercedes has developed the A-Class with a view to incorporating electrification; there's a plug-in hybrid A 250 e available, while buyers after a fully electric car will be keen on the Mercedes EQA - essentially an electric version of the Mercedes GLA, which is based on the A-Class.
Cheaper A-Class models (A 180, A 200 and A 180 d) can be specified with a six-speed manual gearbox. From the mid-range models upwards, a seven-speed automatic gearbox is standard. An eight-speed dual-clutch automatic gearbox is also available for the diesel engines, and in the A 250 e plug-in hybrid model.
With its 161bhp 1.3-litre petrol engine, the A 200 feels somewhat underpowered compared to the punchier A 200 d. Unlike some of its sportier rivals, the A-Class has been developed with comfort as a priority – and this is clear in the way it drives. The steering is well weighted but doesn't give much feedback and while there's not much body roll, the car isn't as grippy as you'd hope. The suspension is pliant and its ride is smooth; the A-Class is at home on the motorway, feeling as quiet and comfortable as you'd expect a Mercedes to be.
The petrol A 180 and A 200 manage around 47mpg, which isn't bad by any means, but the A 180 d diesel manages up to 58mpg. The latter will likely suit those tackling longer motorway miles, although business users will be paying more tax than on petrol and hybrid versions.
The A 250 e plug-in hybrid model makes sense for both private and business drivers. It's the first A-Class PHEV, and shares the same turbocharged 1.3-litre petrol engine as the A 200 but here it's linked to a 75kW electric motor and a 15.6kWh battery pack, increasing power to a considerable 215bhp. Claimed pure-electric driving range is 44 miles, with CO2 emissions of 24g/km and a claimed economy figure of up to 282.5mpg under the WLTP testing cycle. As with any plug-in hybrid, this entirely depends on the type of driving you do and how often you recharge the battery.
On the practicality front, the A-Class is something of a mixed bag – it's spacious and comfortable in the front, but less so in the rear, and offers a 350-litre boot that's a little bit smaller than rivals. Split-folding seats allow the total load area to be expanded to almost 1,200 litres when needed.
If you value comfort and luxury over outright practicality and sportiness, the new Mercedes A-Class is a great choice. Its class-leading interior and technology make it a desirable prospect, while its hushed interior and smooth gearbox make it a joy to travel in – even if it isn't the smoothest premium hatchback you can buy. Also, the least powerful petrol engine is lacking punch; others offer a better balance of power and economy.
For a more detailed look at the Mercedes A-Class, read on for the rest of our in-depth review.