A3 vs Golf vs 1 Series vs A-Class vs Focus
The Audi A3, VW Golf, BMW 1 Series, Mercedes A-Class and Ford Focus all have plenty to offer, but each provides a unique take on the class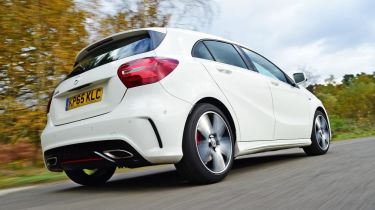 Family hatchbacks can offer great value for money, and are among the most popular models sold in the UK. Able to accommodate four adults and their luggage, take motorways or challenging country roads in their stride and deliver impressive fuel-efficiency, models like the Volkswagen Golf provide all the attributes most of us will ever want from a car.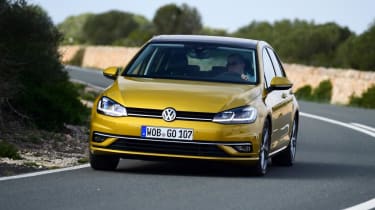 As technology has filtered down from more expensive models, they're increasingly packed with the sort of advanced kit you'd have expected in a Mercedes S-Class just a few years back. Semi-autonomous parking, adaptive cruise control, digital instruments and brakes that can automatically halt the car in an emergency are all becoming mainstream.
There's a brand to suit all tastes, too, from those offering great value like the Volkswagen Golf and Ford Focus, to the more upmarket Audi A3, BMW 1 Series and Mercedes A-Class. The latter can be specified with most of the appointments offered in an executive car, from leather seats to widescreen sat-nav displays and powerful engines.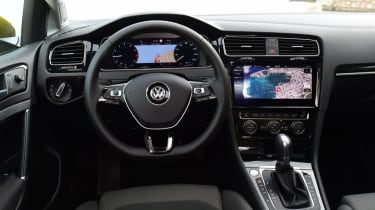 Making a decision is tricky, but will largely depend on your priorities. Are you better off sticking with a model like the popular Volkswagen Golf or Ford Focus, or spending a little more to land a rear-wheel-drive BMW 1 Series or stylish Mercedes A-Class?
Practicality
Just like superminis, family hatchbacks have steadily grown over the years, as rivals fought to be more practical, faster and safer. The latest Volkswagen Golf and Audi A3 can easily accommodate four adults for lengthy trips, or even five for shorter hops.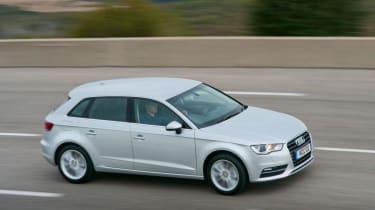 Both the Golf and five-door Audi A3 Sportback offer the most space here, with the same 380 litres behind the rear seats. This perhaps shouldn't be a big surprise, as they're based on the same underpinnings, but the Golf pushes slightly further ahead with the seats folded down, offering 1,270 litres – 50 more than the A3.
Considering its rear-wheel-drive chassis and sporty design, it's impressive that the BMW 1 Series comes third here, with 360 litres expanding to 1,200. This should easily suffice for most families, even for holidays. The Mercedes A-Class sacrifices some space in the name of style, with svelte lines but only a 341-litre boot. There's also a high boot lip and narrow opening between the rear light clusters.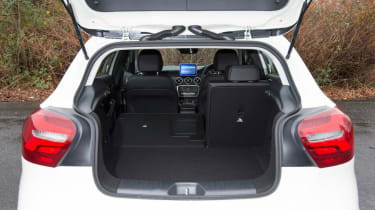 Despite Ford being the most mainstream manufacturer, the Focus has the smallest boot – measuring just 316 litres. While this should still be plenty for weekly shopping trips and shorter trips away, it's a volume now surpassed even by models like the SEAT Ibiza from the class below.
Petrol fuel economy
All the hatchbacks in this round-up are at their most affordable with a small, turbocharged petrol engine. Once you've made your purchase, you'll also find these deliver strong performance and fuel-efficiency. The Focus has a 1.0-litre EcoBoost with three cylinders that has won numerous awards for its design. It can achieve 58.9mpg and emits 110g/km of CO2 for a 21% BiK band for company-car drivers. A larger 1.5-litre petrol is also offered, returning around 50mpg.
Partnership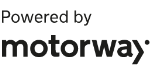 Need to sell your car?
Find your best offer from over 5,000+ dealers. It's that easy.
The Golf and A3 share a similar 1.0-litre turbo petrol engine, too, and the VW matches the Focus, with 58.9mpg and CO2 emissions as low as 108g/km, for 20% BiK (Benefit-in-Kind) company-car tax. The Audi is slightly more efficient, though, returning up to 62.8mpg as long as you stick with 16-inch wheels.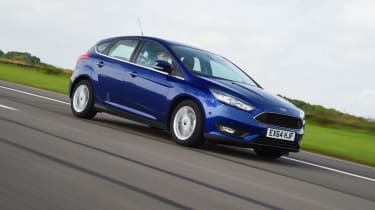 Like the others, the 1 Series has a small three-cylinder engine. This one is shared with MINI and manages 58.9mpg in the BMW, while the Mercedes has a larger 1.6-litre petrol engine and it shows: it can only return 52mpg.
Of course, you can also opt for more powerful petrol engines, automatic gearboxes and even four-wheel drive in several models, but this pushes up running costs. The Golf GTE and Audi A3 e-tron offer a partially electrified alternative, with plug-in hybrid technology allowing them to run on electricity alone for around 20 miles.
Diesel fuel economy
If you have higher mileage to cover and spend lots of time on the motorway, the additional outlay of a diesel can still make sense, as its improved fuel-efficiency can pay you back over the years. These popular family hatchbacks are all available with the choice of a smaller, economy-focused diesel or a larger engine for a better all-round blend of power and frugality.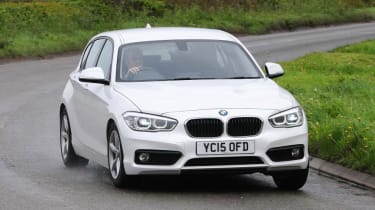 Measuring between 1.5 and 1.6 litres in size, all can return in excess of 60mpg, but the upmarket Audi A3 and BMW 1 Series diesels are slightly thirstier than the others. The Golf diesel can manage 72mpg, but the A-Class and Focus are in a different league (on paper at least), managing 80.7 and 83.1mpg respectively. With CO2 emissions of just 88-89g/km, they also post a reasonable 20% BiK rating, compared with 24% for the 1 Series.
Insurance groups
You'll pay a premium for insuring the luxurious BMW 1 Series and Audi A3, with groups starting in the mid-teens and escalating if you choose a more powerful engine – as far as group 28 in the case of the BMW. The Mercedes A-Class starts in group 13 when the 1.5-litre diesel engine is fitted, but faster models are correspondingly more costly to insure.
The more mainstream Volkswagen and Ford badges help here, with the Golf starting in group seven, beneath the Focus in 11. The Golf covers a wider selection of bands, though, reflecting its comprehensive range of engines and trim levels.
Warranty
Considering cars are among the most expensive and complicated things we ever buy, a good warranty can be a real selling point. It's a fairly level playing field among our contenders though, with all five coming with three years of cover as standard.
The Mercedes A-Class and BMW 1 Series eke out a small lead by also offering 100,000 miles of cover, but for the vast majority of drivers, three years are likely to arrive much sooner than six figures on the odometer.