Mercedes GLB vs Volvo XC40 vs new BMW X1: specs comparison
How does the all-new Mercedes GLB compare to the Volvo XC40 and the facelifted BMW X1?
You're truly spoilt for choice if you're in the market for an upmarket small SUV, and Mercedes' contribution is the all-new GLB. As the name suggests, it slots between the GLA and GLC but its surprisingly boxy styling allows it to offer the option of seven seats. In this respect, it stands out in the premium small SUV class, as none of its rivals have space for three rows of seats.
Chunky styling is fashionable at the moment, which is part of the reason for the success of the Volvo XC40. It blends the luxurious interior of Volvo's more expensive SUVs with smaller dimensions and a lower price. We've also pitted the GLB against the facelifted BMW X1, which has been a big seller for BMW. It's one of the best small SUVs to drive, offers plenty of space for five people and has a high-quality interior.
While the Mercedes GLB will have plenty of rivals, we've focused our comparison on two of the alternative premium small SUVs you can buy. This class of car is growing all the time and demand for SUVs with desirable badges doesn't look like slowing any time soon. If you're looking to park one of these cars on your driveway, we've put together a specs comparison so you can see which one best fits your lifestyle.
Exterior
There are plenty of small SUVs vying for your attention, so a premium badge alone isn't enough. Styling is very subjective, but we think all these cars look very smart. The GLB - Mercedes' eighth SUV - looks very similar to the Mercedes GLC but with a squarer shape and a chunkier profile. It's a little shorter than the GLC but the GLB is actually a smidge taller to improve headroom.
The BMW X1 has been cleverly designed to look and feel as big as possible, despite having a relatively compact footprint. At first glance you might mistake it for the larger BMW X3, and the trim level you choose switches the emphasis between either rugged or sporty. Trim levels for the GLB haven't been revealed yet but we expect sporty-looking AMG Line versions to be available as soon as the car goes on sale.
Although you can get the Volvo XC40 in a racier R-Dynamic trim level, the car majors in comfort and luxury. The XC40 stands out with its bluff styling and its LED daytime running lights, which are designed to look like Thor's hammer. The rear lights extend up to the roof, which is available in a contrasting colour - the BMW and Mercedes don't come with this option.
Interior
A car's styling will make the first impression but the interior is even more important - you'll spend more time inside the car than looking at it, after all. Mercedes has set the benchmark with its latest interiors, as they're very swish and feel special. Based on the interior of the Mercedes A-Class, the cabin of the GLB features two adjoining screens - one to deal with the infotainment and sat nav, and one to show your driving information in place of analogue dials - and three round central air vents. It features ambient lighting and plush materials to make this family SUV feel very luxurious.
You know exactly what you're getting with a modern BMW interior; the layout is ergonomic and well-honed, and most of the controls are focused towards the driver. The dials on most X1s are still analogue, and the sat nav screen is a bit smaller at six inches. Despite that, it features all the technology of the other cars, and there's plenty more available as options if you don't mind dipping into the options list.
Volvo hasn't always been thought of as a premium manufacturer but in recent years it has built a strong reputation as exactly that, thanks in part to the design of its current interior. Whichever Volvo you're in, be it the XC40, the S60 or the full-size Volvo XC90 SUV, all have a stylish portrait touchscreen, expensive-feeling materials and a level of refinement that you'll appreciate after a hard day at work. It feels uncluttered and minimalist, and shows you don't have to buy a German car to enjoy an upmarket cabin.
Technology
Technology is a buzzword for cars like these, and manufacturers are constantly competing with each other to innovate. Look at the Mercedes GLB's interior and your eyes are instantly drawn to the large screens on top of the dashboard. Two sizes are available, and you'll want to spec the larger screens to make the most of the tech. The right-hand screen replaces the dials and shows all your useful driving information, alongside navigation directions and infotainment. As part of the new MBUX infotainment system, the GLB gets the 'Hey Mercedes' voice control as standard, plus the option of augmented reality sat nav that overlays directions onto a real-time view of the road ahead.
The X1 provides the latest iteration of BMW's iDrive software for its infotainment, with an intuitive rotary controller positioned near the gear lever. For the first time, the screen can be controlled by touch too. iDrive controls the sat nav (fitted as standard), media, phone information and other functions, and there's an electronic tailgate on all models. Options include full LED headlights, a panoramic glass sunroof and a new M Sport Plus pack.
Volvo's main bit of kit is its Sensus infotainment system, which controls most of the car's functions. It takes a bit of getting used to but once you're up and running it's handy and logical. All cars get dual-zone climate control, a 12.3-inch digital instrument cluster, cruise control and parking sensors but for around £1,500 you can add the Pro pack, which includes heated front seats and windscreen, adaptive headlights and folding side mirrors.
Practicality
These SUVs are a similar size but Mercedes has thrown a curveball at its rivals by offering the option of seven seats. Because the GLB isn't as big as most seven-seaters, the rearmost seats are a little cramped. However, Mercedes says they're fine for anyone up to 5'6", they have phone cubbies and USB-C ports, and they fold flat. Up to four ISOFIX child-seat mounting points are available. When you don't need the back seats, there's 560 litres of boot space, and 1,700 litres if you fold down the middle row. With all seats in place, though, there's just 130 litres at your disposal.
Considering the BMW X1 is one of the company's smallest SUVs, there's plenty of space in the back seats for all but the tallest adults. The seats individually fold for extra versatility, allowing owners to create a ski-hatch by putting just the middle seat down. Each seatback can adjust through six positions and the seats can slide backwards or forwards to prioritise passenger or boot space. Behind the seats, there's a large 505-litre boot.
The Volvo is a little smaller, so doesn't do quite so well in terms of practicality. Still, there's plenty of room for four large adults, and the 460-litre boot is much bigger than similarly sized family hatchbacks. A person sitting in the middle rear seat might not be so comfortable because the chunky transmission tunnel robs space and legroom.
Safety
It's likely that these SUVs will be predominantly bought by families, so safety will be a primary concern for many buyers. The BMW X1 and Volvo XC40 both gained the maximum five-star ratings, as did the Mercedes A-Class, with which the GLB shares its underpinnings. The A-Class gets automatic emergency braking, lane-keeping assistance, a driver drowsiness sensor, speed limit assistance and cruise control as standard, so expect the GLB to follow suit. Active parking assistance and adaptive LED headlights will be optional.
Delve into the XC40's safety report in more detail and you'll see that it scored an impressive 97% for adult occupant protection and 87% for child protection. Its auto emergency braking system not only recognises vehicles but pedestrians, cyclists and some animals too. All versions also feature Volvo On Call, which combines a smartphone app and the ability to automatically contact the emergency services in the event of a collision. The BMW did almost as well in the Euro NCAP test but, disappointingly, you have to pay extra for some safety kit that's thrown in as standard on other cars.
Engines and electrification
Modern engines are so good that there's often little to choose between different manufacturers. In the GLB, you've a choice of engines derived from the A-Class. The range kicks off with a 160bhp 1.3-litre petrol engine, with two 2.0-litre engines above it offering 148 and 187bhp. There are two 2.0-litre diesels available with 148 and 187bhp, with four-wheel-drive available on both. All engines are mated to an automatic gearbox, while a hybrid version may join the line-up in the next two to three years.
BMW offers two petrol engines with the X1 - a 1.5-litre three-cylinder engine with 138bhp or a 2.0-litre 189bhp engine that's available with either two- or four-wheel drive. Like the Mercedes, the two diesel engines are 2.0-litres in size, and offer the same 148 and 187bhp versions. Four-wheel drive is offered on both these engines and BMW does allow you to choose a manual gearbox on cheaper models. The facelifted X1 will also get a four-wheel-drive plug-in hybrid model (badged xDrive25e) that'll manage 31 miles of electric range and will have a battery conservation mode.
In the Volvo, you have a choice of three petrol engines, starting with a three-cylinder 154bhp 1.5-litre engine with a manual gearbox. There are two 2.0-litre engines with either 187 or 244bhp, both with an automatic gearbox and four-wheel drive. Diesels are strikingly familiar - two 2.0-litre versions with either 148 or 187bhp. The entry-level petrol will be the base for a plug-in hybrid model due before the end of 2019.
Verdict
There's arguably never been a better time to buy a small premium SUV, as there are plenty of choices and most are excellent all-rounders. The Mercedes GLB has introduced something new into this class of car, and it's likely to appeal to families who value practicality and style. We can't help thinking that the Mercedes might not look quite so good on your drive as the BMW X1 or the Volvo XC40, but obviously this comes down to personal preference. The Mercedes has the best interior, the XC40 is relaxing to drive and the X1 is a spacious and well-appointed five-seater. We'd recommend driving at least two of them, and seeing which takes your fancy.
Read our reviews of the BMW X1 and Volvo XC40, and read the latest news about the Mercedes GLB.
The UK's top 10 best-selling cars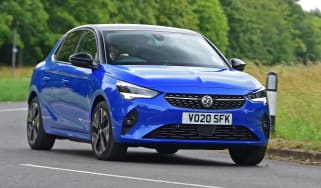 The UK's top 10 best-selling cars
Most reliable cars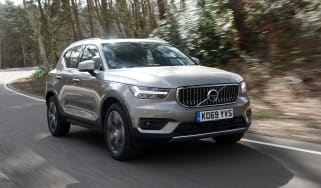 Car dashboard warning lights: the complete guide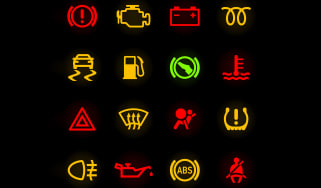 Car dashboard warning lights: the complete guide
New Volkswagen Golf GTI Clubsport gets 296bhp and racetrack mode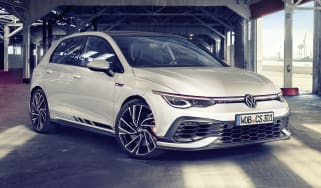 New Volkswagen Golf GTI Clubsport gets 296bhp and racetrack mode
2020 scrappage schemes: the complete guide
2020 scrappage schemes: the complete guide