New Subaru Outback estate pictures
The new Subaru Outback will be unveiled at the New York Motor Show this month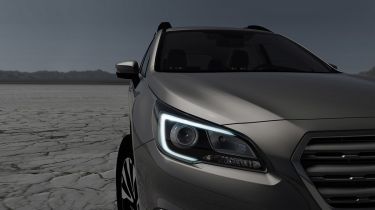 The brand-new Subaru Outback estate will make its debut at this month's New York Motor Show, before it goes on sale in the UK early next year. A model specified to US standards will take the stage at the motor show before first going on sale in America this summer.
Fuji Heavy Industries, Subaru's parent company, promised that the new car blends "car-like handling and SUV capability," but they didn't reveal much else about the upcoming estate car.
It should be noted that Subaru also unveiled the Subaru Legacy at the 2014 Chicago Motor Show in February and previous generations of both cars have shared the same parts both inside and out. The picture above shows that the Subaru Outback gets a similar large front grille, sleek headlights and sloping windscreen as the new Subaru Legacy, while the 2.0-litre diesel engine from the current generation of both cars is also likely to be fitted.
A 6.2-inch navigation screen, ambient lighting and gloss black plastics featured in the new Subaru Legacy could also be fitted.
Although the Subaru Outback was last given a Euro NCAP crash test in 2002, the previous-generation Subaru Legacy gained a full-five star rating when it was tested in 2009 and the brand new Subaru Outback should be safe as a result.
Subaru's generous five-year warranty will also come standard and this covers the repair costs on any manufacturer faults that could arise within the car's first 100,000 miles. However, it's unlikely you'll even need it, as the Subaru Forester ranked second in our list of 2013's most reliable cars.
Prices for the sixth-generation Subaru Outback will be revealed closer to launch, but expect showroom prices to start from around £30,000. For all the latest reviews across the Subaru range, visit the Carbuyer Subaru reviews page.