Toyota Yaris and RAV4 among 35k recalled cars
Toyota Yaris, RAV4, Hilux and Urban Cruiser models recalled amid safety concerns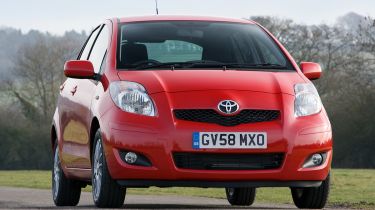 Toyota is recalling 35,124 models in the UK, including the Toyota Yaris and Toyota RAV4, to fix faults with the steering wheels and seats. This affects a total of 6.4 million cars worldwide.
The Toyota Hilux and Toyota Urban Cruiser are also being recalled, but no accidents or injuries have been reported.
Up to 10,339 Toyota Yaris and Toyota Urban Cruiser models bought from January 2005 to August 2010 have faulty locking mechanisms in the front passenger and driver's seats that could break with repeated use. Toyota said: "Should the spring break, the seat may not lock into its adjusted position, and could move in the event of a crash."
The steering column bracket in a selection of these models could also break when the steering wheel is turned at full force repeatedly. "The driver may hear an abnormal noise from the bracket area and if the vehicle continues to be driven, it is possible that the bracket will fail, causing the steering column to tilt out of position," said Toyota.
Steering control won't be lost and this only concerns 1,293 cars. Models specifically affected are the second-generation Toyota Yaris with tilt/telescopic steering wheel adjustment and Toyota Urban Cruisers built between September 2005 and February 2009.
The third problem is a faulty connection between the driver's airbag and steering wheel in the Toyota RAV4 and Toyota Hilux. Turning the steering wheel could cut the connection, causing the airbag warning light to illuminate and the driver's airbag may deactivate. This affects 24,785 models built between June 2004 and December 2010.
Toyota will contact all those with faulty cars either by telephone or post and arrange appointments to repair their vehicles free of charge. They will either replace parts or add new ones and the process will take between one and five hours depending on the model.
This is the company's fifth major recall in months. They previously recalled 1.9 million Toyota Prius Hybrids because of software faults that could suddenly slow the cars down. Overall, more than 25 million Toyota have been recalled in the last two and a half years and a recall between 2009 and 2010 badly damaged the company's reputation.
Car recalls are fairly common across the industry. Peugeot and Citroen recalled 400 cars because of potential fire risks, whilst Aston Martin recalled 17,590 cars for counterfeit plastic parts.
Don't panic if your car is subject to a car recall notice. We've got some very helpful tips if you're ever in that position so be sure to give those a read before contacting your local dealer.