Subaru BRZ now with £2,500 price cut
Prices for Subaru BRZ have been slashed by £2,500 due to favourable exchange rate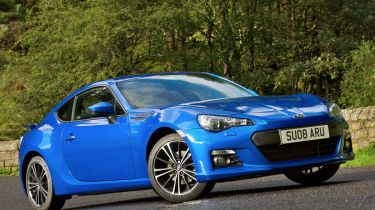 Prices for the Subaru BRZ sports car have been slashed by £2,500, in an attempt to boost sales and create a distinguished price difference between it and the upcoming Subaru WRX STi.
The discount means models with a manual gearbox now start from just £23,995, while those with an automatic gearbox are now priced from £25,495. With these discounts, the Subaru BRZ is just over £1,000 cheaper than the equivalent Toyota GT 86, with which it shares the majority of its parts.
You get a decent list of standard equipment for those prices, including leather-trimmed seats, keyless entry, automatic air conditioning, USB connectivity and a six-speaker audio system. There's also an optional sat nav and multimedia system, if you fancy spending a bit more cash.
The Subaru BRZ uses a 2.0-litre petrol engine, which is by modern-day standards is quite expensive to run. The most economical version (with the automatic gearbox) will emit 164g/km of CO2, and cost you £180 in annual road tax charges. Models with the manual gearboxes are even more costly, as carbon dioxide emissions of 181g/km bump these road tax charges up to £225 a year.
If you're after a more thrilling drive, then it's probably worth waiting for the new Subaru WRX STi arriving in showrooms this May, which has also had a significant price drop over the old model. Retail prices for this car will start from £28,995 – a £4,000 reduction on prices for the previous generation car.
Paul Tunnicliffe, managing director of Subaru UK, said: "A more favourable exchange rate between the pound and yen has allowed us to reduce the price of a number of models in recent years, and our performance range – the BRZ and WRX STI – are the latest to benefit.
"Together, they represent outstanding value for enthusiast drivers seeking a high level of performance, driver interaction and entertainment on the road."
For reviews of all the cars in the Subaru range, visit Carbuyer's dedicated Subaru page.