Volvo tests driverless cars
Technology will be installed on new Volvo XC90 and previews completely autonomous car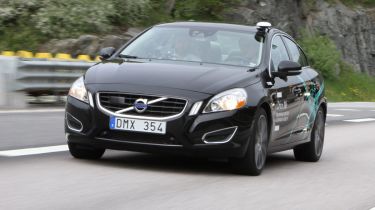 It may sound like an idea from a sci-fi novel or a child's imagination but cars that can drive themselves are now on the road in the form of five Volvo S60 prototypes.
The cars work by following a pre-programmed route on their sat-nav systems, allowing drivers to press steering wheel-mounted buttons that give control of the cars' speed and steering to the technology on board. The cars have been tested on motorways in Gothenburg in Sweden.
Radar systems monitor the road ahead so that each of the cars stays in lane and a safe distance from other vehicles. Although the new technology in the S60s isn't capable of overtaking or merging the cars with traffic, it is the first step to a system due in 2017 that will see 100 more advanced Volvos driving themselves around 50km of road while interacting safely with other traffic.
Volvo claims that 95 per cent of accidents are caused by drivers, rather than other factors like mechanical failures, and it's hoped that the development of autonomous technology will make roads safer by reducing the number of crashes caused by human error.
A basic version of the system trialed in the five S60 cars will make it on to the new Volvo XC90 due for release later this year, meaning owners will be able to select a mode for semi-autonomous motorway driving.
Cars that are fully capable of driving themselves are expected to be ready for production by 2020 but their sale will be limited in certain markets according to the laws of individual countries. It also seems likely that there will be a debate about the merits and drawbacks of completely driverless cars before they become widespread on the road.
For reviews of cars in the current Volvo line-up, including the S60, visit the Carbuyer Volvo reviews page.