Peugeot 208 Style on sale now
Prices for the special edition Peugeot 208 Style start from £13,445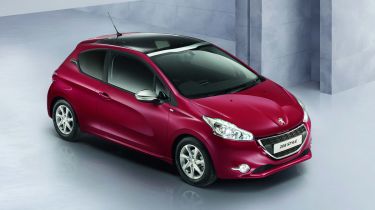 You can now order the special edition Peugeot 208 Style from £13,445 for the three-door model, or £14,045 for the five-door version, with the car set to reach showrooms in June this year.
The Peugeot 208 Style gets plenty of extra equipment over the entry-level Peugeot 208 Access spec on which it is based, including a panoramic sunroof, leather steering wheel, chrome door mirrors and unique Style badging. Satellite navigation and parking sensors are also included on all Peugeot 208 Style models.
All this additional equipment would normally cost £1,400 in optional extras, but the Peugeot 208 Style is only £750 more expensive than the equivalent Access model – making the car particularly good value for money.
There's a selection of economical engines to choose from, including a 1.2-litre PureTech VTi petrol engine, a 1.4-litre HDi diesel engine and any of the 1.6-litre e-HDi diesel engines with stop-start technology. This helps save fuel by switching off the car's engine when it's stationary, makes the diesel engines the best choice if you're after the best fuel economy.
We recommend the Peugeot 208 Style with the manual gearbox and 1.6-litre 92 FAP diesel – the most economical of the available engines. This engine has impressive fuel economy figures of 78.5mpg, while emitting a road-tax busting 95g/km of carbon dioxide.
The 1.2-litre PureTech VTi petrol engine, without the stop-start technology, is the least economical out of all the engines, but still manages to do a good 62.8mpg, while emitting 104g/km of CO2. This means the 208 will be cheap to run, regardless of which engine you choose.
What's more, if you can't afford to buy the car outright, Peugeot is offering a selection of attractive finance options. The Peugeot 208 Style with the 1.2-litre PureTech VTi petrol engine is available from as little as £169 a month and Peugeot will even contribute £500 towards the cost of the car.
For all the latest reviews of the Peugeot range, visit the Carbuyer Peugeot reviews page.