Top 10 best new cars under £20,000
With a budget of up to £20,000 you can get into some of the most impressive small cars on the market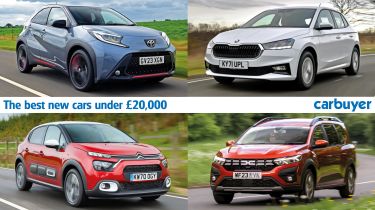 Having around £20,000 to spend on a new car is quite typical for buyers in the UK, and it's fairly easy to see why. The cars that you can buy with this amount of money offer everything you really need.
Here we've put together a list of the best new cars you can buy for less than £20,000, and it includes some of our favourite small cars. Plus, since today's superminis and city cars are better than ever, you get plenty of capability for your money. Decades ago, superminis were mainly only for use around town, as they were a little too loud and inefficient on the motorway.
That's no longer the case, of course; modern superminis are fantastic no matter where you drive them, bringing with them comfort, efficiency and fine motorway manners. Naturally, they're still great for local trips like they always were.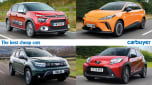 Top 10 best cheap cars 2023
Although you might be able to find deals and offers that bring a car that costs more than £20,000 down below that figure, we've stuck to models that have a list price under that mark. This keeps things consistent, and you may find that you're able to source some of the cars below for less than £20,000 with a bit of haggling.
Most of the models we've picked out here are superminis, because they offer the best value for money at this price point. You can also spend close to this figure on a city car if you want something nimble and manoeuvrable around town with top-of-the-range features. An MPV is even within reach if you have a large family or you could pick a small crossover if a high-riding car is more to your tastes on bumpy UK roads. Read on for our 10 favourite new cars for less than £20,000.
Quite simply, the Skoda Fabia is one of the best-value cars you can get for under £20,000, making it our top pick. It's well-built and comfortable, and while it doesn't reinvent the wheel in terms of its petrol engine options, it's still economical and shouldn't cost a lot to run.
One of the main selling points of the Fabia is its impressive practicality in keeping with Skoda's ethos. For a car its size, the Fabia has a class-leading 380-litre boot, meaning it's more usable than most other superminis, and while it's based on the same underpinnings as the SEAT Ibiza and Volkswagen Polo, it stands out on its own as a particularly capable all-rounder. Better yet, for under £20,000 you can forgo base SE Comfort spec and step up to a Colour Edition model, featuring 16-inch alloys, a 10.25-inch Virtual Cockpit and even an enhanced sound system.
If you're after a little city car, there are fewer and fewer options to choose from these days, but the Hyundai i10 is your best bet. Despite its small size it's very spacious and gets impressive levels of tech you might have only expected of a car from the class above.
For under £20,000 you could go for the highest N-Line spec, which gets a slick infotainment system, wireless smartphone charging and a built-in sat-nav, plus sportier styling than the lesser models and luxury touches such as a heated steering wheel and front seats. Better yet, you'd have almost £2,000 of change left over if you bought one at the time of writing.
The Volkswagen Polo is just about the most upmarket model you can buy with a budget of £20,000. Only the entry-level Life model comes in under-budget, but it is equipped with LED lights, 15-inch alloys, smartphone connectivity, air-conditioning, cruise control, lane keep assist and auto-folding door mirrors.
Partnership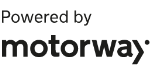 Need to sell your car?
Find your best offer from over 5,000+ dealers. It's that easy.
You've got two engine options here, the 1.0-litre non-turbo version and the 1.0-litre TSI. The former has 79bhp and the latter has 94bhp, plus since it's turbocharged the power is much easier to access and arrives lower in the rev range. It's a more relaxing car of the two to drive and, as a result, feels more like a car costing more than £20,000. Both use a slick and enjoyable manual gearbox, plus they're both really efficient – in fact, the turbo model returns even higher fuel economy and lower emissions than the non-turbo version.
The Dacia Jogger is a new name in the UK, although European buyers have had it for a while now. This is a seven-seater MPV that, even in top-spec trim, costs well under our £20,000 budget. There aren't any other models that you can buy brand new that come with seven seats for as cheaply as this, but it's not a bargain-basement package; you get loads of equipment for the money, plus a good engine and it's even enjoyable to drive.
The motor has 108bhp and the car is fairly lightweight, so performance is okay, and the manual gearbox is easy to use. The Jogger is comfortable and very spacious, plus it comes with lots of modern kit including smartphone connectivity, keyless entry, LED headlights, heated seats, blind spot warning and autonomous emergency braking.
The SEAT Ibiza is a fantastic choice if you want something fun to drive but also practical enough for a small family. It's also really good value and there are several versions available for less than £20,000. You can choose from a 1.0-litre non-turbo petrol engine with 79bhp or a 1.0-litre turbo petrol with 94bhp in either SE or SE Technology trim levels. Even the sporty FR model is only £55 over our budget here, and could be worth going for if you want its 17-inch alloys, LED headlights, upgraded interior and dual-zone climate control.
Still, SE Technology is a great model to choose for pure value for money. It comes with 16-inch alloys, a 9.2-inch touchscreen with sat-nav and smartphone connectivity, a leather steering wheel, cruise control, lane assist and air-con. The 94bhp engine is the one to pick, as its turbocharger means it has a little extra power from lower in the rev range – you can get up to speed quicker, making junctions and roundabouts easier to navigate.
At one point the Dacia Sandero was the cheapest car you could buy new in the UK, and while the lineup has now changed meaning that's no longer the case, it still represents the best value for money you can get in a car at this price. 
The Sandero lineup now starts with Essential for just under £14,000, but it's definitely worth forking out the extra £1,000 to go for a top-spec Expression model, which gets an eight-inch central display, rear parking sensors, keyless entry and auto lights and wipers. It's so well equipped that it's hard to believe you could have around £5,000 left from your £20,000 budget. If you're debating between a supermini or an SUV, the Sandero Stepway is another option that offers a happy medium between the two, and could prove useful if you live in the countryside or simply prefer a higher riding position.
Citroen is a brand known for its focus on value and quirkiness. The C3 starts from just under £14,000 and has a distinctive look to it that means it stands out a little more than many other cars at this price. It even has a fairly stylish interior that you could add plenty of equipment to while staying well within your £20,000 budget.
Another area Citroen is renowned for is comfort, and the C3 is no exception. It may not be the most sporty or engaging to drive, but the C3's soft suspension means it glides over bumps and potholes around town. It's also easy to drive and see out of, so it should be a very competent car to live with.
The Aygo X replaced the Aygo in Toyota's lineup, reflecting the market's move away from conventional city cars, with the brand reinventing it with crossover-style looks. If you're looking for a sub-£20,000 car with a higher riding position and fashionable mini-SUV styling, then the Aygo X is a great choice. 
There are plenty of trims to choose from, but with the top-spec Undercover model just pushing past that £20k threshold, you'll want to stick to Exclusive or lower to stay within budget. These models get 18-inch wheels with a bi-tone finish, a nine-inch infotainment display, wireless phone charging, front and rear parking sensors and keyless entry and go.
The latest Vauxhall Corsa has gone from strength to strength, outliving its main rival, the now-discontinued Ford Fiesta. The Corsa is a very popular car, frequently featuring in the best-selling cars list and for good reason – it's more refined than ever before, feels good to drive and is cheap to run in any guise.
While a £20,000 budget won't allow for you to stretch to an electric model, you could get a 1.2-litre petrol with a manual gearbox. It has a 10-inch central display, 3.5-inch trip display, alloy wheels, LED headlights and a faux-leather steering wheel. Other kit includes auto wipers and high beam, and driver assistance tech such as lane-keep assist, so it hardly feels spartan.
 The Mazda2 has been around for a while now, but entry-level Centre-Line and mid-spec Homura models can still be had for less than £20,000. It's currently one of the most economical new petrol cars on the market, delivering up to 60mpg from its 1.5-litre 89bhp engine. While there is a Mazda2 Hybrid model based on the Toyota Yaris Hybrid which will get an even more frugal figure, it costs more than £20,000, so doesn't make our list.
In Homura spec, the Mazda2 comes with 16-inch alloy wheels, climate control, cruise control, an eight-inch infotainment system, a reversing camera and black accents on the exterior styling to give a sportier, more unique look compared to base Centre-Line cars.
Top 10 best cars for under £20,000