New Nissan Pulsar: price, specs & release date
Super-fast Nissan Pulsar Nismo revealed in Paris to rival models such as the Honda Civic Type-R
UPDATE: New Nissan Pulsar 1.6-litre DIG-T engine announced
On the dawn of the Paris Motor Show, and alongside the eagarly anticipated Pulsar Nismo (see below), Nissan has announced a new 187bhp 1.6-litre petrol engine to the range.
Until the sporty Nismo arrives, the DIG-T turbocharged petrol engine will sit at the top of the Pulsar range, and prices will be announced closer to the car's on-sale date early next year. Performance figures haven't been confirmed either, but expect the 1.6-litre engine to rival the Kia Cee'd GT, which will do 0-62mph in 7.4 seconds, with a top speed of more than 140mph. Fuel economy should be around 45mpg, while CO2 emissions stand at 138g/km.
We'll add more information as and when it becomes available. So make sure you bookmark this page to find out first.
New Nissan Pulsar Nismo
Passion, excitement and race-inspired 'maverick engineering' are the three core values that inspired the new Nissan Pulsar Nismo Concept, which was unveiled at the Paris Motor Show today. A rival for the Honda Civic Type-R, the Nissan gets an aggressive bodykit just like the Honda, and is rumoured to produce up to 275bhp from its turbocharged 1.6-litre petrol engine.
Although the Nissan Pulsar Nismo's is not yet a confirmed production model, Nissan is keen to strengthen its Nismo performance sub-brand, and this concept looks like an attempt to gauge public opinion before the final car is signed off.
It can't match the aggressive styling of the Honda Civic Type-R, but the Pulsar Nismo still looks eye-catching thanks to its Satin Grey paint, red highlights and deep, double-layered front bumper.
In profile, there are some aggressive-looking side skirts and 19-inch alloy wheels, while at the back there's a motorsport-inspired rear bumper, with twin central exhaust pipes and a roof-mounted spoiler. There's a tinted reversing light in place of the standard car's clear one, while the entire look is completed with flashes of carbon fibre and a single (but prominent) Nismo badge on the grille.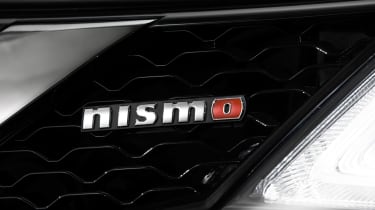 It's much the same inside, too. Hop in and you'll find deeply sculpted race seats trimmed in Alcantara suede fabric that offer plenty of support during fast cornering, plus a sporty three-spoke steering wheel and alloy pedals.
Although engine details have yet to be confirmed, we expect the Nismo to use a 1.6-litre turbocharged petrol engine with 245bhp, and there are plans for a 275bhp Nissan Pulsar Nismo RS to follow. That would have the power needed to take on the Honda Civic Type-R and SEAT Leon Cupra, but whether it will be as fast around the famous Nurburgring race circuit in Germany remains to be seen.
What has been confirmed is that the Pulsar Nismo has a lower ride height, revised suspension and sharper steering compared to the standard car.
New Nissan Pulsar price and specs
Prices for the VW Golf and Ford Focus-rivalling Nissan Pulsar start at just £15,995. That means the entry-level Nissan Pulsar Visia costs around £1,000 less than the VW, but around £2,000 more than the most basic Ford. Standard equipment is impressive, though.
The 1.2-litre DIG-T petrol engine comes with a six-speed manual gearbox, while an Xtronic automatic costs around £1,350 more. The manual gearbox has an extra gear compared to the VW's five-speed version, which should make the Pulsar quieter at motorway speeds.
The Nissan Pulsar diesel starts from £17,595 and has a 1.5-litre dCi engine capable of more than 74mpg. Exact fuel economy and emissions will be announced nearer the car's release date.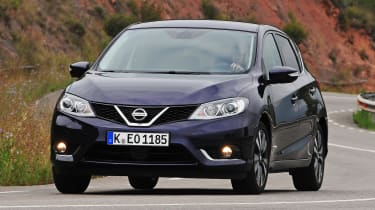 Standard equipment on Visia cars includes 16-inch alloy wheels, Bluetooth connectivity and cruise control. A tyre-pressure monitoring system, remote central locking and air-conditioning are also included.
Mid-spec Nissan Pulsar Acenta models cost from £17,645 for the petrol, or £19,245 for the diesel. Additional equipment over and above the Visia includes automatic headlights and wipers, separate air-con controls for the driver and passenger, plus front foglamps.
Moving up to the Nissan Pulsar n-tec adds larger alloy wheels, tinted rear windows, LED headlights and a reversing camera. Prices start at £18,995.
As with the rest of the Nissan range, the top-spec model is labelled Tekna. It adds heated leather seats, lane-departure warning, electric folding mirrors and Nissan's Around View Monitor – a 360-degree camera to help with parking. Prices range from £20,345 for the petrol to £21,945 for the range-topping diesel.
New Nissan Pulsar technology and practicality
While the new Nissan Pulsar doesn't look as stylish as its key rivals, Nissan says the Pulsar will set new standards for interior space, which will appeal to family-car buyers.
The car's 2,700mm wheelbase (the space between the front and rear wheels) is the longest in its class, and Nissan says it gives the Pulsar class-leading legroom of 692mm, which is more than you get in some large family cars. Despite this, the car's 4,385mm length means it should still be easy to manoeuvre and park. And the car will be available with an overhead parking aid called the Around View Monitor, which provides a 360-degree birds-eye view around the car. Nissan also boasts that the Pulsar has the widest armrests in its class.
The boot will hold 385 litres of luggage, which is 69 litres more than what the Ford Focus hatchback can manage. Nissan says the bootlid lifts to reveal a large opening, making it easy to load large objects. The seats fold to increase the total capacity to 1,395 litres – 180 litres more than the Focus.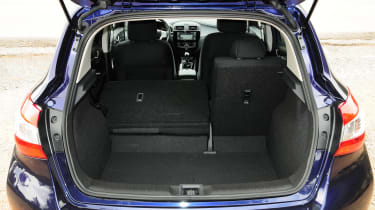 Nissan's Safety Shield system, which already features on the new Nissan Qashqai, has been fully integrated into the new Nissan Pulsar, so you can expect the car to get a five-star safety rating from Euro NCAP.
Safety Shield includes forward emergency braking (which can detect an imminent collision and brake the car to avoid it), a lane-departure warning system and a blind-spot warning system. Nissan also offers a moving-object warning system, which can detect people around the car and warn the driver of their presence. The Nissan will be the first car in its class to offer all these systems as standard on at least one model.
The Pulsar will also come with the latest generation of the company's NissanConnect infotainment system, which can stream music from your iPhone and download pre-planned Google Maps routes to the car's sat nav. It's also compatible with a number of apps.
Full LED headlights, which already feature on the Nissan Qashqai, come as standard on Pulsar n-tec models and above. They use 50 per cent less power than conventional bulbs and emit a beam of pure white light.
New Nissan Pulsar engines
Hi-tech engines already in use across the Nissan range will be put to work in the new Pulsar. The 1.2-litre DIG-T engine has been specially tuned for the Pulsar and develops 114bhp, meaning a 0-62mph time of 10.7 seconds. Nissan claims fuel economy of 56.5mpg and CO2 emissions of 117g/km. The engine is connected to a six-speed manual gearbox, although an automatic version will be available later in the year.
A 1.5-litre dCi diesel engine is also available. It develops 109bhp and promises fuel economy of 78.5mpg while emitting 94g/km of CO2, making it free from road tax. Both engines are fitted with fuel-saving start-stop technology.
For more information on the current Nissan range, take a look at the Carbuyer Nissan reviews page.