Skoda Tour de France editions revealed
Start of the Tour de France marked by three special edition Skodas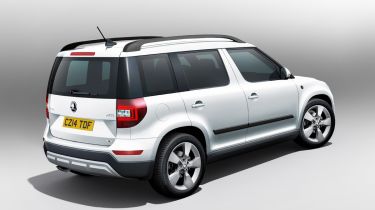 Skoda will celebrate the start of the Tour de France this week, with special editions of the Skoda Yeti, Skoda Octavia Estate and Skoda Superb Estate.
The models are badged 'le Tour de France' and have been designed 'with the keen cyclist in mind'. That means they come with Tour de France branded waterproof seat covers and bike wheel bags, as well as Skoda bicycle carriers. Buyers also get a Centenary edition of the Rouleur Tour de France book (worth £250), plus the chance to win a VIP Tour de France experience.
In homage to France's national flag, the cars can only be had in blue, white or red, and just 198 examples of each model will be built.
The Skoda Yeti TdF, priced at £23,490, is based on the four-wheel-drive 138bhp Yeti Outdoor SE 2.0-litre diesel. Extra kit includes an Amundsen sat-nav system with digital radio, keyless start and go, floor mats and an internal bike rack.
With more boot space, but a less flexible interior, the £24,290 Skoda Octavia TdF is based on the 148bhp 2.0-litre diesel Estate SE. It gets the same kit as the Yeti but swaps the internal bike carrier for a roof-mounted version.
Completing the trio is the capacious Skoda Superb TdF. Like the others, it's based on the Outdoor model and gets a 2.0-litre diesel engine with 138bhp and four-wheel drive. It gets the same equipment as the Skoda Yeti TdF.
Skoda has a long-standing connection to push bikes, with the company's founders Laurin and Klement originally starting out in cycle manufacture in 1895. The firm is currently signed to sponsor the Tour de France until 2018.
The manufacturer's cars have certainly struck a chord with Christian Prudhomme, the director of the Tour de France, who said: "Skoda has been a strong and reliable partner for international cycling events for 10 years. I personally feel that my Skoda during the race is more than just a car; it is my office and the place where I spend most of my day."
Read reviews of the Skoda Yeti, Skoda Octavia, and Skoda Superb on the Carbuyer Skoda reviews page.