Mazda MX-5 25th Anniversary revealed
The Mazda MX-5 25th Anniversary celebrates a quarter century of the Mazda MX-5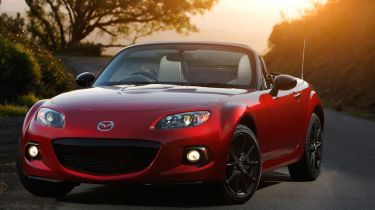 Mazda will celebrate 25 years of the Mazda MX-5 – the world's most popular sports car – with the Mazda MX-5 25th Anniversary. The Special Edition will be revealed at the Goodwood Festival of Speed and gets numerous styling tweaks and standard sat-nav.
The most obvious addition to the 25th Anniversary is the model's unique Soul Red Metallic paint that is contrasted by a black roof and door mirrors. It also gets Dark Gunmetal 17-inch alloy wheels, a revised rear bumper, and chrome exhaust tips.
You get plenty of unique features inside, too, including Light Stone coloured leather seats, with contrasting red stitching. The same red stitching is applied to the steering wheel, gearshift, and handbrake and the headrests are embossed with 25th Anniversary logos. The dashboard gets a hand painted red panel, plus there are black roll over hoops, and sporty alloy pedals.
Equipment levels are up too, and the 25th Anniversary model gets a 6.1-inch display for the car's unique Alpine sat-nav system. It also feature a 50:50 split-screen DVD player, allowing for simultaneous viewing of two different output displays. So the driver can see sat-nav instructions, while the passenger watches a DVD.
Mechanically, the special edition MX-5 remains the same as any other 2.0-litre MX-5 Roadster Coupe, coming fitted with a 158bhp petrol engine that gets the car from 0-62mph in 7.9 seconds and on to a top speed of 136mph. Just like any other MX-5, the 25th Anniversary will be lots of fun in the corners.
Since the model was launched at the 1989 Chicago Motor Show, the Mazda MX-5 has been a global hit. In May 2000, the car was certified by Guinness World Records as the planet's bestselling two-seater sports car, a record it maintains today.
The Mazda MX-5 25th Anniversary will go on sale on 1 August and only 750 cars will be available in the UK – all of which will be individually numbered. The special edition's price will be revealed at the car's Goodwood launch, but should be close to the standard 2.0-litre Roadster Coupe's that costs £23,695.
For reviews of the Mazda MX-5 and the rest of the Mazda range, visit the Carbuyer Mazda reviews page.