New Hyundai i20 2014: price, release date & specs
The second-generation Hyundai i20 is bigger on the inside and more attractive on the outside
The all-new Hyundai i20 promises more interior room than its rivals, and its maker says the supermini's stylish design and hi-tech features will make it more popular than ever before.
The small hatchback, which competes with the Ford Fiesta and Volkswagen Polo, has now been shown off at the Paris Motor Show after Hyundai released images of the new car earlier this year. It looks particularly sleek in the metal and the cabin feels much more modern, with more upmarket materials used. The new i20 does feel noticeably bigger inside, too.
Although the car will initially go on sale as a five-door model, as seen in our pictures, a three-door Hyundai i20 Coupe is planned, as well as a performance version. This new Hyundai i20N is expected to use a 1.4-litre turbocharged petrol engine.
New Hyundai i20 2014 price & release date
The new Hyundai i20 was revealed at the Paris Motor Show on 2 October and is expected to go on sale shortly. Expect a slight increase in price from the current range, which runs from £10,995 for the 1.2-litre petrol Classic to £13,540 for the 1.4-litre diesel Active.
New Hyundai i20 2014 styling
Hyundai's European Design Centre, based in Germany, has given the new i20 more visual appeal than the conservative-looking current car. It features LED daytime running lights and wide front grilles, which are intended to make the car appear bigger than it actually is. Black rear windscreen pillars give the appearance that the roof is floating.
The design is said to be more aerodynamic than before, which should improve fuel economy and reduce CO2 emissions fractionally.
The new Hyundai i20 boasts the widest range of exterior and interior colour combinations of any supermini. There are nine exterior colours and four cloth interior trims – plus the option of leather upholstery.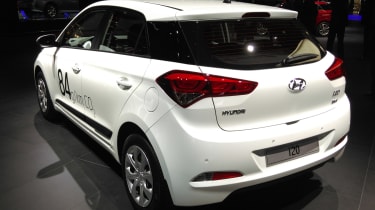 New Hyundai i20 2014 interior & specs
The 2015 Hyundai i20 is around 4cm longer and 2.4cm wider than the current car, but at 1.6cm lower, it looks sleeker. Hyundai has lengthened the wheelbase (the distance between the front and rear wheels) by 4.5cm to maximise space for passengers and luggage.
Thanks to this, the manufacturer says, the i20 has space for five adults with the best front and rear legroom of any car in its class. The boot has grown by 31 litres to 326 litres, and can hold 1,042 litres when the rear seats are folded flat. A false floor in the boot provides additional hidden storage.
Four trim levels will be available. In ascending order these will be Access, Classic, Panorama and LED.
The i20 will be the first supermini to feature a large panoramic opening sunroof. Cars like the Peugeot 208 have glass roofs, but they don't open. Interior quality will be improved, and upmarket features such as glossy piano-black trim panels and chrome finishes will be available.
Other highlights include a reversing camera that displays on the seven-inch infotainment screen, sat nav, a Bluetooth smartphone connection and system called My Music that can store and play your digital music.
A lane-departure warning system, which alerts the driver if the car drifts out of its lane, will also be available. This is another first for the supermini class.
New Hyundai i20 2014 engines
When the new i20 goes on sale, it will feature the same range of engines as the current car. That means the range will start with 74bhp and 83bhp versions of Hyundai's 1.25-litre petrol. Both will be available with a five-speed manual gearbox, and Hyundai says the 74bhp version will do 0-62mph in 13.6 seconds, while the 83bhp model cuts that time to 13.1 seconds.
A 1.4-litre petrol engine producing 99bhp will be offered with either a six-speed manual or a four-speed automatic. Expect a 0-62mph of around 11.6 seconds.
Two diesel engines will be available – a 1.1-litre and a 1.4-litre – and they're expected to emit less than 100g/km of CO2, making them both free from road tax. The most economical model will emit as little as 84g/km. The 1.1-litre produces 89bhp, for a 0-62mph time of 16 seconds, while the 1.4-litre engine cuts this to 12.1 seconds.
A new three-cylinder petrol engine will be offered in due course, and it could become the most economical model in the range.
The 2015 i20 will be based on a new chassis and will feature upgraded suspension aimed at improving stability, grip and comfort.