Hyundai i20 Coupe shown in official sketch
The three-door Hyundai i20 will be replaced by a sleek, sporty coupe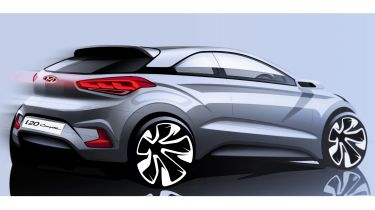 This sketch is proof of Hyundai's commitment to grow the Hyundai i20 supermini range. The coupe shown here will follow on from the new five-door 2015 Hyundai i20, which will be shown at the Paris Motor Show next month.
The new Hyundai i20 Coupe has a sleeker roofline than the standard car, with a distinctive rear spoiler and a 'wraparound' rear windscreen.
Although the sketch shows a car that's more sporting than the next-generation five-door i20, it will share the new model's in-car tech – expected to include a rear parking camera, lane departure warning and higher-quality trim.
There is no official word on the i20 Coupe's engine line-up, but it is likely the more powerful 99bhp 1.4-litre petrol engine will feature in the line-up.
A faster Hyundai i20N performance model is expected to follow in due course. That model is likely to be powered by a 1.4-litre turbocharged petrol engine and will be developed at the Nurburgring race track in Germany.
For more information on the current Hyundai range, visit the Carbuyer Hyundai reviews page.