141mpg Citroen C4 Cactus AIRFLOW 2L revealed
Super-frugal Cactus capable of 141mpg runs on compressed air and could go on sale by 2020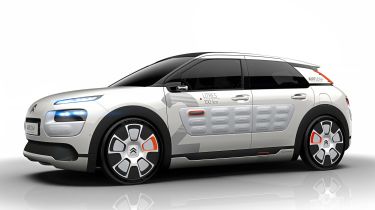 A new super-economical Citroen C4 Cactus AIRFLOW 2L model will be revealed at the Paris Motor Show next month. Although strictly a concept car, it features clever technology that will no doubt be used in a low-emissions version of the funky crossover in the not-too-distant future.
Citroen says the AIRFLOW 2L will use just two litres of fuel for every 100km driven. Convert that to miles per gallon and you're left with an impressive 141mpg figure – not far off the Mitsubishi Outlander PHEV plug-in hybrid.
However, unlike that car, there's no complicated plug-in hybrid system. Instead, the AIRFLOW 2L gets a clever HybridAir setup, which uses compressed air rather than electricity to power the car and drive the wheels. It's paired with the normal 1.2-litre three-cylinder petrol engine, which functions as normal when the air 'runs dry'.
That alone cuts fuel consumption by 30 per cent, but Citroen didn't stop there. You only need to look at the concept car to notice a variety of aerodynamic tweaks that help maximise efficiency.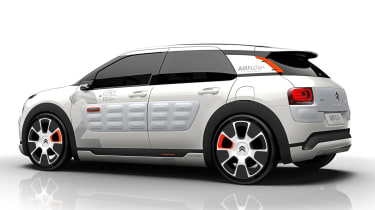 The sleek bodykit means it will slip through the air easily, while the 19-inch wheels are specially designed to improve fuel economy. The usual door mirrors have been replaced by slim cameras, to reduce drag, and small shutters in the bumper can open and close to direct air in a more streamlined direction. The final alteration is the LED front and rear lights. Citroen says they consume very little power, which directly benefits fuel economy.
The AIRFLOW 2L is also 100kg lighter than the standard C4 Cactus, thanks to the use of high-strength aluminium, steel and composite materials. Citroen says it'll be just as safe as the standard car, though.
Currently, the most fuel-efficient model in the Cactus range is the 1.6-litre BlueHDi diesel, which boasts 82g/km CO2 emissions and will return an impressive 91.1mpg economy. The fuel savings for the AIRFLOW 2L model would be huge, and while a production version is some way off, Citroen says it could be on sale by 2020.
For more information on all the cars set to debut in Paris, take a look at our Paris Motor Show preview page. Or for reviews of the current Citroen range, visit the Carbuyer Citroen reviews page.