New Fiat 500X release date and specs
A new Fiat 500 crossover with four-wheel drive has been revealed at the Paris Motor Show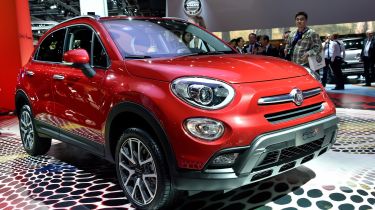 The Fiat 500X has finally been revealed at the Paris Motor Show after months of speculative information, photos and teaser videos.
A compact SUV based on the new Jeep Renegade, the 500X will be offered with three different drivetrains – including two-wheel-drive and four-wheel-drive versions. The third, a front-wheel-drive 500X with 'Traction Plus', aims to offer the best of both worlds.
New Fiat 500X design
As you can tell from these pictures, the Fiat 500X has been heavily inspired by the compact 500 hatchback and more practical 500L MPV. It gets a familiar front end and round headlamps, with a bulbous body and recognisable Fiat interior.
Two versions will be offered – the 500X and Fiat 500X Cross. The former is designed to appeal to youthful city-based drivers, while the latter is aimed at those with more active lifestyles. A choice of 12 different colours and eight different alloy wheel designs will be offered, allowing owners to personalise the look of their car.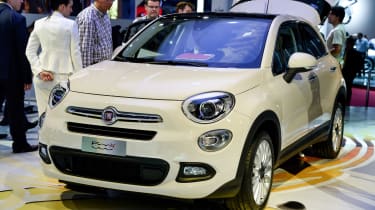 The Fiat 500X boasts an impressive 350-litre boot, putting it on par with the two-wheel-drive Nissan Juke for practicality. The sloped rear windscreen cuts into the boot space a bit, but the car can still carry plenty of luggage with the rear seats folded down. Fiat says the compact exterior hides a deceptively practical interior, with lots of storage compartments and cubbyholes.
New Fiat 500X engines and gearboxes
Three petrol and three diesel engines will be offered, as well as a choice of two or four-wheel drive. The entry-level 108bhp 1.6-litre and 138bhp 1.4-litre petrol engines will only be available with front-wheel drive, but the more powerful 168bhp turbo version will get four-wheel drive and a nine-speed automatic gearbox as standard.
The diesel range consists of a 94bhp 1.3-litre, a 118bhp 1.6-litre and a 138bhp 2.0-litre. The most powerful version is available with four-wheel drive, and, like the petrol, comes with a nine-speed automatic gearbox.
The Fiat 500X will offer an eco:Drive function to help reduce emissions and fuel costs by up to 16 per cent. There's a Drive Mood Selector, too, which has three different modes for the engine, brakes, steering and gearbox. Sport sharpens up the responses for fun handling, while All Weather makes the car safer in slippery conditions. There's an Auto mode as well, which offers drivers the best compromise between comfort, fuel economy and driving fun.
New Fiat 500X specs
All Fiat 500X models feature either a 5.0 or 6.5-inch colour touchscreen, with every model boasting a Bluetooth phone connection and steering wheel-mounted controls. Sat nav is available on both versions, while DAB digital radio and an upgraded Beats by Dre stereo are also options.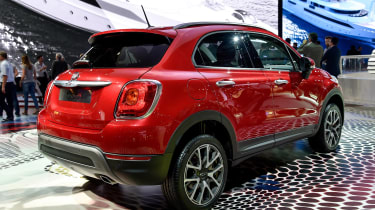 A new Uconnect Live system allows buyers to integrate their smartphone with the dashboard's touchscreen – effectively mirroring your apps and ensuring permanent connection to social media networks such as Facebook and Twitter. Owners can stream music, get real-time news updates and even check the weather through this innovative infotainment system.
New Fiat 500X price and release date
Although prices have yet to be confirmed, we expect the Fiat 500X to undercut the Jeep Renegade, which will start from around £15,000 when it goes on sale next year. Designed to rival the Nissan Juke, the Fiat 500X will hit showrooms in the spring.
For more information on the current Fiat range, head over to the Carbuyer Fiat reviews page. Or, for another taste of the upcoming Fiat 500X crossover, take a look at Fiat's very own teaser video, which it posted on YouTube last month.