Hydrogen Hyundai SUV pricing revealed
UK retail price for the ix35 Fuel Cell crossover starts at around £53,000 - available now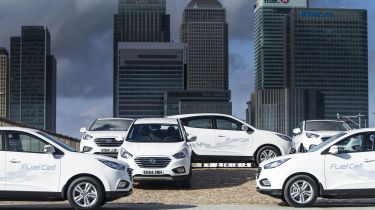 Official prices for the hydrogen-powered Hyundai ix35 Fuel Cell SUV have been announced, following the arrival of the model in the UK late last year.
The first hydrogen-powered ix35 models arrived in the UK ahead of the brand's global rollout of the world's first production-ready hydrogen-fuelled car. This was followed by the addition of three more hydrogen refuelling stations in London.
Hyundai is the first carmaker to supply zero-emission hydrogen-fuelled cars to paying customers in the UK, after the announcement of an £11million government and industry grant for fuel-cell vehicles. UK customers can order the new model now, direct from Hyundai.
Retail prices for UK customers start at £53,105, with funding from the HyFive project in Europe shaving off around £15,000 from the unfunded price of £67,985.
The Hyundai ix35 Fuel Cell SUV has a 136bhp electric motor and two hydrogen fuel tanks, giving a total range of around 369 miles. Hyundai claims that the ix35 can also be started reliably in temperatures as low as minus 25 degrees Celsius. Similar to electric vehicles, hydrogen cars store energy in a battery and no harmful carbon emissions are released into the atmosphere when the vehicle is in use.
Hyundai claims the hydrogen-powered ix35 performs just like a normal car – and unlike electric vehicles, can be refuelled just as quickly as a petrol or diesel version.
That range is handy, given the small number of hydrogen filling stations in operation. There are currently two in London and a handful of others around the country. Northern Ireland currently has none, although there is one in northern Scotland and another planned for Aberdeen.
The HyFive project – a European consortium that consists of five major carmakers – hopes to change that, by adding three more hydrogen refuelling stations in London by the end of this year. Hyundai, along with BMW, Honda, Toyota and Daimler (Mercedes) are all in the process of expanding their hydrogen model ranges, including the Toyota FCV, which has already been displayed at motor shows in Geneva and Los Angeles.
Tony Whitehorn, CEO of Hyundai UK, said: "Hyundai is the first company in the world to start series production of a fuel-cell vehicle and is committed to rolling out this technology in line with government plans to grow the refuelling infrastructure."
Deputy mayor of London for business and enterprise, Kit Malthouse, said: "I firmly believe that hydrogen fuel-cell technology will eventually replace the internal combustion engine, but we have to show the public the vehicles, let them kick the tyres and demonstrate that it's more than just a science-fiction story.
"This is why these new vehicles are so important – it's about putting the technology on the street and taking the first steps towards a viable hydrogen future, both in London and nationwide."
For more information on the conventional Hyundai ix35, including written and video reviews, head over to the Hyundai Carbuyer reviews page.