Nissan Juke Nismo RS priced from £22k
Two- and four-wheel drive versions of the Nissan Juke Nismo RS performance SUV are available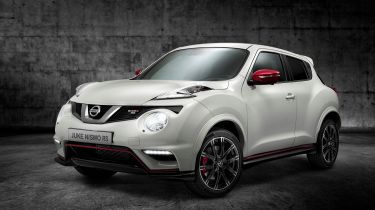 The sportiest version of the Nissan Juke yet is now on sale. The Nissan Juke Nismo RS is priced from £21,650.
The eighth model to be released by Nissan this year offers 215bhp from a 1.6-litre turbocharged petrol engine. The Juke Nismo RS is available in two-wheel drive and four-wheel drive versions – the latter is also fitted with an automatic gearbox.
The two-wheel drive version has a six-speed manual gearbox, and sends its power to the front wheels through a limited slip differential, which improves grip and stability at speed. Four-wheel drive models use a torque vectoring system which performs a similar role.
Nissan has also strengthened the body in the pursuit of producing a more entertaining drive. Larger, more powerful brakes are fitted and there's a new suspension setup.
Despite the increase in performance, the Juke Nismo RS is as practical as other models in the range. Two-wheel drive models have a boot 40% larger than four-wheel drive models, thanks to the inclusion of underfloor storage.
A range of options are available, including Recaro sports seats and the Safety Pack which features 360-degree parking cameras and a range of features to give visual and audible warnings to avoid collisions.
Three exterior colours are available: Storm White, Pearl Black and Black Silver.