Hyundai Genesis saloon gets UK launch
Hyundai has announced prices and the on-sale date of its Hyundai Genesis saloon
Hyundai is launching the all-new Genesis executive saloon in the UK. It'll cost £47,995 and go on sale in April from selected Hyundai dealerships.
The 2015 Genesis saloon will be available here in a single version that has a 3.8-litre petrol engine and an eight-speed automatic gearbox. Its closest rival is the equally pricey Volkswagen Phaeton, but it's also intended to go up against saloons such as the Audi A6 and Mercedes E-Class, both of which are substantially cheaper.
As befits an executive saloon aimed at the luxury end of the market, the Genesis comes loaded with hi-tech kit. It offers what Hyundai describes as the world's first cabin carbon-dioxide sensor, which keeps an eye on CO2 levels inside the car to make sure the driver isn't getting drowsy.
Other kit includes an infotainment system with an eight-inch touchscreen and a Smart Boot System that opens the boot automatically if it detects the smart key close by. A head-up display projects important information for the driver onto the windscreen.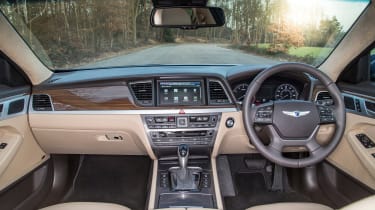 Standard safety equipment includes cruise control and automatic emergency braking. The car has four cameras to allow it to detect approaching hazards in your blind spots when you're driving, or when you're reversing into or out of parking spaces.
The car's long wheelbase (the gap between the front and rear wheels) has been designed to give you and your passengers plenty of space inside and the seats are finished in fine-grain leather.
Buyers get a choice of seven metallic and pearlescent paints for the exterior, plus three trim colour options inside.
There are no plans to sell the coupe version of the Genesis in the UK due to a perceived lack of demand, even though a right-hand-drive version has been created for sale in some markets.